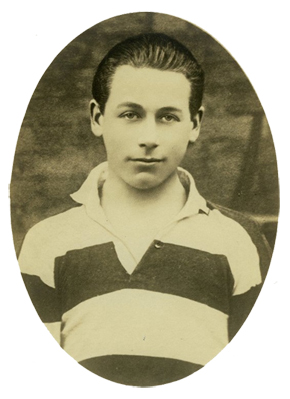 On St. Patrick's Day, devoted to honoring the Irish heritage and its worldwide influence, we pause to remember Kevin Gerard Barry (Jan. 20, 1902 – Nov. 1, 1920), the first Irish republican to be executed by the British since the leaders of the Easter Rising, whose centennial is next month. Barry was sentenced to death for his part in an Irish Volunteers operation which resulted in the deaths of three British soldiers.
Barry's execution outraged nationalist public opinion in Ireland and its diaspora, largely because of his age. The timing of the execution, only days after the death by hunger strike of Terence MacSwiney, the republican Lord Mayor of Cork, brought public opinion to fever pitch. His treatment and death attracted great international attention, and attempts were made by U.S. and Vatican officials to secure a reprieve. His execution and MacSwiney's death precipitated a dramatic escalation in violence as the Irish War of Independence entered its most bloody phase. Due to his refusal to inform, Barry became one of the most celebrated Irish republicans.
A ballad bearing Barry's name was penned shortly after his death by an author of unknown identity. It is sung to the melody of "Rolling Home to Dear Old Ireland." Relating the story of his execution, it has been sung by artists as diverse as Leonard Cohen, Lonnie Donegan, The Wolfe Tones, the Clancy Brothers, and The Dubliners. At the exact place where Kevin Barry was captured (North King Street/Church Street) there are 2 blocks of apartments named after him.
The American singer Paul Robeson included it in this album Songs of Struggle, although this version tones down the anti-British sentiment of the original.
As the author is anonymous, there is no definitive version. Here is one:
In Mountjoy jail one Monday morning
High upon the gallows tree,
Kevin Barry gave his young life
For the cause of liberty.
Just a lad of eighteen summers,
Still there's no one can deny,
As he walked to death that morning,
He proudly held his head on high.
Chorus
Shoot me like an Irish soldier.
Do not hang me like a dog,
For I fought to free old Ireland
On that still September morn.
All around the little bakery
Where we fought them hand to hand,
Shoot me like an Irish soldier,
For I fought to free Ireland.
Just before he faced the hangman,
In his dreary prison cell,
British soldiers tortured Barry,
Just because he would not tell
The names of his brave comrades,
And other things they wished to know.
Turn informer or we'll kill you
Kevin Barry answered "No."
Proudly standing to attention
While he bade his last farewell
To his broken hearted mother
Whose grief no one can tell.
For the cause he proudly cherished
This sad parting had to be
Then to death walked softly smiling
That old Ireland might be free.
Another martyr for old Ireland,
Another murder for the crown,
Whose brutal laws may kill the Irish,
But can't keep their spirit down.
Lads like Barry are no cowards.
From the foe they will not fly.
Lads like Barry will free Ireland,
For her sake they'll live and die.
Sources: Wikipedia, Kevin Barry song