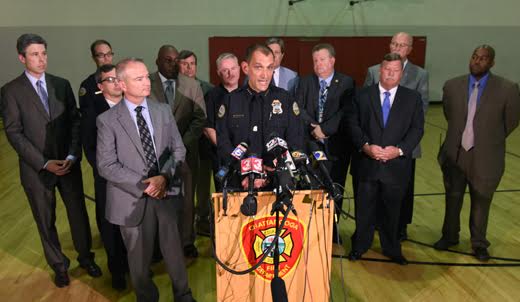 On July 16 a gunman opened fire at the Armed Forces Career Center in Chattanooga, Tenn., killing four Marines before being killed himself. Two days later a fifth victim died.
This terrible act of violence adds to the growing list of massacres over the last few years, the second most recent being the killing of nine people at a church service in Charleston, S.C.
One significant difference between both of these senseless acts of violence is that public servants are already suspecting terrorist activity and freely using this phraseology.
"We will treat this as a terrorist investigation until we determine it was not" said FBI agent Edward Reinhold and was echoed by U.S. Attorney William C. Killian who stated that the act was being treated as "an act of domestic terrorism".
As of this writing the gunman, Mohammod Youssuf Abdulazeez, has not been linked to any designated terrorist groups.
This has not stopped investigators from using these terms, however, which leads one to wonder why "terrorist" was deemed inappropriate when referring to the recent killing of nine church attendees in Charleston.
The question is: why a mass murderer who kills in the name of white supremacy is not considered a terrorist but a killer who, currently, has no known ideological motive is?
The answer is that "terrorist" is an empty term which doesn't apply to any one person or group in particular and, therefore, can be used to refer to any person or group. When we use the term "terrorist" we are not referring to a specific act or person but are referencing a narrative that the United States has created.
This narrative is that of a foreign group who violently opposes the United States and it's way of life. This story ensures that a terrorist is always outside the fold of the United States and its society.
This is why "terrorist" is used to define those particular foreigners who threaten, mostly white, bastions of U.S. American power, starting with the Twin Towers in New York all the way down to this assault on a Naval Facility.
The reason why "terrorist" is not used to define the likes of Dylann Roof is because his ideology and acts are not foreign U.S. society
By refusing to name him "terrorist" we tacitly admit that white supremacy and violence against African Americans is not foreign to the U.S. but is a deep and wounded part of our history.
It is time we put to rest such useless terms as "terrorism" and "terrorist" and instead focus on naming the racist and chauvinistic narrative that animates them and gives them life.
Photo: Chattanooga Police Department Chief Fred Fletcher speaks during a news conference July 16, in Chattanooga, Tenn. A gunman unleashed a barrage of gunfire at two military facilities a few miles apart in Chattanooga killing several Marines, officials said. The gunman was also killed. | John Rawlston/Chattanooga Times Free Press via AP