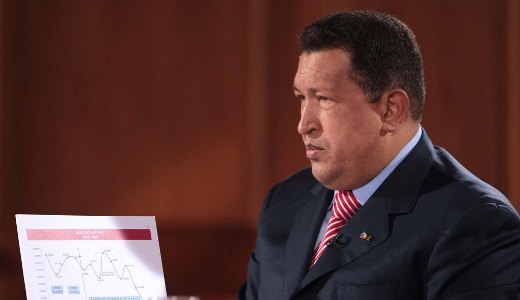 Joaquin Perez Becerra's April 23 arrest at Marquetia Airport near Caracas triggered questions about Venezuelan President Hugo Chavez's role in the affair. Many leftists in Venezuela and elsewhere have lauded Chavez as a socialist and protagonist of continent-wide emancipation, but in this instance, see him as knuckling under to a repressive Colombian government.
The murder of his wife prompted Perez Becerra to leave Colombia for Sweden in 1993 to save his own life. He was city councilor in Corinto, Valle del Cauca, elected through the Patriotic Union (UP) electoral coalition of the Revolutionary Armed Forces of Colombia (FARC) and communists (the Colombian Communist Party and the FARC went their separate ways in the early 1990s, on issues of tactics). A massacre of UP elected officials and adherents was underway and would eventually take 5,000 lives
Sweden granted Perez political asylum in 1994 and citizenship in 2000. He worked in a senior citizens' home and, with others, formed the News Agency for the New Colombia website, serving as its director. Almost two decades later Venezuelan police seized him as he exited an airplane in Caracas. Within two days, he was in a maximum security prison in Bogota.
As his flight from Frankfurt, Germany, neared Caracas, Colombian President Juan Manuel Santos called President Chavez. "I told him," Santos informed reporters, "that a very important FARC guy was arriving on a Lufthansa flight to Caracas that afternoon and asked if he could detain him. He didn't hesitate. He ordered his capture and will deliver him to us." The Interpol International Police Organization put up a "red alert" on Perez during his flight.
Santos's government accuses Perez of terrorism, specifically, fundraising and buying arms for the FARC in Europe. Statements and documents of both governments referred to Perez only as a citizen of Colombia. Swedish consular officials were unable to make contact with Perez. A Swedish foreign ministry official promised investigation into possible violations of international law regarding political asylum and citizens' rights in foreign countries.
Perez's defenders say the alert could have been announced earlier when Perez boarded planes in Stockholm and in Frankfurt. Red alerts, applied now to 444 exiled Colombians, are by no means predictable. Ecuador assigned one to Santos as defense minister following Colombia's 2008 attack on a FARC camp in Ecuador. Colombia called an Interpol red alert on Mexican student Lucía Andrea Morett, wounded in that bombardment.
Communist parties in several countries, blogs, unions, political refugees and left leaning websites have castigated Chavez and, of course, Santos. Speaking for the Venezuelan Communist Party, Pedro Eusse condemned "a concession the government has made to imperialist forces, to reactionary forces and counter-revolutionaries in the continent, a dangerous concession casting doubt on the principles and values set forth as the orientation of the Bolivarian process." Santos is blamed for attacking media freedom and for renewing persecution of the UP.
The news site Perez helped found has covered popular mobilizations, human rights abuses and news on the FARC. With 800,000 daily visits, it was Colombia's fourth most widely read website when it was closed April 26. Nelson Lombana Silva, writing for the Colombian Communist Party's Voz newspaper, laments that. "Journalism again comes under a storm of censure and intimidation from the powerful capitalist regime. In the last 20 years, 150 journalists have been assassinated in Colombia, three in the last year."
Reporting on Perez' arrival on April 25 in Bogota, El Tiempo (owned by President Santos's family) detailed government evidence on Perez: "With more than 700 emails on Raul Reyes' PC, the police built the criminal dossier of 'Alberto'" (Perez's alleged pseudonym). Perez supposedly visited FARC encampments. The case against Perez – as with many accused journalists, political dissidents and labor leaders inside Colombia – rests upon information taken from FARC leader Reyes' computers, seized after his killing by the military in Ecuador on March 1, 2008. Interpol found the chain of custody for these computers had been broken. Police inspector Ronald Coy testified he manipulated files in the computers. They were word documents, he said, not emails
In an open letter, 75 Latin American and European writers and intellectuals told Chavez, "No European government, almost none in the world, honors extradition requests from Colombia against its political opponents…Why does Venezuela?" They reminded Chavez that while Colombia launches witch hunts against terrorists, his own government in 2008 identified the FARC not as terrorist but as "revolutionary combatants."
When Santos and Chavez reestablished diplomatic relations between their countries last year after a three-month break, they agreed on security cooperation. Under these arrangements, Chavez's government has returned eight Colombians resident in Venezuela.
Image: Bernardo Londoy // CC BY-NC-SA 2.0