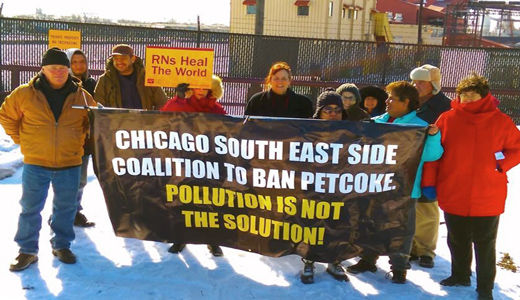 CHICAGO – For one community, the Windy City has been blowing something other than a healthy breeze. The black dust known as petroleum coke (petcoke), a byproduct of oil refinery processes, has been piling up on the city's southeast side and drifting into various neighborhoods, endangering people's health – and trying their patience. A small but determined coalition of residents have now stepped forward to fight back.
An area on the banks of the Calumet River, which was once home to steel plants (and jobs), are now the site of the petcoke piles, most of which reach about five to six feet in height. These belong to KCBX Terminals, owned by the right-wing billionaire Koch Brothers. In early February, one of KCBX's customers, the notorious BP, announced it would stop sending its own petcoke shipments to this site (where this material will end up instead is not yet known). While this was a mild victory, environmental activists are careful to point out that the real battle – removing petcoke in its entirety – remains to be fought.
Tom Shepherd, president of the Southeast Environmental Task Force (SETA), spoke with the People's World about the issue, noting that the scope of the problem goes beyond just one neighborhood. "People are not aware enough in the city [at large]," he remarked. "This is a regional problem, because the petcoke becomes airborne. That makes it a public health problem. More people will require medical attention."
His concerns are entirely supported by the EPA, which warns that significant quantities of petcoke dust can easily pass through the nose and throat and enter the lungs. Once inhaled, they can affect the heart and lungs and cause serious health issues, the last of which is asthma. The trace amounts of toxic materials measured in petcoke are also cause for concern.
BP's decision to withdraw from the area, said Shepherd, "is definitely not the beginning of the end. The petcoke is piling up at an alarming rate. And we've shown, through visits and photos, that it's not just blowing around, it's falling through our riverway system. That's connected to Lake Michigan drinking water. We have quite a mess on our hands."
But through organizing and pressuring local officials, residents have raised their concerns in a very public way. SETA, together with National Nurses United (NNU) and the Southeast Side Coalition to Ban Petcoke, held a press conference on the issue on Mar. 5, where, brandishing a large sign emblazoned with the slogan "Pollution is Not the Solution," declared that they will not stop fighting until the petcoke problem is fully dealt with. They also remarked that KCBX had announced it would begin to phase out its ground-stored petcoke piles, opting instead to keep them in rail cars. That, the organizations noted, does not solve the problem, as uncovered rail cars full of petcoke are hardly different than the piles there are now.
Shepherd said they are trying to get the word out about just how troubling these piles are. "We've had office holders and politicians invited out here, we've had them on tours. We've done the same with people from the Chicago Legal Department and the Department of Public Health. This [fight] would be impossible if we didn't draw the attention. We've had the support of groups from across the city and the Midwest: Tar Sands Free Midwest, Rising Tide Chicago, Eco Justice Collaborative, Environmental Law and Policy Center, Alliance for the Great Lakes." Aside from organizations, he said, "The more people that become aware of this, the better."
Olga Bautista, an activist with the Southeast Side Coalition, is one such person. She said that she and others remain focused on kicking KCBX to curb, but that is easier said than done. "We don't know of any community," she noted, that has been "able to successfully kick out the Koch Brothers, and that's what we're calling for. But we're not going to back down from our original demand to ban the stuff. It's going to be us, moms and dads like me, who hold them accountable. We're not going to stand by and watch these companies make millions and billions of dollars while at the same time they make us sick."
Speaking of illness, perhaps no group sees it more clearly than the NNU. Sheilah Garland, an organizer with the union, said, "Nurses take this from a very personal perspective. We deal with patients one on one, we see it in our hospital beds, in our clinics. When young people are dying of pulmonary issues, this is very real to us."
Photo: SETA Facebook page