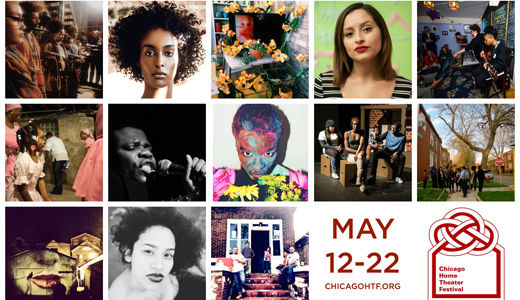 "Do you like theater?" That was the question my co-worker, Michelle Zacarias, asked me last week.
"Uh, yes," I said with visions of recent productions I had seen at The Raven, Teatro Vista, ETA, Court, Congo Square and, of course, Goodman. Simultaneously a twinge of regret welled up for the productions not seen and venues not visited in this terrific theater town. The possibility pregnant in Michelle's question made me eager to find out why she had asked.
"Great! I was looking for someone to write about this home theater festival. No one on staff here seems to be interested. I can't do it because I am in it," she said. "Would you be interested?"
"Uh, YES!" I repeated myself, feeling self-consciously unoriginal, although my emphasis and tone differed from my first answer.
"Uh, home theater festival?" I asked, realizing I had never heard of it.
"Yeah, it's held in people's homes in different parts of the city. I'll put you in touch with one of the producers. I'm in one in North Center. You meet beforehand, tour the neighborhood for context and then go to the host's home for the production," she said.
"Wow," I thought. "That is cool. How does Michelle get involved in such interesting stuff?" I wondered.
The Chicago Home Theater Festival began in 2012 and is unique in the pantheon of the International Home Theater Festival movement. The Chicago festival encompasses the IHTF mission, "to reclaim domestic space" for art production, but like giardiniera on pizza, adds its own distinct flavor by "addressing specific issues facing its home city."
Given the multiple crises Chicago faces – from unrelenting police and gun violence to brutal education and health care cuts, soaring unemployment, class and racial inequities – along with a poster-child for corporate ineptitude and corruption in its unpopular mayor, the 2016 festival promises to be "hot" on the giardiniera spectrum.
Michelle made good on her promise and put me in touch with Executive and Artistic Producer Laley Lippard who has been nothing short of gracious and generous in answering my multiple emails about logistics. She sent the festival's media release, which set the festival in the context of "heightened xenophobia and racial polarization" and how the two acts – performance and inviting "strangers" into one's home offers a chance "to get closer…to one another…to the stories of our neighborhoods."
I'm looking forward to participating in two of the events this week. The festival started May 12 but runs every night this week and ends Sunday, May 22. Tickets are based on income – starting at $10 up to $60.
I have been so excited about the festival concept, its form and function, that I have been a little obsessive-compulsive about the whole thing. Thinking about what that means to "reclaim domestic space" for the arts and what it looks like, feels like to go to Portage Park, Humboldt Park, South Shore, Austin and other neighborhoods for "performances and conversations that directly disrupt injustice."
I have had plenty of strangers – many of whom became friends – in my home for political events and meetings, especially during the campaigns to elect Barack Obama and then to pass healthcare legislation. But what the festival release describes seems more conscious, more "woke." Plus, art inspires us in different ways. Such an approach seems fresh, dare I say revolutionary, way of organizing and creating art and community. During the heyday of Organizing for America, the organization founded after the 2008 election to help mobilize the grassroots around the president's agenda, as part of the meetings we used to tell our personal story, or as the festival encourages, "to turn to a stranger and share the story of their journey." Everyone has a story and stories can change the way we think and behave.
At a time where divisions and inequalities based on gender, race, class, sexual orientation and identity, ability/disability, immigration status and politics, I look forward "to understanding the borders and boundaries which keep us divided." But my skeptical self nags at me. Is it really possible to do all that? Whether it is or isn't, it has captured people's imagination. All shows are sold out except for Portage Park, East Garfield and Austin, Laley Lippard said today in an email. But those shows will offer the chance to "explore history, politics, and personal narrative through a guided neighborhood tour, build connection to strangers over a shared meal, and feel the intimacy of transformative art in living rooms, rooftops, kitchens, and bedrooms. Get closer to a more just Chicago." A chance worth taking.