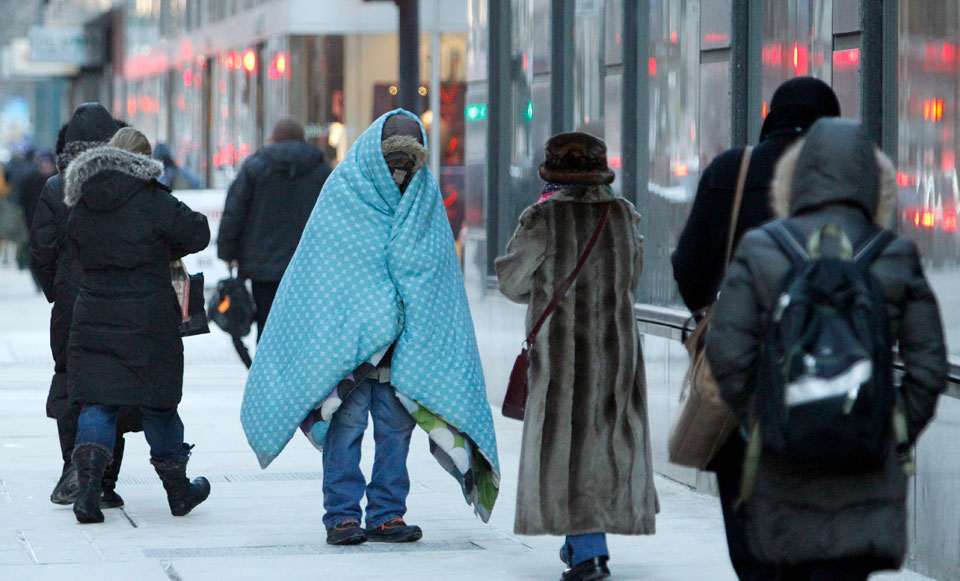 CHICAGO—Residents in Chicago continue to struggle meeting the demands of rising rents. City officials are facing increasing public anger over the lack of affordable housing options while also being forced to prepare the city's homeless community for the upcoming winter.
In 2017, the homeless population in Chicago was estimated to be around 5,657—with 1,561 of those individuals marked as "unsheltered." With finite resources in the budget dedicated to housing, it's becoming more difficult to accommodate the growing needs of the city's most vulnerable population.
Now, an Illinois non-profit is proposing a potential solution to address the homelessness crisis as part of their Bring Chicago Home campaign. The Chicago Coalition for the Homeless is advocating for a transfer tax of $9.75 per $500 on the sale of residential and commercial properties that cost $1 million and up. The CCH presented its proposal to City Council, asking that a referendum on the measure be placed on the ballot for February 2019.
For years, Chicago's aldermen have been individually burdened with addressing homelessness within their own districts. Pop-up encampments have been spotted throughout almost every corner of the city, and they invariably meet with the forcible removal of their houseless residents. The ongoing efforts to drive out homeless populations from more affluent neighborhoods has led to conversations about the way in which gentrification is displacing not only lower-income residents but also those without homes.
Though a number of institutions offer emergency shelter and transitional housing, many organizations work with limited staff and a tight budget. Several of the city's shelters have strict rules that make it difficult for guests with a history of mental illness, substance abuse issues, or criminal records to seek help.
In October 2018, Mayor Rahm Emanuel announced a $1.1 million investment in the 2019 budget to support homeless residents. The administration stated that it aimed to conduct "intensive outreach" and create supportive services for homeless encampment residents with a long-term goal of transitioning residents to permanent housing options.
The Chicago mayor, however, has stated that he does not support the proposed CHH referendum. "I agree with those aspirations," Emanuel told the press. "I disagree with the method because I don't think the first line of defense should be the homeowner's pocket, and I think that's a mistake." According to Director of Policy at CHH, Julie Dworkin, 31 of the city's 50 aldermen are in support of putting the question on the ballot.
In order for there to be an increase in a transfer tax, state law first requires it to be approved by referendum. This is a measure that City Council will need to vote on by Dec. 9 in order for it to make it on the ballot. Advocates are working on a tight timeline and caught in a web of bureaucratic procedures. Part of the obstacle they currently face is that the chairman of the City Council Committee on Finance, Edward Burke (14th Ward), refuses to indicate whether he plans to put the homeless tax on his committee's agenda.
Despite repeated attempts to reach out to Alderman Burke, he refuses to acknowledge the proposal, a telling sign that he likely has no intention of supporting it. Once called Chicago's "most powerful alderman," Burke is himself the lead partner in a law firm whose specialty is helping clients with property tax appeals.
Although a tax hike might not be the most popular solution, it would certainly help generate some of the money necessary to fund desperately needed services throughout the city. The Chicago Coalition for the Homeless predicts the proposed tax could bring in $150 million per year and would impact just five percent of real estate transactions in the city and three percent of homeowners.
The organization is optimistic about the additional revenue it would generate, with Dworkin predicting "we could decrease the number of people experiencing homelessness by 9,000." After a decade, she forecasts the number could decrease by as many as 36,000 people. In the meantime, the clock is ticking for Chicago's homeless residents, as they prepare to bear the brunt of the Windy City's brutal winter season.