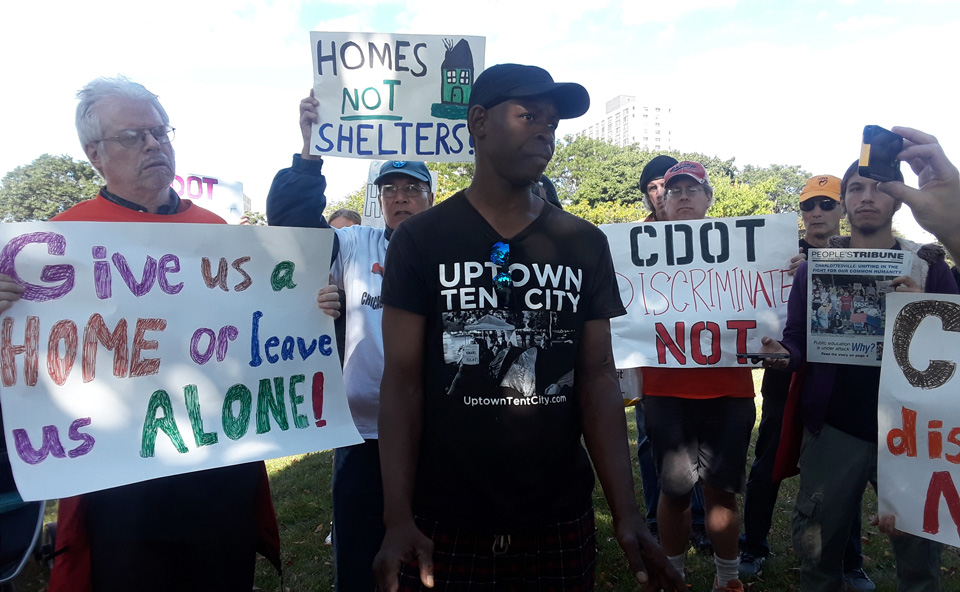 CHICAGO- Police here arrested several protesters Thursday morning after protesters blocked the southbound pathway of Lake Shore Drive. The demonstration was an act of solidarity with the homeless population of "Tent City," a popup community in the Uptown neighborhood which is home to an estimated 75 individuals. Rush hour traffic was halted for almost an hour by tents assembled across the expressway. The blockade was a direct response to a 30-day-eviction notice posted near the viaducts of Lawrence and Wilson Avenues, stating that Tent City residents have until September 18 to abandon the premises.
City officials initially claimed that the eviction was due to needed repairs under the crumbling infrastructure, but many activists have speculated that it is simply an excuse to displace the already homeless residents of the makeshift community. Many of the individuals who live in "Tent City" have found themselves in excruciating circumstances due to lack of affordable housing and decreasing job opportunities in the city of Chicago. The monthly rent for a 900-square foot apartment in a typical Chicago neighborhood averages over $1,400 a month. Employment prospects are increasingly difficult. According to a national report by the Brooking Institute, in Chicago, 16.6 percent of 25- to 64-year-olds — nearly 250,000 people — are out of work. The report used American Community Survey data from 2013, 2014 and 2015.
During the demonstration several blocked passengers left their cars to confront protesters. One man was spotted attempting to physically move a tent out of the way before organizers were able to diffuse the situation. One Northside, who has been the main organization working with residents of Tent City, played a major role in facilitating conversation with law enforcement and ensuring the protesters safety. A number of squad cars, an ambulance, and fire trucks approached the scene before they began arresting demonstrators. Among those arrested for blocking traffic were Pastor Fred Kinsey of Unity Lutheran Church in Uptown, Mark Saulys, a resident of the viaducts, and Adam Gianforte.  Another disabled resident blocking Lake Shore Drive, Carol Aldape, was taken to the hospital due to medical concerns, a condition which is not uncommon for many of the inhabitants of Tent City.
The protesters spoke openly about their demands from the city, detailing their need for access to housing, jobs, and mental health resources. Louis Jones, a resident of the viaducts who goes by 'Abdul', said, "We need them to give us a home or leave us alone." He spoke about the desperate conditions in which many of the inhabitants live: "We are out here because we have no other options.  If we are evicted, there is nowhere else for us to go." Organizations have been attempting to work with the city for over a year to secure permanent housing.
The homeless community has repeatedly asked Mayor Rahm Emanuel, Alderman James Cappleman (46th Ward), and Commissioner of the Department of Family and Support Services Lisa Morrison-Butler for reasonable long-term housing resources. A number of folks who reside in Tent City have jobs, but are still unable to secure affordable housing. According to Abdul and other demonstrators, they have yet to receive a meaningful response from city officials. "Rahm Emanuel, we need permanent housing for all residents!" he said.