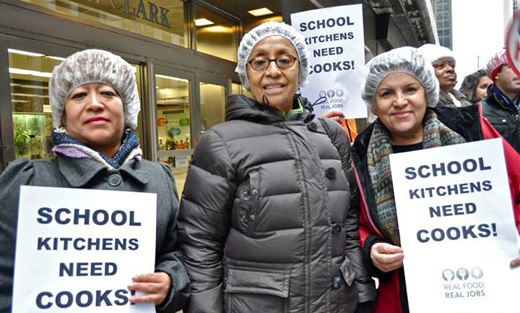 CHICAGO – Parents, teachers, students and cafeteria workers cheered the decision by Chicago Public Schools last summer to replace frozen, canned and pre-plated meals with fresh food.
They are decidedly unhappy, however, about the results of a CPS decision just two weeks short of school opening to lay off 200 lunchroom workers.
The reason for the unhappiness is simple, said 20 year lunchroom worker Linda Green: "We have worked hard to get fresh food in the schools, but cooking food from scratch requires more workers, not fewer."
Lunchroom workers rallied outside the CPS headquaters on Food Day, Oct. 24 reminding the public that it was their "Let's Cook" campaign that helped usher in an era of commitment to cooking fresh food.
A new survey by Unite Here, Local 1, the union that represents the workers, shows that 62 percent of respondents say their students like the food better this year compared to last.
Workers, teachers and parents, however, say the lunchroom cuts are causing big problems.
Some 53 percent of respondents reported that the lines of students waiting to be served are longer this year than last.
Nearly 60 percent of respondents who regularly see students in line said that the last student receiving food on average has less than 15 minutes to eat before having to be back in class. The USDA stipulates a minimum of 20 minuites for students to be sitting down and eating lunch.
Lunch rooms are not as clean as they were last year. Some 59 percent of respondents said they had less time to clean the lunch room this year compared to last year.
Some 43 percent of lunchroom workers have gone an entire day this year without a break. Fully one fourth have worked off the clock without pay.
"CPS lunchroom workers take great pride in their jobs and the food they serve to children every day," said Carly Karmel, a spokesperson for Unite Here.
The demonstration Thursday was one of more than 2,000 Food Day events that took place across the country.
"We are doing whatever it takes to make sure our students are fed," said Green. "But this isn't sustainable. We're doing our best, but the bottom line is that we need more staff."
TOWN HALL May 2 – Confronting the COVID Economy: Women Fight Back