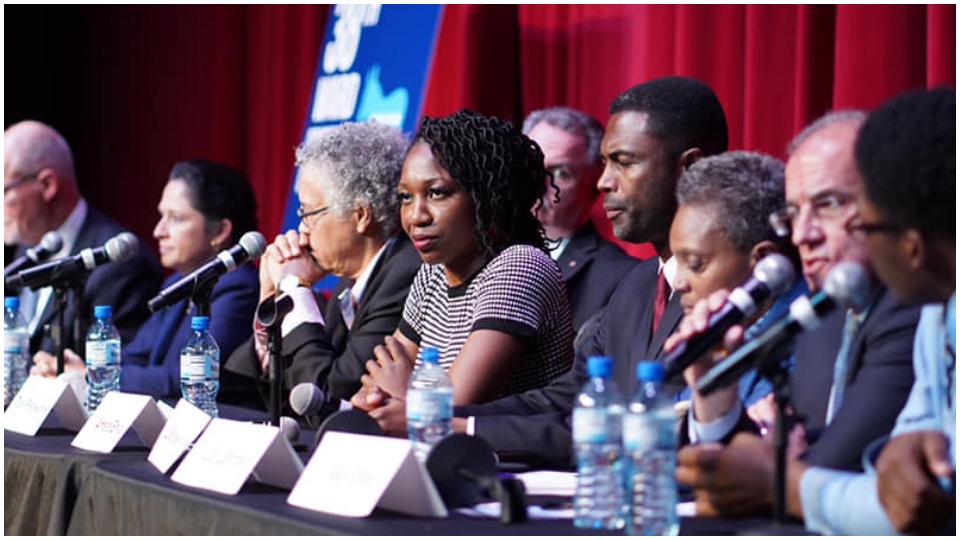 CHICAGO—Things have been heating up politically in Chicago since September when Mayor Rahm Emanuel announced he would not be seeking a third term. The surprise pullout sent the political landscape into a frenzy, prompting a number of contenders to step forward with hopes of nabbing the mayoralty.
Of the 21 candidates who met the November 26 petition-filing deadline to get on the ballot, Amara Enyia, a public policy expert with a master's degree in education, a law degree, and a Ph.D. in education policy, came in on top with 62,000 signatures. Enyia was previously considered a significant underdog, but her sudden rise in the ranks has been a surprise to the Chicago political establishment.
Enyia is one of the most qualified candidates on the ballot. She got her start in journalism, writing on topics ranging from education and economic development to fiscal policy. She also has experience consulting for government agencies, has worked as a policy analyst in Chicago city hall, and founded the Institute for Cooperative Economics.
Her campaign first started gaining traction after Chance the Rapper announced his endorsement back in October. Shortly thereafter, controversial rapper Kanye West paid off $73,540 in campaign fees owed to the Illinois State Board of Elections. The contribution covered the exact amount Enyia's campaign incurred after ending her previous mayoral bid ahead of the last election.
Since then, her latest run for office has continued gathering momentum. The Garfield Park resident has devoted most of her adult life to advocating and building up marginalized communities. She has previously spoken on the city's need for better education, economic investment, and police accountability. During the Laquan McDonald trial, for instance, Enyia was spotted hanging outside the courthouse with protestors and conferring with organizers. She has been at the center of Chicago's grassroots organizing scene for over a decade now.
"These are real relationships that are being grounded in the work," Enyia explained during an interview with People's World. "They are not just being forged now because I'm running for office." Enyia's team has also been bringing attention to growing community concerns about gentrification and displacement by hosting public forum-style events in various neighborhoods across Chicago called "Pull Up" rallies. Talking about the strategies needed to "pull neighborhoods up" is one way Enyia is engaging supporters and collecting information about the needs of individual communities within the city.
Despite speculation that other candidates might pull higher numbers, the mayoral hopeful is so far remaining undeterred. When asked what advantages she has over her opponents, Enyia laughs and responds: "Not being them." She clarifies that there is a fundamental philosophical difference between herself and some others who are also running for the office. "Other candidates are talking about why they should be mayor; I'm talking about why people should elect a mayor that represents their values."
The notion that Chicago could have a mayor who represents the needs of the people is a refreshingly welcome prospect. For years, Rahm Emanuel's administration has faced public scorn over such moves as overseeing the largest public school closing in the city's history and shutting down mental health facilities in some of its most underserved communities. Not since the days of Harold Washington in the 1980s has the city seen leadership from the mayor's office that actually empowers working-class voices.
Instead, Chicago, like the state of Illinois generally, has experienced notoriously crooked political leadership. Four of the state's last seven governors have gone to prison, and reports allege that Chicago remains one of the most "corrupt" cities in the country. Enyia claims that it is time to challenge the culture of fear when it comes to taking on the powers that be in Chicago. "An organization is a reflection of its leadership," she states. "If there is a culture of corruption, then it will attract individuals who are inclined to become part of such of an entity."
Erica Nanton, an organizer with GoodKids MadCity is one of the many young voters that Enyia's campaign has emboldened. "Amara represents not just a new mayor but a completely new way of how to run this city," Nanton says. "Instead of running things from the top down, it's bottom up."
The campaign is prioritizing support for existing grassroots movements that are already doing critical work in the city. For instance, Enyia has backed the idea of forming a Civilian Police Accountability Council in Chicago, which has long been an aim of the Chicago Alliance Against Racist and Political Repression. Her campaign has consistently acknowledged the role that black and brown youth are playing in addressing these issues and others within their own communities.
Enyia has also expressed support for elected representative school boards and cooperative businesses that allow employees co-ownership. Nanton says that Enyia's out-of-the-box thinking is necessary for Chicago's political leadership. "In a city with rampant unemployment, police violence, inter-community violence, and lack of adequate opportunity, a candidate like Amara is something this city not only needs but must have."
While she may not be the typical run-of-the-mill mayoral candidate from the city's political machine, Enyia was raised in a politically inclined household with a long history of activism. "I always tell the story of my great-grandmother, a woman who lived in a village in southeast Nigeria. She was one of the first people to stage an uprising against the British Empire."
Her parents fought in the Nigerian civil war on the issue of human rights violations and then came to the United States, instilling their values into their six children. "Everything we were taught, every talent and skill set—we were told it was supposed to be for the service of people; it's hard not to follow that path."
This legacy of family political action is embedded in the public policy advances and economic development that Enyia is aiming for with her mayoral run. She sees the election as an opportunity to create tools that give working-class people agency in their own neighborhoods—the power to determine their own future. When speaking about the platform that the mayor's office provides, she says she isn't looking for power or employment. "I'm not looking for a job; this isn't a job interview for me."
With just over two-and-a-half months to go before the February 26 vote, Enyia is running a campaign aimed at challenging the status quo. Just as her family taught her, she says she intends to encourage others to use their voice as a political weapon. "Voting is actually a mechanism through which we empower people," she says confidently. "When we amplify their voices, we amplify the needs of the people in this city."