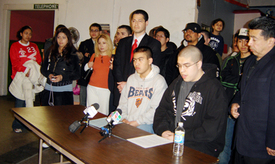 CHICAGO — By a 45-0 vote, Mayor Richard M. Daley and the City Council approved a resolution March 13 calling on President Bush to issue a moratorium immediately on all immigration raids and deportations not related to national security or criminal activity, and especially those involving immigrant parents with U.S.-citizen children.
"My mother was born in Mexico, came to the U.S. as an immigrant and became a naturalized citizen," Alderman Manny Flores of the 1st Ward told the World at a recent rally for immigrant rights.
Flores introduced the resolution along with Aldermen Danny Solis (25th Ward), Ed Burke (14th Ward), Billy Ocasio (26th Ward) and Ricardo Munoz (22nd Ward).
"I understand firsthand the challenges of immigrants, the dreams and aspirations they share for this country," said Flores. "In the end we were all immigrants, and we can't forget where we came from."
Flores said he believes it is important that people are reminded about their history and know that immigrants are seeking a better future for their families. "We have to have rallies and marches to raise people's consciousness and to understand and not forget," he said.
Elected officials are calling for comprehensive immigration reform to provide legalization and a path to citizenship for the estimated 12 million undocumented people in the country. The resolution condemns the recent nationwide escalation of raids and deportations, including 17 workers currently being held in Chicago with excessive bonds.
The resolution denounces the cruelty of separating families and supports the reunification of immigrant households. It states that mothers with infant children and fathers who are the sole supporters of their families are among those being detained. The resolution also reaffirms the council's support for the introduction of a private bill granting legal permanent residency for Elvira Arellano, a single mother fighting deportation, and others like her.
The City Council has set April 29 as "Family Unity Day" in Chicago and is urging all residents to participate in a day of prayer, peaceful gatherings and petitioning of representatives for pro-immigrant legislation.
The official resolution will be presented to President Bush, Homeland Security officials, members of the Illinois congressional delegation and Elvira Arellano.
Meanwhile a group of 50 Chicago elementary, high school and college students from over a dozen area schools traveled to Washington, D.C., to lobby members of Congress on March 15, urging them to pursue pro-immigration reform.
The busload of students, some immigrants and others whose parents are undocumented workers, presented thank-you letters and artwork to Reps. Luis Gutierrez (D-Ill.), Bobby Rush (D-Ill.) and Hilda Solis (D-Calif.). The students were well received by the office staff.
"We want legalization for everybody," said Anita Rico, an organizer of the trip and leader with Centro Sin Fronteras, a Chicago-based immigrant rights group.
"Immigrant youth want to go to college, and their parents want to have jobs, and not to feel scared when leaving their homes," said Rico. "Until we get that, we need a moratorium."
Rico added, "The youth are the future, but we are being affected now, and it's time for youth to step up and that's why we are asking all youth to walk out on May 1 and join the nationwide boycott."
plozano @ pww.org