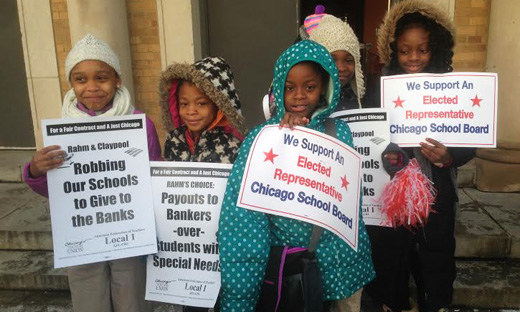 CHICAGO – "Getting my kids the proper resources they need," is what special education teacher Heidi Teach cares most about. Teach, whose name echoes her passion, was part of an animated band of kids, colleagues, moms and dads at Thorpe Elementary School in South Chicago this morning at the crack of dawn.
Today in 900 schools across the nation, educators and parents "walked in" to their own schools to show their neighborhoods and the world "a united front in the fight for public education and the schools all our children deserve," according to the action's national organizers, the Alliance to Reclaim our Schools. The Alliance is a coalition of school workers' unions – AFT, NEA and SEIU – with several national education advocacy groups.
In Chicago, the issue of getting the resources kids need, which includes teachers who get the support necessary to be effective in their jobs, became particularly urgent after the mayor's bargaining team reneged on a tentative contract agreement, unilaterally and pre-emptively cutting off payments into the teachers' pension fund.
The Chicago Teachers Union is barred by recent state legislation from negotiating on issues beyond employee compensation but the CTU's flyers nevertheless demanded smaller class sizes, less testing, racial equity across schools, and fully-funded Special Ed, libraries, school nurses, and art, music, and after-school programs.  The Board's policies are pushing out high seniority teachers, the union says, threatening the loss of experienced educators, particularly African American teachers, from the school system.
"Walk-ins" in support of a fair contract for teachers took place at 160 Chicago schools this morning, according to the CTU. The mayor's negotiators say there is no money to pay the teachers pensions, but the union's suggestions of alternative revenue sources – a stock transaction tax, re-allocation of surpluses sitting in the mayor-controlled Tax Increment Financing Funds and suing bankers who were paid hundreds of millions for fraudulent deals – have been brushed aside.
Thorpe School, a stone's throw from the site of U.S. Steel's former South Works site, is an under-resourced school in an under-resourced neighborhood, but one resource in ample supply is teacher and parent determination. "Class size should be smaller," said Valerie Wright, who bundled up her 2nd grader and loaded her preschooler into a little red wagon bright and early to "give teachers support."
Special ed teacher Teach has nine children in her classroom. Their challenges range from emotional disorders to learning disabilities to autism. With the assistance of a "fantastic" aide, she stretches her time to six additional special needs students who drop into her classroom during the school day. Her kids lack sufficient special books, designed for their needs, as well as manipulatives, essential teaching aids that help children learn in alternative ways. Teach noted that special needs kids can't meet their potential without appropriate resources, yet their needs don't get much attention when schools over all are under resourced.
Photo: Roberta Wood/PW