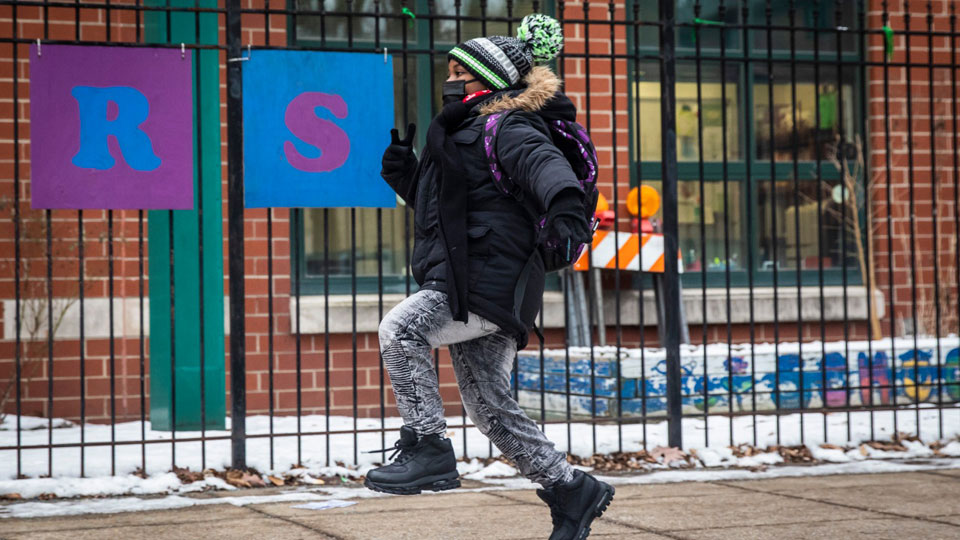 CHICAGO—As the late sage Lawrence Peter "Yogi" Berra once said, "It ain't over 'til it's over." And Yogi's bon mot easily applies to the Chicago Public School system's almost week-long lockout of its 28,000 teachers and staff—and its 340,000 students.
The reason? After a lot of discussion, with most who spoke opposing returning to work in what they called unsafe conditions. the Chicago Teachers Union's House of Delegates voted 63%-37% for a compromise solution to end CPS's lockout. In-school classes were scheduled for today, January 12.
But the delegates then sent that memorandum of understanding to the entire union for an electronic vote running through early afternoon that same day, and after a union-wide scheduled Zoom discussion on it.
Only if the members OK the pact as sufficient to protect students, teachers, and staff from the still-raging coronavirus pandemic would all students return to in-person learning in school buildings, it says.
The proposed back-to-school pact attempted to solve three big issues which led CPS to lock out the teachers and staff midway during the first week of school: Ineffective CPS testing of students for the coronavirus, when to switch schools from in-person learning to distance learning via Zoom, and whether to shift the whole system to Zoom if there's another steep rise in coronavirus cases, or school by school.
The lockout occurred after CPS's testing of students over the holiday break turned into a fiasco. It then opted for locking out everyone—students, teachers, and staff–when the union, AFT Local 1, voted by a seven-to-one ratio to refuse to return to in-school classes unless CPS produced detailed protection.
"Remember, we weren't fighting to make something good a little better," CTU President Jesse Sharkey told the union House of Delegates. "We had zero metric" for measuring protection of students, teachers, and staff against the coronavirus.
"The CPS CEO announced he didn't think he needed agreements with our union. The mayor was willing to sacrifice people's health to protect her image. It's not fair or just, but we had to fight this hard to win even the basic protections that we forced the mayor to agree to," Sharkey said.
"And while it falls short of so many things we and our students deserve, she didn't want to give us any of it. Whichever way you vote, every last word of protection in that document, you fought and sacrificed to gain," Sharkey told his members.
"The decision was made to bring the proposed agreement to the entire active membership for their final say," Sharkey elaborated. "If the agreement is voted up, we do everything in our power to enforce what is there. If the agreement is voted down, we will have to hold another House meeting and decide when we are resuming the action"—the refusal to work in unsafe conditions which led the system to lock teachers out.
On TV news-talk shows last week Lightfoot had denounced the union as not caring for the children.
Ironically, the evening of the union's meeting and the start of voting, Lightfoot announced she herself had tested positive for the virus.
A key mask requirement
One key section of the proposed agreement mandates the school system provide KN95 anti-viral protective masks to all students, teachers, and staffers, along with face shields for staff and students who need them, through the end of this school year. Also, building-level safety committees can decide whether to bring back health screeners into the schools. The screeners must be school staffers.
Another major stumbling block was deciding when multiplication of positive tests and sick teachers, students, and staff should force a school to close and shift back to all-distance learning. CPS wanted the schools to stay open unless 40% of staffers tested positive, while CTU wanted a 20% limit.
The two split the difference. If 30% of teachers test positive for two consecutive days, the school closes and the students shift to zoom learning. It'll stay closed if, even after using administrators and substitutes, one-fourth of the teachers still test positive. The minimum closure is five days, with the school's safety committee making the reopening call.
But those two sections involving teachers get overridden if high proportions of the students test positive, school by school, the agreement says. If there's a virus surge forcing at least 40% of students to isolate and/or quarantine, the school closes. If there's no virus surge, but at least half of the students must isolate or quarantine, same result.
The school system will offer free coronavirus testing "at every school every week to students and staff" as it did in December, the pact says. If fewer than 10% of students volunteer to be tested, all students shall be tested weekly by school nurses and staffers, it adds.
And to achieve 100% student participation in coronavirus screening and vaccinations, the schools and the union will set up phone banks to lobby students to participate and parents to agree. The goal is to have all 340,000 students vaccinated by Feb. 1.
In defense of both the mayor and the union in Chicago consideration must be given to flaws in testing nationally that have slowed the restoration of in-person classes in the schools.
School districts are struggling with an Omicron variant that is incredibly contagious, with right-wing Republicans attacking everything and anyone trying to solve testing problems, unexpected shortages of testing kits, and sometimes confusing guidance coming from the federal government. The resulting anxiety and confusion often cover up the fact that there is less transmission of the virus in schools at this point than in many other places.
Across the country, Republican opposition to honest attempts to battle the virus has taken a toll. Testing is meant to detect and isolate outbreaks of the disease but many school districts have held back from requiring students as a whole to be tested because of backlash from opponents. A broad united approach to battling the virus is required. The hesitation and fear bred by Republicans determined to make political gains out of failures have hurt the effort.