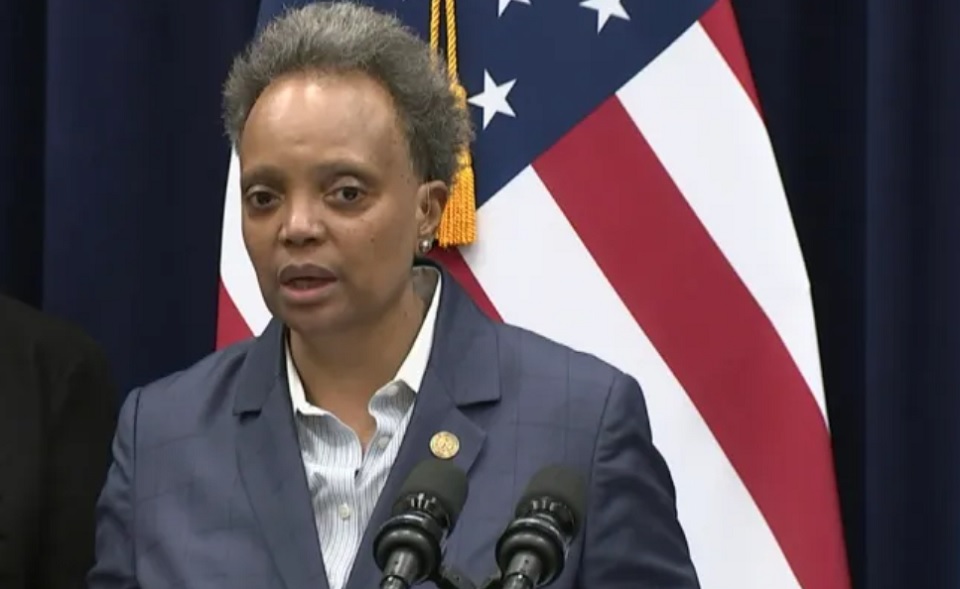 CHICAGO—With less than a month to go before the Chicago mayoral primary, the Chicago Teachers Union added paid family leave—to be precise, lack of it for teachers and school staff—to the ever-lengthening list of conflicts various groups within the Windy City have with incumbent Mayor Lori Lightfoot.
And in the process, issues of race and gender came to the fore, too.
The Chicago mayoral race is headed for a likely runoff pitting the first two finishers in the February primary against each other. The nine hopefuls are all Democrats in what is officially a non-partisan primary. Leaders in opinion polls are Lightfoot, Rep. Jesus "Chuy" Garcia, entrepreneur Brandon Johnson and former city schools CEO Paul Vallas. He's running on a "tough on crime" platform.
Unions have split in their endorsements, with CTU and the Service Employees backing Johnson, who is also a former teacher, and others endorsing or giving money to Lightfoot and Garcia.
The paid family leave fight is so heated that CTU President Stacy Davis Gates, the union's former VP/legislative director, took the unusual step of writing Lightfoot a personal letter "as a mother and a teacher" castigating Lightfoot's policy of crafting paid family leave, by executive order, for all city workers, except teachers and school staffers.
Says leave issue to bargaining
The issue, Lightfoot said, will be left to bargaining between CTU, which is Teachers (AFT) Local 1 and the city school board and CEO, all under mayoral control. Then a mayoral department in charge of budget and finances said the city was only "considering" whether to bring family leave up in talks.
CTU, with Gates in the fore, hit the roof, first at a Jan. 25 school board meeting and then in letters to both the board and Lightfoot. The Lightfoot letter got personal.
And in a petition posted on the union website, CTU noted 12 weeks of paid family and medical leave took effect on Jan. 1 for all other city workers, including police and Fire Fighters but not teachers and school staff.
Left unsaid in the petition: The other two groups of workers are overwhelmingly white men. In CTU's letters to both the board and Lightfoot, Gates noted almost 80% of teachers and staff are women of color.
"We have every intention of ratcheting up our campaign for basic fairness, not just for our members but for every public sector worker in this city who may find themselves on the wrong side of the mayor's indifference to fairness," the union declared in a press statement.
"In the coming days, watch for opportunities to sign in and support this campaign. That includes signing our petition calling for the mayor to expand the rights she's given to our fellow public workers to those of us who work for our public school students."
Paid family leave is an important issue nationwide, and one that, on a national level, Democrats generally favor and Republicans generally oppose, catering to their corporate campaign contributors.
Gates' letter to Lightfoot got pointed, saying, in so many words that relations between the politically powerful union and the politically powerful mayor—and her school administrators—had been improving since they hit a low over whether and when students should come back full-time following months of learning by zoom due to the coronavirus pandemic.
"Now it appears that you and your team have chosen to rescind your agreement to extend parental rights to CTU educators, even as you are already successfully implementing this policy at the city level," Gates wrote  to Lightfoot.
"We have been working to move past the acrimony of the past with your CPS (Chicago Public Schools) leadership team. This recent development sets those efforts back tremendously. This pattern of you and your team retracting good policy agreements fails to create quality partnership and forces a series of challenges from our membership that detracts from our shared goal of making our district the best in the world."
"The lack of parental leave in the United States is a tragic denial of access to necessary healthcare and family planning. Instead of acknowledging this appalling gap in key medical benefits across city agencies, you are picking winners and losers," the union warned in a press statement.
"This will only exacerbate the teacher shortage and increase the likelihood that you will once again force the CTU out on strike when our contract expires in 2024," it concluded.