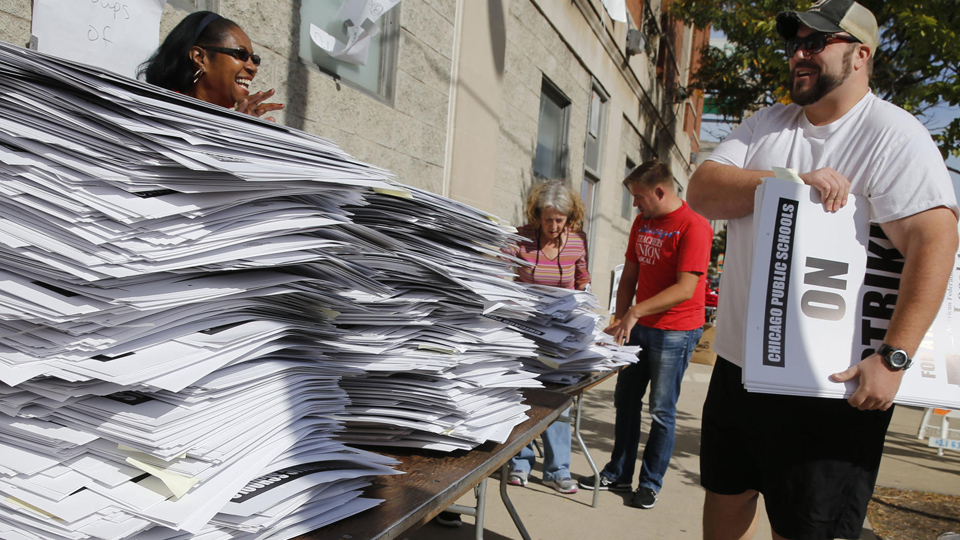 CHICAGO—After more than two years of negotiations, the Chicago Teachers Union (CTU) reached a tentative agreement with Chicago Public Schools' (CPS) Board of Education on Monday night, a few minutes short of midnight. As the CTU noted on its official website, the tentative agreement is not a final contract. "Every active member of the Chicago Teachers Union will have an opportunity to review and vote on the agreement before a contract is ratified." The original contract expired in June of 2015 and negotiations have been continuously postponed since then. Monday night marked the end of uncertainty for students and teachers as CTU president Karen Lewis spoke to the public announcing that classes would indeed resume on Tuesday. "It wasn't easy," said Lewis of the 12-hour negotiating session. "Clearly we had some issues and there are some things we are still going to be working on."
This summer, CPS teachers squared off against the city's mayor-appointed board of education in a press hearing. Educators and CPS faculty wanted to address concerns regarding the 1,000 teachers, aides and support staff that were laid off. Many were also upset that funds were being misappropriated, after a $945 million bond issue that would be used toward school building "rehabilitation" and construction" – instead of for educational staffing and programming needs—was proposed. In hopes of averting a strike, Aldermen, state legislators and Chicago Public Schools parents came out to City Hall last Friday, and urged Mayor Rahm Emanuel Friday to redistribute $200 million in TIF funds to help meet some of the demands of the CTU. These demands included restoring the laid-off staffers and properly and equitably funding all the city's public schools.
Emanuel has been in the hot seat with educators for years, as he faced a lot of pressure during the first teachers-walk out in 2012. He has not been shy about his thoughts on CTU's demands, publicly decrying their repeated threats to strike. "They will have chosen to turn down raises to deliberately disrupt the education of children and the daily routines of parents," said Emanuel last Thursday during an afternoon appearance at Skinner North Classical School in the Goose Island neighborhood.
Since then, however, the Chicago mayor has taken a different tone. At around 10:30pm, while negotiations were still ongoing, Emanuel and his CPS chief officer Forrest Claypool issued a joint statement saying that they were "committed to remaining at the negotiating table as long as it takes to reach an agreement-to give raises, to secure pensions, to invest in our schools – and most importantly to ensure our children are in school where they belong."
Some of the existing details of the contract include an increase in salary for union members after the third and fourth year of the deal, as well as cost of living adjustments. The agreement also obligates the Board of Education to pay for layoff recall positions, continued 7 percent pension contribution for teachers (who will themselves continue to pay 2 percent into their pensions), hiring aides for kindergarten through second grade classrooms that have more than 32 students, and a number of other resources that will help increase funds for individual students. Not to be ignored is a section that includes restorative justice practices in order to "improve the culture and climate of schools" and foster social emotional learning and safety—and to avert the school-to-prison pipeline. While CTU President Karen Lewis has reaffirmed that this agreement is not the exact version of what they had originally requested, it is a close alternative: "It's not a perfect agreement, but it was good."