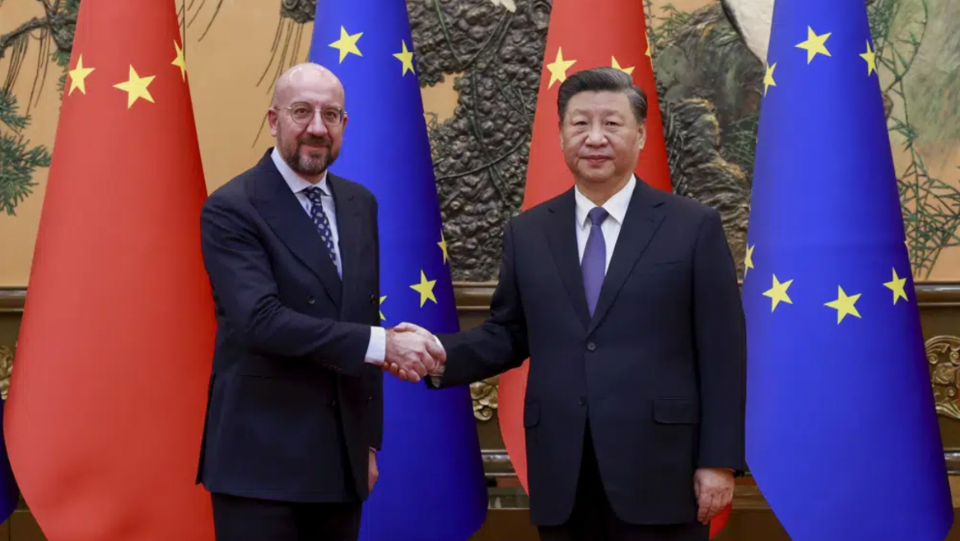 Chinese President Xi Jinping urged the European Union to seek negotiations on a peace deal in Ukraine at a meeting with European Council president Charles Michel in Beijing Thursday.
Xi said that "solving the Ukrainian crisis through political means is in the best interests of Europe and the common interest of all countries in Eurasia."
China has abstained on UN votes on Russia's invasion of Ukraine, pointing to the role of NATO expansion in provoking the war, but has criticized Russia for raising the threat of nuclear escalation. "We must avoid escalation and work for peace," Xi said Thursday.
But prospects of a peace deal seemed dim as Russian Foreign Minister Sergey Lavrov said the United States and NATO were "directly participating" in the Ukraine war.
"Not just by providing weapons but by training personnel…their military, on your territory, Britain, Germany, Italy."
Lavrov defended Russia's massive missile strikes on Ukrainian infrastructure and energy facilities that are feared likely to put many Ukrainians at risk of freezing this winter.
The strikes were to "knock out energy facilities that allow you to keep pumping deadly weapons into Ukraine in order to kill Russians," he claimed.
And he said Russia had walked away from planned nuclear arms control talks with the United States due this week since there was little point in talking about stability while the war in Ukraine raged.
The European Union said on Wednesday it was looking at setting up a special tribunal to try Russians for alleged war crimes in Ukraine and would use frozen Russian assets to pay for post-war reconstruction in the country.
Morning Star