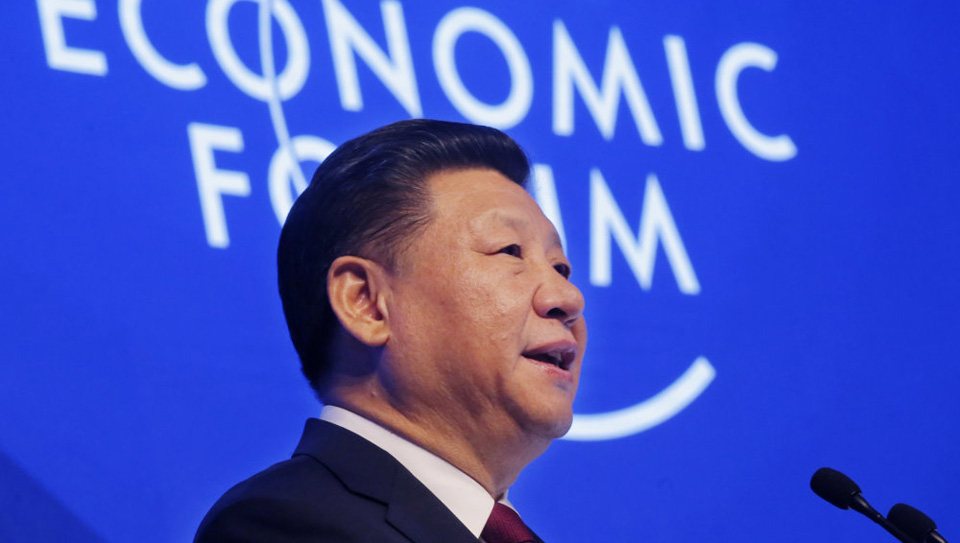 How bizarre it was to see Chinese President Xi Jinping, leader of an 88 million-strong Communist Party, at the World Economic Forum last month, addressing the world's business and political elites.
Did this not go to show just how far China has travelled down the capitalist road?
On the contrary, far from extolling global capitalism, Xi's speech carried a critical edge, pointing to the contradictions of a system that produces material wealth as never before while leading to increasing inequalities and social turmoil.
Highlighting the lack of fairness in the international order, Xi called for priority to be given to job creation, innovation, green growth and, above all, tackling poverty.
"Over 700 million people in the world," he noted, "are still living in extreme poverty. For many families, to have warm houses, enough food and secure jobs is still a distant dream. This is the biggest challenge facing the world today."
Win-win globalization
Presenting an alternative vision of win-win trade and investment, with growth shared to ensure social justice and equity, Xi's speech was designed to expose U.S. President Donald Trump's protectionism as a dead-end. Here are the key points, with some explanatory comments:
– Blaming economic globalization for the world's problems will not help to find solutions, for example, to the refugee crisis, brought about by war and conflict, or the 2008 financial crisis resulting from the excessive pursuit of profit and failure of regulation.
– Economic globalization is "a natural outcome of scientific and technological progress [which] has powered global growth." The creation of material wealth is not the problem. Since adopting its Open Door policy on foreign investment, China has been able to lift 700 million people out of poverty. Similarly, as trade between China and Latin America grew from $13 billion in 2000 to $262bn in 2013, and left-wing governments used the space to carry out radical social policies, poverty in Latin America fell from 44 percent to 28 percent.
– Indeed "economic globalization is a double-edge sword." However, while it has created new problems, notably increasing inequalities, this is no justification to write it off completely. Rather, "we should adapt to and guide economic globalization, cushion its negative impact, and deliver its benefits to all countries and all nations."
– Pursuing protectionism is like locking oneself in a dark room. It can only create losers and slow down economic growth. If tariffs are whacked on Chinese imports to the U.S., consumers will pay and if international supply chains are disrupted, U.S. jobs will be at risk. Returning manufacturing to the U.S. would likely just create work for robots.
– "When the global economy is under downward pressure, it is hard to make the cake of global economy bigger. It may even shrink, which will strain the relations between growth and distribution, between capital and labor." To create space for rebalancing, "we should commit ourselves to growing an open global economy to share opportunities and interests through opening up and achieve win-win outcomes."
– However, countries should "proceed from…national conditions…integrating into economic globalization with the right pace." The role of the state is decisive. By keeping in line with national conditions, opening its economy step-by-step, China has largely resisted pressures from global corporations to monopolize its markets, building up its own industrial capacities bit by bit.
– "The global economy has remained sluggish for quite some time." Nevertheless, "emerging markets and developing countries already contribute to 80 percent of the growth of the global economy." The problem lies with the Western economies and their failure to invest since 2008 with capital. Instead, they have continued feeding speculation. Rather than blaming China for overcapacity, credit should go to it for contributing 30 percent of total world economic growth.
– The key is to "seize opportunities presented by the new round of industrial revolution and the digital economy." Efforts so far to stimulate growth have failed – monetary policies of quantitative easing have only inflated asset bubbles, causing greater financial volatility. And policies of fiscal stimulus have their limits in debt and inflation. New growth drivers are needed.
– However there will be "extensive and far-reaching impacts such as growing inequality, particularly the possible widening gap between return on capital and return on labor." So "we should meet the challenges of climate change and aging population. We should address the negative impact of IT application and automation on jobs. When cultivating new industries…we should create new jobs and restore confidence and hope to our peoples."
– The goal is to build "a community of shared future" for all. Global challenges – climate change, ageing populations, growing inequalities, and disruptive technologies – put everyone in the same boat. These problems cannot be solved in isolation. "People with petty shrewdness only attend to trivial matters." Countries should rather "view their own interests in a broader context and refrain from pursuing them at the expense of others."
– "China will do well only when the world does well and vice-versa." This is the win-win vision. China does not want a currency or a trade war; it is willing to continue to help make the economic cake bigger so there is more to share. China's exports are already starting to fall as its internal market expands. This also offers huge opportunities for other countries in meeting Chinese demand. In the coming five years, Xi pledged, China will import $8 trillion of goods, attract $600bn of foreign investment, and make $750bn of outbound investment. Better to work with the new giant than to block imports and stand in the way of technology transfer.
– "Countries, big or small…are all equal members of the international community. We should adhere to multilateralism to uphold the authority and efficacy of multilateral institutions." In Trump's world of naked power and self-interest, unencumbered by international rules, smaller countries will have no voice. Not only the Paris climate change agreement but also such agreements as the nuclear Non-Proliferation Treaty and that foundation of world peace, the UN, are under threat. China seeks to defend these hard-won gains of multilateralism, standing up for a fairer system.
The state in the driver's seat
Xi's globalization is not one of untrammeled economic freedoms for global monopoly business. Rather it places states in the driver's seat.
Governments need to work together to address the global challenges ahead, managing change through economic coordination, and shaping the way the world transitions to a new technological age in a more balanced, greener, and inclusive way.
Trump just ducks the future, blaming China for de-industrialization when in fact for every seven U.S. jobs lost, six have gone as a result of technological change and only one through trade.
Xi's speech gives notice that China aims to set the global pace in renewable energies and technologies of the future. Hanging onto old traditional industries, the U.S. risks ending up in an economic backwater.
Xi's speech was also a warning to Trump not to confront China, clearly the most serious challenger to his so-called "America First" agenda.
Should Trump follow through on his rhetoric of economic war against China, attempting to use Taiwan and the "One-China" policy as a bargaining chip or blocking off the oil routes to China across the South China Sea, this could lead to "hot war."
Trump's delinquent approach has unnerved global elites, and in addressing the movers and shakers of international capitalism, Xi was looking to exploit divisions.
Taking to the platform at such a high-profile meeting, he was able to draw the attention of the wider world to China's message, one that counters the right-wing nationalist and militarist trends spurred on by Trump's populist ranting, calling directly for governments to cooperate in peace to tackle the problems of the people.
This article originally appeared in Morning Star. Chinese President Xi Jinping's full speech can be viewed here.