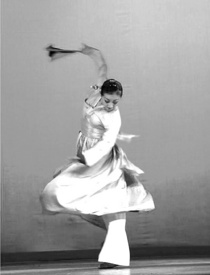 Over 200 people packed First Presbyterian Church of Owensboro, Kentucky, Fellowship Hall as the city was treated to a cultural exchange from China. Dancers from the Heilongjiang School of Performing Arts of Harbin, China, performed an elegant mix of modern and traditional Chinese dance by artist and musician Hong Shao.
Each performance represented a region of the many cultures and peoples of China. The Chinese New Year celebration was sponsored by the Owensboro/Evansville chapter of the U.S.-China People's Friendship Association. The holiday is also called the Lunar New Year and it is celebrated throughout many Asian countries, including Vietnam, Mongolia, Korea and Nepal.
The event opened with traditional music and the customary lion dancers who glided up and down the aisles to the beat of drums and clanging of symbols.
Between performances there were short lectures on the various regions of China with an explanation of each performance, where the dance and music originated. Chinese money in red envelopes, a traditional New Year's gift, was presented to the children. At the end of the performance, the key to the city of Owensboro was presented to the director of the Harbin Performing Arts School by Mayor Tom Watson.