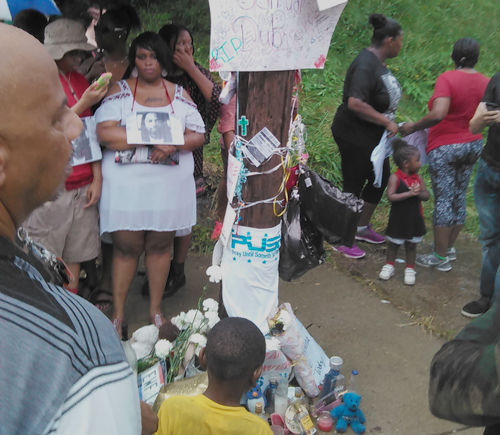 CINCINNATI – On Sunday July 26, a crowd of over 300 community members marched from the University of Cincinnati campus to the site of the fatal shooting death of 43-year old Samuel Dubose to demand the release of police body camera footage of the incident. Undeterred by a thunderstorm, demonstrators actions included spontaneously halting the march to drop to their knees with their hands in the air and "die ins," whereby the crowd laid limp in the street.
Dubose died after being shot in the head by campus officer Ray Tensing during a July 19 traffic stop for failure to display a front license plate. Dubose was unarmed. The ordinary penalty for the traffic violation is a $130.00 fine.
In an interview with the People's World, Dubose's younger sister Kimberly "Keshan" Thomas described Dubose as a "community man," "revolutionary," and "documentary enthusiast" who taught his children about the work of Martin Luther King, Jr. and Malcolm X. Thomas said that Dubose was her best friend, mentor, and biggest fan, who had been encouraging Thomas to use her culinary training to realize her long-time goal of opening a vegan restaurant in the city. Thomas cooked Dubose his last meal before the two watched the documentary Slavery by Consent.
The event was largely organized by the family of Dubose and included remarks from his mother, father, sister, niece, and two of his minor children. Demonstrators chanted shout outs to cities such as Cleveland, Ferguson, and Baltimore, a sign of solidarity with the larger Black Lives Matter Movement which has taken hold in cities
At the site of Dubose's death, demonstrators laid white carnations at a memorial set up by neighborhood residents at the foot of a utility pole. After the family's remarks at the memorial site, the crowd proceeded to the headquarters of the University of Cincinnati's Department of Public Safety, where they chanted "Show us the tape!" a reference to the body camera being withheld by both campus police and county prosecutor Joe Deters.
Discrepancies between Tensing's 911 call reporting the shooting and his final incident report have aggregated community suspicion and amplified calls for release of the body camera footage.
Several media agencies have sued for release of the footage, arguing that it is a public record to which they are entitled under Ohio law. Deters has promised to release the footage upon the conclusion of his investigation. Deters hopes to conclude his investigation by Friday.
Photo: At the site of Dubose's death, demonstrators laid white carnations at a memorial set up by neighborhood residents at the foot of a utility pole. Kirsten Hendershot/PW