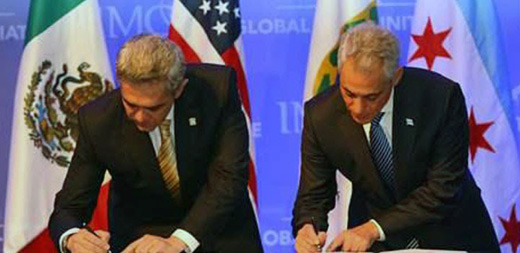 This past May, Chicago concluded an international trade agreement with Mexico City. The agreement sets out an ambitious economic partnership involving joint initiatives in trade, innovation, education, industrial expansion and enhanced global competitiveness. The project is described in detail in Brookings Institution documents by Amy Liu and Ryan Donahue. Here is a link to the actual agreement.
What makes it intriguing is that the agreement is tailored to the economic interests of each partner city, rather than, say, following the instructions of some broad geostrategic agenda defined at a federal level.
It goes far beyond a 'sister cities' pact to enhance the $1.7 billion in locally produced trade that flows between the two metropolitan areas.
According to the Brookings Institution, more than $1.7 billion of locally-produced products are traded between the two, making each city among the top North American trading partners for the other.
Of that trade, 38 percent is in advanced industries led by electronics, machinery manufacturing, and pharmaceuticals. About 130 Chicago-based firms, such as Abbott Laboratories, Baxter International, and Motorola Solutions, have opened operations in Mexico City, demonstrating how businesses have already acted on market opportunities there to access new customers or new suppliers. Furthermore, nearly 290,000 business travelers and tourists fly between Chicago and Mexico City per year, reinforcing the economic ties that bind them.
This Chicago-Mexico City partnership was inked at a forum in the Mexican capital sponsored by the Global Cities Initiative. The initiative, a Joint Project of Brookings and JPMorgan Chase, sets a new standard for how cities can work together, partially independent of the considerations foremost on the table of multilateral trade negotiations.
It is not surprising that the Brookings Institute evades the new possibilities for grassroots international labor, peace, immigration and environmental cooperation and solidarity in a city-to-city relationship. Business opportunity is its motivator. But wherever capital goes, labor will soon follow, as Frederick Engels noted.
Mexico City's Secretary of Economic Development Salomon Chertorivski Woldenberg, who led a delegation of officials and business leaders on an information-sharing visit to Chicago last week, envisions an ongoing and dynamic relationship between the two cities.
"For instance, [Mayors] Emanuel and Mancera, and their regional partners, can help small and midsized firms in priority industries find more customers in each market, expanding exports. To build on the momentum of reshoring to North America, they can streamline permitting and procedures to facilitate foreign investment, especially for firms interested in simultaneously locating and expanding in both markets. Their community colleges or universities can create a common training program to ensure a steady supply of skilled workers in both cities so firms in shared industries, like electronics and pharmaceutical manufacturing, are competitive in both markets."
Chicago and Mexico City have drawn on the examples of other recent enhanced "sister city" relationships and taken them to a new stage.
San Francisco's ChinaSF initiative has worked in Shanghai, Beijing, and Guangzhou to help 30 primarily high-tech companies set up U.S. headquarters in San Francisco, as well as help Bay Area companies make connections in China.
Arizona State University has deepened greater Phoenix's ties with Monterrey through an industry-focused partnership with Tec de Monterrey, which has led to joint master's degree programs in aerospace logistics and the creation of a Global Institute of Sustainability that examines cutting edge approaches to regional water management issues in both markets.
And the state of Queretaro has forged a partnership with global aerospace firms, such as Bombardier, and local universities in Mexico, Canada, and the United States to ensure their economic anchors have the skilled workers and supply chains to succeed across North America.
Cities are beginning to articulate a distinctive agenda in international affairs, one that sets them apart as diplomatic actors in their own right. The development is a golden opportunity for progressive agenda activists to create powerful and binding ties with movements in sister cities and have a direct impact on global economic forces.
The idea of nimble, confident city-regions forging practical partnerships to solve problems while lumbering, grid-locked, or corporate-captured nation states struggle to achieve traction on a range of issues, from Syria to climate change, has intuitive appeal. That it does!
Photo: In Mexico City, Mayor Emanuel signed the Global Cities Economic Partnership with Mexico City Mayor Miguel Ángel Mancera. Chicago Sister Cities.