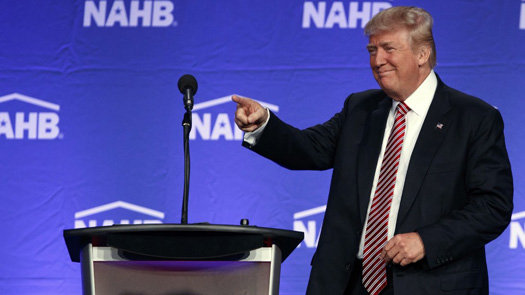 Attempting to prevent Donald Trump-inspired vigilante terrorism at the polls this coming November, Civil Rights groups are calling for monitors to oversee balloting across the U.S.
Their call is particularly urgent because for the first time in 50 years, the federal government will not be sending observers to states with long histories of preventing minorities from exercising their constitutional right to vote.
At his rallies, Trump has been urging his followers to "go down to certain areas and watch and study and make sure other people don't come in and vote five times."
He's been continually whining that "the only way I'll lose" is through "cheating" at the ballot box.
In Trump-speak, "cheating" is a dog whistle word for poor and minority people voting. Trump is worried about this because, despite the fact that close to 20 states have passed voter suppression laws, courts in seven states have knocked down a few of the barriers erected to prevent poor people and minority communities from casting their ballots.
Trump's supporters know that the "certain areas" Trump wants them to "watch and study" are areas with high percentages of minority voters.
The Trump campaign website asks visitors to sign up to be a "Trump Election Observer." If you do, you receive an email saying that "someone from the campaign will be contacting you soon."
Moreover, Zachary Roth reports in NBC online news that "a Florida-based Trump backer tweeted Friday: 'We gonna be watch'n fer shenanigans…& haul ya away,' above a photograph of a pickup truck with a cage in the truck bed."
Federal observers pulled back
In the past, harassment at the polls would be handled by the U.S. Justice department.
But the Justice department will be off duty during the elections this coming November.
As Ed Kilgore explains in New York magazine, "In 2013, when a five to four majority of the U.S. Supreme Court [gutted] the Voting Rights Act of 1965 in the Shelby County v. Holder decision, it … also eliminated the basis for a separate Justice Department program providing for federal election observers …
"The main function of these federal observers was to deter by their presence and, if necessary, report on efforts to intimidate or otherwise discourage voting by minority citizens."
For example, in the 2004 general election, Justice sent 1,463 federal observers to monitor 55 elections in 30 jurisdictions in 14 states.
"This year," Kilgore writes, "that number will be close to zero despite the fact that 17 states have restrictive voting laws in effect for the first time in an election cycle where the political rhetoric has been extremely racially charged at the national level."
Lacking the ability to appeal to the federal government, civil rights and other progressive groups are turning elsewhere for help in preventing voter suppression, especially in light of the threats from the Trump campaign.
For instance, MoveOn.org has announced it is launching an "emergency campaign with on-the-ground local leaders, working to convince their secretaries of state to take the necessary precautions to protect voters from Trump's goons."
The group explains that secretaries of state are the chief elections officials at the state level.
It is also asking the federal government to reverse its decision not to send observers to polling places.
Moreover the Leadership Conference on Civil and Human Rights has sent a letter to the Organization for Security and Cooperation in Europe (OSCE) to "greatly expand" its U.S. election monitoring program.
This past June, the OSCE, which is based in Poland, issued a "Needs Assessment Mission Report," saying it plans to send 500 monitors to the U.S. to observe elections in November.
In their letter to the OSCE, Wade Henderson and Nancy Zirkin, president and vice president respectively of the Leadership Conference, urged the OSCE to target its resources on states where racial discrimination in voting or voter intimidation are particular threats.
The letter singled out Pennsylvania, North Carolina, Alabama, Georgia, Arizona, Wisconsin, North Dakota, and Texas.
Henderson and Zirkin wrote that "a confluence of factors has made racial discrimination in voting a greater threat than at any time in recent history."
They wrote "the unprecedented weakening of the Voting Rights Act has led to a tidal wave of voter discrimination efforts nationwide and has required the United States to drastically scale back its own election monitoring program.
"In addition, a leading presidential candidate who has made the demonization of racial, ethnic, and religious minorities a hallmark of his campaign has recently urged supporters to challenge voters at polling sites nationwide."
Photo: Evan Vucci/AP