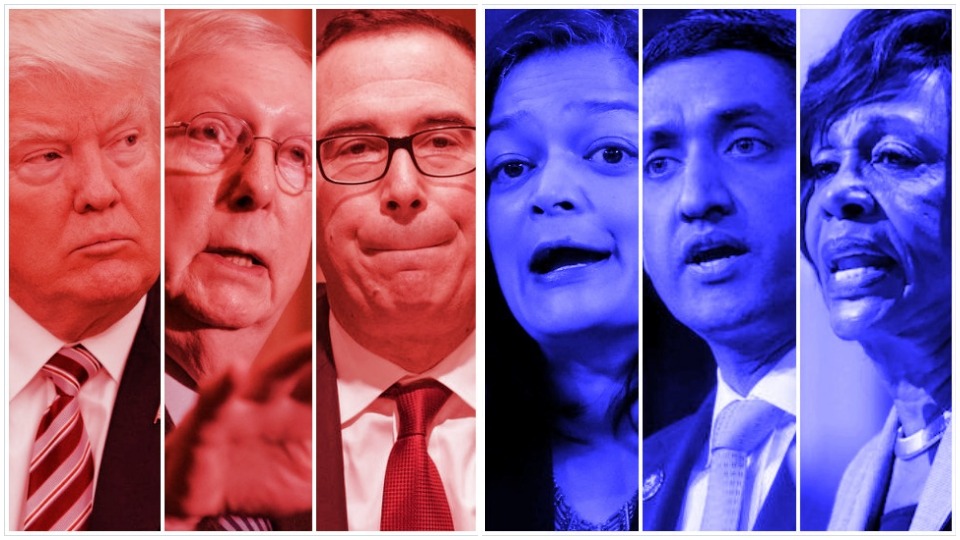 WASHINGTON—Call it class conflict: The fight over the next economic stimulus bill will pit the representatives of the rich against the representatives of the rest of us.
And it's playing out on Capitol Hill even before the U.S. House and its pro-worker Democratic majority planned to return to work – if congressional doctors will let them – on May 11.
On the side of the rich: GOP President Donald Trump, almost all of the Republicans and the 1% — except a few who realize the entire U.S. needs to get back on its feet – the radical right, and the corporate elite. They want to open up the economy again, regardless of whether doing so produces a new surge in coronavirus victims and deaths.
On the side of the rest of us: Workers, state and local governments, the House's ruling Democrats, labor unions and progressive groups. They want to help victims of both the coronavirus pandemic and the economic catastrophe the ensuing scramble for social distancing and sheltering in place has produced.
And there's an additional twist: Trump and the GOP may try to short-circuit the battle – and deny us a potential win – by questioning whether and when there should even be a new stimulus bill at all.
"Media reports indicate the administration plans to propose $850 billion in aid to certain industries," says House Financial Services Committee Chairwoman Maxine Waters, D-Calif., who represents inner-city L.A. "If so, they're missing the point: Families must come first."
The key issues: Aid to state and local governments, saving the U.S. Postal Service, more money along with credit, mortgage, and rent payment moratoriums for workers and families left jobless by the needed measures to stop the coronavirus pandemic, versus cutting capital gains taxes, ending payroll taxes, letting states and cities go broke and aiding the USPS only if it fires workers, cuts services and rips up its union contracts.
There's no question the economy needs a continued boost. The free fall in jobs threw at least 20.5 million people out of work in April alone. That produced the highest reported unemployment rate since depths of the Great Depression, when reported joblessness hit 25.5% in August, 1932.
The bleeding isn't about to stop. Some analysts predict joblessness will be at record levels through 2022 or longer.
AFL-CIO President Richard Trumka puts the jobless figures in stark terms.
Real figure is 50 million
Combining the 20.5 million people who officially lost jobs due to the coronavirus pandemic, plus millions more forced into part-time work, or who can't get through antiquated and crashing jobless systems to file claims, or have just plain dropped out, he comes up with a figure of 50 million jobless.
BLS said only 51.3% of the civilian population now have jobs, a record low since BLS started compiling that percentage in 1949. The U.S. workforce in April was 133.33 million, its figures add, down from 155.83 million (59.7% of the civilian population) in March.
Those official figures, unlike Trumka's, don't include further closures, mandated by the need to stop community spread of the virus, in late April and early May. Many economists agree tens of thousands of those disappearing jobs – notably in brick-and-mortar retail stores – will never come back.
With all this as background, the House is working on details of a new economic stimulus bill. But Senate Majority Leader Mitch McConnell, R-Ky., opposes legislating right now. He says there should be "a pause" in aid. Trump says a new bill should eliminate payroll taxes – which wouldn't help the jobless and which would hurt Social Security – and cut the capital gains tax. That also benefits the rich.
The top fight will be over aid to state and local governments, which are in dire straits as their revenues from income and sales taxes dry up while their expenses, to help care for the millions afflicted by the coronavirus pandemic, soar.  They got $150 billion in the March stimulus law. They need more.
House Speaker Nancy Pelosi, D-Calif., estimates they need $1 trillion combined to make up the shortfall. The March figure is, in addition, to aid to mass transit systems, schools, and other local bodies.
"State and local governments employ approximately 20 million people, and making sure they have the resources they need is absolutely critical," says first-term Rep. Jennifer Wexton, D-Va., who ousted a right-winger in 2018 from a district that includes the National Rifle Association's headquarters.
"Having classrooms with 50 kids in them won't help you in a recovery," Wexton said at a May 7 telephone press conference with other lawmakers.
Plan to save Post Office
The Dems also intend to save the Postal Service – a cause 94% of the country supports, a poll for the Letter Carriers showed. USPS's moneymaker, first-class mail, has crashed by 50%.
Retiring Postmaster General Megan Brennan and postal unions are campaigning for $75 billion to keep USPS going beyond Sept. 30 until it can get back on its feet. By then, a Trump-nominated postmaster general, Louis DeJoy, a rich GOP donor and corporate executive from North Carolina, may be in place.
USPS preservation is absolutely necessary, NALC President Fredric Rolando says, so carriers and their union colleagues can keep delivering food, medicines, coronavirus test kits, and other aid to every address in the country. Nobody else, including private carrier services, does that.
"At a time when hundreds of thousands of Letter Carriers and other postal employees are bravely demonstrating once again why the Postal Service is the country's most popular federal agency by serving heroically during this pandemic — delivering public health alerts, medical supplies, tests, prescriptions, relief checks and online purchases to households sheltering in place — the Postal Service needs sound and innovative leadership," Rolando said.
Trump opposes aiding the USPS, thus endangering its 600,000 workers, most of them women, people of color, veterans or combinations of those characteristics. His stance helps another anti-union firm, FedEx.
His congressional negotiator, Treasury Secretary Steven Mnuchin – an ex-banker known for foreclosing on people's mortgages even when they qualified for repayment aid after the 2008 crash – seized on USPS's red ink to demand it fire workers, cut services, raise package rates and rip up its union contracts.
Postal unions urged the Trump-named Postal Board of Governors " to continue to resist inappropriate meddling by the Treasury Department in postal operations," a polite way of slamming Mnuchin's scheme. "Today, we ask the same of the new postmaster general."
Trump doesn't want to help the states and cities, either. McConnell says they should declare bankruptcy.
Version of Ford's "Drop Dead"
It's his version of GOP President Gerald Ford's infamous: "Ford to city: Drop dead!" order when the New York City went broke in 1975. And McConnell writes the Senate version of any stimulus bill. His "red line" is to let businesses walk scot-free – lawsuit-free – if they expose workers and customers to the coronavirus (see story last week). Trump agrees.
"Well-run states should not be bailing out poorly run states, using coronavirus as the excuse!" Trump  tweeted May 5. "The elimination of Sanctuary Cities, Payroll Taxes, and perhaps Capital Gains Taxes, must be put on the table. Also lawsuit indemnification and business deductions for restaurants and entertainment."
Trump's payroll tax cut wouldn't help jobless workers, would put money in corporate pockets, and would choke off revenue needed to pay for Social Security and Medicare, retorts Richard Fiesta, executive director of the Alliance of Retired Americans.
"President Trump has used this crisis as a pretense for weakening the retirement and health care seniors have earned over a lifetime. The incessant calls for cutting the payroll tax, the foundation of Social Security, is but one example," he said.
Not requiring nursing homes to protect their workers and their patients from the coronavirus — which has killed more than 80,000 people in the U.S. and infected 1.4 million – is another, Fiesta added.
Left aside in all of this is a key worker cause: The Essential Workers Bill of Rights (EWBOR), pushed by Rep. Ro Khanna, D-Calif., Sen. Elizabeth Warren, D-Mass., and the 95-member Congressional Progressive Caucus. Progressive groups launched a May 7 one-day e-mail and phone blitz for it.
It's also a measure that could, if enacted, be easily extended to all workers, providing a comprehensive pro-worker overhaul of U.S. labor law and workers' rights.
The EWBOR combines pro-worker measures, including strengthening the right to organize, outlawing many employer anti-union schemes – such as captive audience meetings – banning misclassification of workers as "independent contractors" without worker rights, ordering worker representation on corporate boards, curbing executive pay and perks, and imposing huge fines on labor law-breakers.
About the only provision it lacks is language to throw corporate chieftains in jail when they're convicted of breaking labor law. Former Vice President Joe Biden, the presumptive Democratic presidential nominee, advocates doing that, too.
Other fish to fry
But neither Trumka, in a 13-minute speech on May 7 on the federation's Facebook page, nor the group of lawmakers, gathered by House Education and Labor Committee Chairman Bobby Scott, D-Va., on the same day, mentioned the EWBOR. They had other fish to fry.
Trumka pushed for guaranteed wages, of up to $100,000 per person plus health care coverage, for as long as the coronavirus pandemic and the accompanying economic crash lasts.
That's a key Progressive Caucus cause, authored by co-chair Pramila Jayapal, D-Wash., and she and the caucus – the House's largest – are campaigning to insert it into the next stimulus bill.
"We still have work to do," Scott said. "But number one is to support state and local governments who are suffering revenue setbacks" and would have to slash services and fire workers without federal aid.
Scott actually understates the case: State and local revenues have collapsed right when people need their services – from firefighters to school teachers to staffing jobs centers – the most.
But Scott also realized people who lost their jobs can't pay for their health care, either, and said the stimulus bill should help them, too.
"If you lost your job, you can keep your health insurance if you can pay the premiums" through COBRA, the federal mandate to firms that they offer laid-off workers continued coverage for at least three months, but workers must pay the freight. "Without a job you can't pay the premiums. We need to subsidize that."
The House Financial Services Committee is pushing for $85 billion to wire the entire country for high speed Internet, says Rep. John Sarbanes, D-Md., But it has bigger ambitions for the stimulus package. They include direct cash to jobless workers, moratoriums on rent, debt payments, evictions and similar measures, combined with federal subsidies to landlords to cover proprietors' and lenders' losses.
The panel wants direct cash of $2,000/month to all adults and $1,000 per child, too, all the way through the crisis, a fact sheet from its Democratic majority says. The money would go directly from the Treasury or the IRS, not through banks and not to millionaires and billionaires, either. Sen. Bernie Sanders, Ind-Vt., pushed that idea during his now-suspended Democratic presidential primary campaign.
Payments would be less
The Financial Services panel's payouts would be less than the $100,000 yearly in Jayapal's measure.
But the committee also would "suspend all consumer and small business credit payments – mortgages, car loans, student loan repayments" and so on – through the pandemic because "many Americans are confined to their homes and unable to work." The Federal Reserve or the U.S. Treasury, the Financial Services Committee says, should step in and repay the lenders instead.
"As the COVID-19 pandemic continues to spread, we have seen the devastating effects on workers, consumers, investors, markets, and the economy," said Waters, using the coronavirus's official name.
"Low-income communities were struggling before this crisis began and will likely be hit particularly hard by the recession. This is an urgent public health crisis that has quickly harmed our entire economy, and it demands swift and bold action."