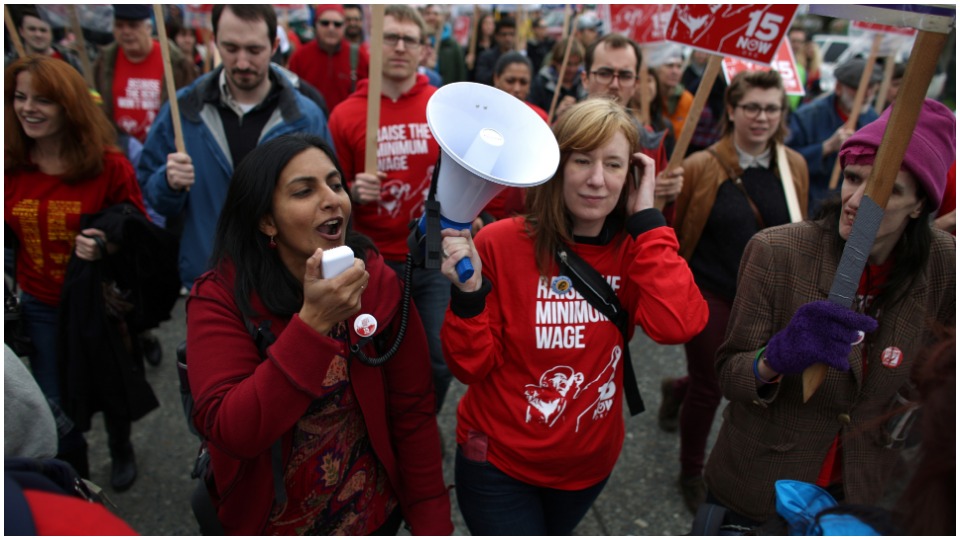 Amazon is hoping to pick up some Seattle city council seats next week, sparing no expense in a quest to fill them with new representatives who won't have the crazy idea that capitalists ought to pay more in taxes. Dumping an additional million dollars into the coffers of the Seattle Metropolitan Chamber of Commerce's political action committee in October, the retail giant brought its total election spending to nearly $1.5 million for the year.
Amazon's goal? A city council swept clean of anyone who tries to force businesses to pay more for public services and housing in what has become one of the country's most expensive places to live. Inequality couldn't be more stark than it is here: Amazon CEO Jeff Bezos, the world's richest man, lives in the suburbs with his $110 billion while more than 11,000 people sleep on the streets.
For the past few years, local democratic and labor movements—and their political representatives at city hall—have been fighting back against the yawning wealth gap that has swallowed Seattle. The Fight for $15 minimum wage movement scored one of its first big wins here. Workers won predictable work schedules and ended the scourge of "on-call" shifts that often turned their lives upside down on a manager's whim. And two years ago, for a brief moment, a tax to support affordable housing was forced on the city's richest companies.
That tax—which would have levied a $250 per employee annual charge on companies making more than $20 million a year—was passed unanimously by the city council in May 2018. With median rent for a two-bedroom apartment coming in at over $2,700 these days and unaffordable housing pinpointed as the chief cause of the region's homelessness crisis, it's little wonder that local officials told Amazon and other businesses they had to do more.
But after a massive corporate revolt spearheaded by Amazon, the council backed down just a month later, repealing its own decision by a 7-2 vote. Had the tax survived, Amazon would have been on the hook for a mere $11 million annually— one-tenth of one percent (0.0982%) of the $11.2 billion in profits it made last year.
So it wasn't the amount of money that really riled Amazon—it was the possibility that local politicians and working-class movements would set a precedent of winning against big capital. Now, with its $1.5 million intervention in this year's election, Amazon is determined to make sure it can't happen again.
The Chamber of Commerce's PAC, the so-called Civic Alliance for a Sound Economy (CASE), is putting its Amazon dollars behind a raft of candidates seen as more business friendly. Elections are officially non-partisan in this liberal city, so most candidates are identified as "progressive" on this or that issue, but when it comes to taxation and regulation, there are clear splits.
Perhaps intimidated by the Goliath towering over them, four sitting council members opted not to run for re-election. The seats of two of councilors—Teresa Mosqueda, who has roots in the trade union movement, and Lorena González, known for her civil rights and immigrant rights work—are not up for re-election in 2019. Socialist Kshama Sawant of the Trotskyist group, Socialist Alternative, is one of the incumbents fighting for electoral survival.
A former software engineer and economist, Sawant was elected to council in 2013 and became one of the most vocal leaders of the campaign to raise wages and tax Seattle's corporate giants, which include not only Amazon, but also Microsoft, Starbucks, Costco, Expedia, Nordstrom, Alaska Airlines, and more. (Many of these were also heavy CASE contributors.)
She was the first winning candidate in the wave of socialists who've come to office in the wake of the Great Recession. Though many other Seattle progressives find themselves on the same page as Sawant when it comes to the issues, apparently not everyone has found her easy to work with on the council floor. A member of the American Federation of Teachers, Sawant has taken an uncompromising attitude toward national trade union leaders whom she sees as not looking after rank-and-file interests. She has said some labor leaders have "completely betrayed the working class" and that they work "hand in glove with the Democratic Party" telling workers they "have to be happy with crumbs."
Comments like those might be part of what cost her the endorsement of some unions this time around; in 2015, the Martin Luther King County Labor Council backed her, but opposition from Teamsters, Building Trades, the Police Officers Guild, and the Firefighters sunk her this time, according to reporting from Seattle's alternative biweekly The Stranger. Sawant's leadership on the housing tax won her the ire of iron workers in May 2018 after Amazon halted a construction project and held it hostage until city council backed down; Iron Workers Local 86 sided with business in opposing the tax. At least twelve other unions, however, continue to support Sawant.
Councilors Mosqueda and González endorsed Sawant's competitor in the primaries, telling The Stranger that they had "almost a non-existent working relationship" with Sawant. They broke with her in a vote on the city's recent contract with the police union. Voicing the concerns of the local police reform movement, Sawant was the lone councilor to vote against an agreement that a federal judge eventually ruled violated federally mandated reforms of the Seattle Police Department. When it came to reversing the Amazon housing tax, though, Mosqueda was on Sawant's side in voting to keep it.
Amazon is pumping its millions into the election in an attempt to unseat the socialist and sweep the other six remaining council seats—including blocking left candidates like Shaun Scott and Tammy Morales from joining Sawant. The blatant attempt to buy an election is making allies out of sometime adversaries. Mosqueda and González are now endorsing Sawant for re-election.
CASE's candidate for her District 3 seat is Egan Orion, director of Seattle's LGBTQ pride festival. He showcases his work in the gay community to prove he's a progressive but also touts his credentials as someone who works with business leaders rather than making them into villains.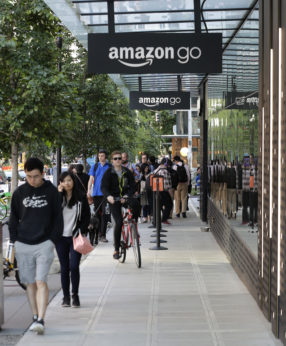 González said that the flow of corporate campaign cash to candidates like Orion—who's benefited to the tune of $400,000 from CASE so far—raises questions about whether they'd put Seattle residents' interests ahead of Amazon's. Several big Republican donors have also been funding Orion through another PAC.
"When there's that much money being offered, there will be a quid-pro-quo expectation," she told the Associated Press. "Amazon has plenty of access to the council already. What they want is elected officials who are going to bend to their will."
"It's not surprising that rich Republicans see my opponent as their candidate," Sawant said in a statement. "Billionaires and wealthy Republicans want to push the council to the right, and he has shown himself to be their voice, eagerly using Republican talking points."
The workers who have benefitted from some of the recent victories here are also determined not to let Amazon extend its control of the city even further. Unite Here and the Service Employees International Union (SEIU) are spending heavily to try to blunt the corporate attempt to buy the election. Sara Nelson, president of the Association of Flight Attendants-CWA, has called on Seattle voters to back Sawant.
Sawant's campaign has appealed for donations from supporters across the country, saying in a recent email that "Amazon just dropped a $1 million bomb on our city elections." The blatant corporate attempt to buy city hall has earned the condemnation of national political figures, including Democratic presidential hopefuls Bernie Sanders and Elizabeth Warren. (Former Vice President Joe Biden, who also seeks the nomination, is scheduled to attend a big-donor fundraiser next month in Seattle hosted by one of Amazon's top lawyers.)
With Amazon's election-buying scheme drawing attention nationwide, it's clear this fight is bigger than an attempt to unseat one socialist city council member. It's a confrontation between the working class and the forces of democracy on one side and big capital and its hangers-on on the other. Whatever happens at the polls on Tuesday, Amazon has already made an unwitting contribution to building unity among the forces resisting corporate rule. Like the 1919 General Strike and the 1999 WTO protests, this latest battle in Seattle shows this place is still ground zero for the class struggle.