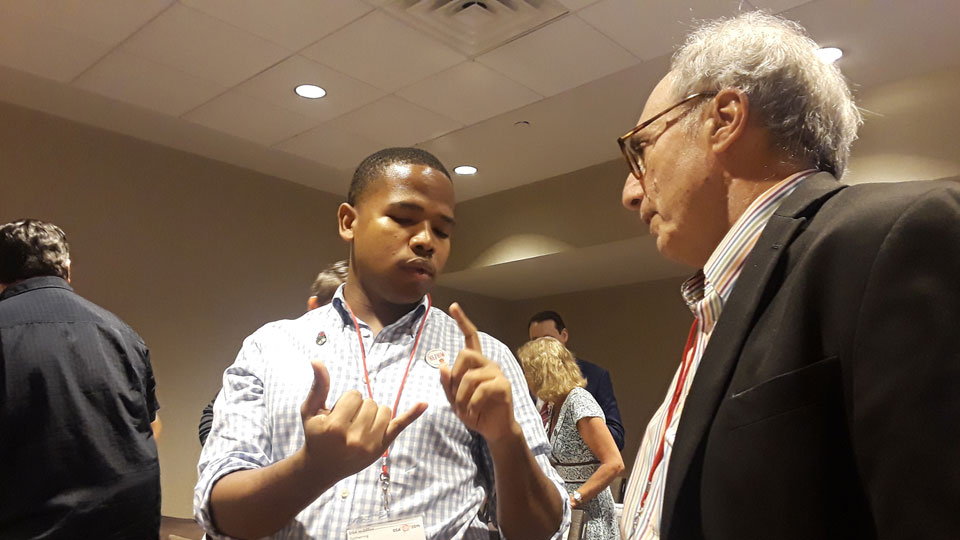 ATLANTA—"It is incumbent upon us to reclaim the narrative, to reclaim what socialism means and what it looks like," Gabriel Acevero, a member of the Maryland Legislature, told People's World in an extended interview.
Acevero, 28, a member of Democratic Socialists of America (DSA), represents the 39th Legislative District in Montgomery County, Maryland.
He was among 28 other DSA elected officials who held a press conference here Sat., Aug. 3, as over 1000 DSA members held their 2019 National Convention.
DSA is the fastest growing and largest socialist organization in the United States with about 56,000 members.
Acevero told People's World that the most challenging part of being in the legislature was "convincing your colleagues—including those from your own party [the Democratic Party]—that issues," like Medicare for All and raising the minimum wage, "enjoy high support from the broader public."
"These are issues we shouldn't be debating, shouldn't be questioning," he added.
He urged other elected officials to "commit ourselves to the big issues that strengthen our economy and benefit working families," to shift the agenda to the Left.
As the first openly gay Afro-Latino man in the Maryland General Assembly, Acevero understands that discrimination must be challenged head-on. Prior to running for office, he was on the frontlines fighting for the DREAM Act and transgender equality.
In addition to being a member of the General Assembly, Acevero is also a union organizer with the United Food and Commercial Workers (UFCW) Local 1994. He credits Dr. Martin Luther King, Jr., James Baldwin, A. Philip Randolph and Ella Baker for his identity as a "democratic socialist." He sees himself as part of the "Black liberation tradition" that includes "people of African descent who gravitated to the left and identify as socialists."
He says, "This system was built by our people and our labor, but we are yet to benefit from it." To him, racism and capitalism are two sides of the same coin. "As an oppressed person, as part of an oppressed group, we recognize this system does not work for us and we should be committed to dismantling it."
"In order for us to eliminate racism we have to eliminate capitalism," he continued.
Khalid Kamau, a member of the South Fulton, Ga., City Council agreed with Acevero. "Capitalism is failing regular, working-class people," he said. "Nowhere is that more evident than in the South," the most impoverished region of the country.
Kamau noted that 11 hospitals have been closed in Ga. and that African Americans still "suffer from the remnants of Jim Crow."
To him, DSA's successful electoral campaigns have given voice to the voiceless. "We represent those millions of people who are staying home," disenfranchised voters who feel that neither major political party—Republican or Democrat—speaks for them. Additionally, "Many of us represent townships and municipalities where the party machine has broken down." Therefore, "If you do the work, get out and knock the doors, talk with people, you learn that people really want socialism. They may not use that word, but that's what they mean," he concluded.
This particular theme was repeated numerous times during the Sat. press conference and in conversations with DSA members from across the country.
According to Kamau, who is also a #BlackLivesMatter activist, South Fulton residents "believe in City Council people to change and fix things." However, he cautioned against simply "focusing on service delivery." Instead, he urged DSA members to "question the system as a whole," while also being accountable to constituents, a delicate balance.
South Fulton happens to be the "Blackest City in America," with an 89.7 percent African-American population, which reinforces a theme Acevero articulated earlier. He noted the "inception of this country was based on enslaved African labor and the stealing of indigenous lands," which means African-American and Native peoples were less susceptible to anti-socialist overtures—in part explaining DSA's success in these communities.
Ruth Buffalo, a state representative from North Dakota, indigenous woman and mother, told reporters, "Those closest to the pain [of racism, sexism and oppression] need to be in elected office." She added, "People are finding a home in getting back to the basics of grassroots organizing, [in] embracing who we are, and [in] people-centered policies."
In 2018, Buffalo became the first Native American Democratic woman in N.D.'s State House; she unseated the architect of the state's anti-Native American voter ID law, which would have disenfranchised thousands of Native voters. Her victory was a clear rebuke of the GOP's racist strategy of voter suppression.
According to Byron Sigcho-Lopez, "democratic socialism is on the rise despite the constant attacks because it is the only movement talking about the real issues we face as a country."
Sigcho-Lopez, who emigrated from Ecuador as a teenager, is one of six DSA members who now sit on Chicago's Board of Aldermen.
Adam Broad, a trustee of the Vernon Township in Illinois and an organizer with the Illinois Single Payer Coalition, was pragmatic, to the point and focused on the issues. He said, Medicare for All, one of DSA's priorities, "offers a smart alternative" to "for-profit health insurance [that] kills and bankrupts Americans." He added, "you don't have to be a socialist to see that putting human lives and livelihood" before corporate profits were supported by a majority of voters.
When asked about red-baiting during his campaign for the Maryland General Assembly, Acevero shrugged it off and said, "It's expected."
To him scare tactics like red-baiting "distract folks away from having a substantive conversation of why capitalism is failing all of us." He added that it is "easier for some to resort to red-baiting" than to have a "real conversation" focused on the issues or to "talk about what socialism actually means."
"It's an intellectually lazy way to attack democratic socialists and those on the left," he concluded, but added optimistically, it also provides an opportunity for leftists to "have a robust discussion about ideas, ideology and policy" and "chip away at that ridiculousness."
If DSA's recent electoral successes are any indication, that tactic is losing its effectiveness as more and more people begin to explore socialism and vote for candidates like Acevero, to President Trump's displeasure.
"We are in a moment of existential crisis," Acevero added. "Capitalists and capitalism are indifferent to our suffering," which is partly why he is "committed to legislatively [working to] redistribute wealth and further democratizing our economy and our society," a theme that seems to resonate with an increasing number of voters.
"This is part of a buildup of frustrations," he concluded. "We need to do something different, offer another option. Capitalism will not work for us."