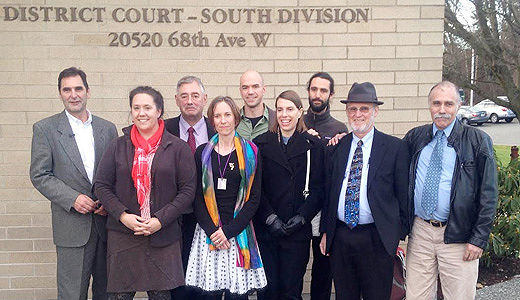 On Sept. 2, 2014, in Everett, Wash., five activists with Rising Tide Seattle put themselves in the path of a parked oil train at the BNSF Delta rail yard, calling for a moratorium on oil-by-rail transport. They were arrested, and went on trial Jan. 11 of this year. On Jan. 15, their case ended with a split decision. The Climate Disobedience Center followed the issue closely, providing a voice for these and many other activists and allies. In the face of increasing fossil fuel disasters and legal crackdowns on civil disobedience, the need for the organization, and others like it, has never been greater.
The Delta 5 – Mike LaPointe, Patrick Mazza, Jackie Minchew, Liz Spoerri, and Abby Brockway – also held a banner showing solidarity with the railroad workers who were advocating safety measures, demonstrating that what affects environmental safety also has a powerful impact on labor – and vice-versa. The blockaders were ultimately found not guilty of impeding the movement of a train, but guilty of trespass in the second degree. The impact of their activism was plain to see in the court room, as at least three of the jurors declared their support for the defendants. They also agreed to work with the Climate Disobedience Center to improve further cases of this sort. And two of the jurors signed up to attend a lobbying day on oil trains with Abby Brockway.
So what role does the Center play in these types of cases? The organization offers support for activists engaged in civil disobedience, including legal advice and resources, and direct assistance. It gives voice to climate battles and captures the spirit of the environmental struggles faced by people like the Delta 5. The Center credits civil disobedience, in an environmental context, as being among the most powerful tools against Big Oil-funded climate change denial. One of the most important educational tools they provide is that of the climate necessity defense, which is an argument made by a criminal defendant to justify action taken on behalf of the planet; this argument can be made by climate dissidents arrested for protesting things like fossil fuel extraction and government inaction on climate policy.
Like the people they represent, the Center's founders have faced legal consequences for their actions. Founder Tim DeChristopher is one such example; in Dec. 2008, he disrupted an illegal Utah Bureau of Land Management Oil and Gas lease auction, protecting thousands of acres of pristine land that were suddenly up for grabs. Rather than simply protest, however, DeChristopher entered the auction hall and registered as a bidder. He outbid industry giants on land parcels, which were dangerously close to ecologically sensitive areas like Canyonlands National Park. He won 22,000 acres of land worth $1.7 million before the auction was halted. When the U.S. Department of the Interior invalidated the auction two months later, he was sent to prison, where he served 21 months of a two-year sentence. His plight and his help in co-founding grassroots groups like Peaceful Uprising were chronicled in the documentary film Bidder 70.
The Center exists because it supports those who challenge Big Oil, and the need for that support is growing. "Last week, the Climate Disobedience Center [was] up in Seattle for the Delta 5 trial," said DeChristopher. "It ended up that they were the first climate activists in the country that were able to [successfully] make the necessity defense in their trial, and there were a ton of positive impacts that continue to resonate for that organizing community and the climate movement in general. But we decided that we were going to go there to support those activists in any way that they needed. And that's kind of the way that the Center works. If [activists] don't have lawyers, then we want to connect them with lawyers and help them get that kind of support. If they need to fundraise, we want to help them with that. Or if they need media, we want to help with that."
DeChristopher noted that there have been "tremendous shifts in the climate movement," especially increased acceptance of civil disobedience. "At the time when I disrupted the auction, a lot of professional activists were telling me not to promote civil disobedience." Now, of course, things are very different. The Delta 5 outcome "was really an amazing and touching kind of result that I think showed in an interesting way the power of civil disobedience to rattle people out of their everyday lives and really wake them up."
Patrick Mazza, one of the Delta 5, remarked, "For many years, big money and corporate power have blocked large-scale climate action, so we believe that the shock, dissonance, and friction of nonviolent civil disobedience are needed to make the political system work again. That was the essence of our 'necessity defense' as we stood on trial for allegedly trespassing and obstructing or delaying a train." But while this defense was used successfully for the first time in the U.S., Mazza pointed out that it was previously used by "Greenpeace climbers who scaled a coal plant stack in Britain." They "were found innocent on the basis of climate necessity. Like those Brits, we argued that any crimes we committed were necessary to avert greater climate and fossil fuel harms."
Mazza added, "One of the most important contributions of our trial might have been insight from Tim DeChristopher. In 2015, he founded the Climate Disobedience Center along with Marla Marcum, Ken Ward, and Jay O'Hara." So has the Center's support had a positive effect on the environmental movement? Based on the example Mazza gave next – absolutely. "Ward and O'Hara in 2013 used a lobster boat to block a ship delivering coal to a Massachusetts power plant," he said. "Marcum organized support for their action. Theirs was the first U.S. climate civil disobedience necessity defense allowed in court. But as the trial started in 2014, the district attorney dropped the charges, said they were right, and went to march with them in the People's Climate March."
Photo: The Delta 5, together with the founders of the Climate Disobedience Center. | Center's official site