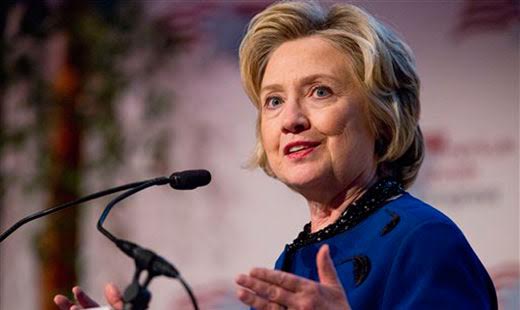 LAS VEGAS – Former Secretary of State Hillary Clinton, the current front-runner in national opinion polls for the 2016 Democratic presidential nomination, is courting the leadership of the Carpenters, who are independent of both U.S. labor federations, for the union's endorsement.
And on a recent visit to the union's training center in Las Vegas, just at the same time the Carpenters were holding their convention there, she got an OK from union President Douglas McCarron, who exercises tight control over the Carpenters. Before she spoke at the training center, McCarron introduced Clinton as "the next president of the United States."
McCarron's words of praise for her last month are notable because the Carpenters are not only independent of both U.S. labor federations, but also have been the odd union out politically in recent election cycles.
Led by McCarron, whom convention delegates this year elected to a new four-year term, the Carpenters lagged far behind other unions in endorsing President Barack Obama (D) for re-election in 2012.
Their endorsement in 2008 was very late, and McCarron virtually endorsed anti-worker Republican George W. Bush for re-election in 2004, inviting Bush to visit another Carpenters training center, near Pittsburgh, and praising him enthusiastically then.
Clinton toured the training center and met with McCarron, who became president in 1995, the union's executive board, the Las Vegas training center director and trainees and apprentices. No text of her remarks at the training center was released.
But local Las Vegas papers quoted McCarron as saying "the UBC has a long relation-ship with Secretary Clinton and appreciates her dedication to addressing some of the issues facing America today, including the need for long-term and strategic budgeting for infrastruc-ture, addressing the significant problems caused by rampant payroll fraud, and reasonable pension reform so that our members can count on some security in their retirement."
The union also noted that Clinton, a major speech about economics, pledged to protect collective bargaining rights and fight so-called right-to-work laws. "It's time to stand up to efforts across our country to undermine worker bargaining power, which has been proven again and again to drive up wages," she said then.
Photo: AP