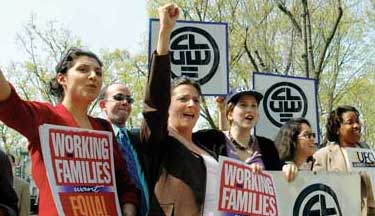 WASHINGTON – A wide alliance of women's rights, civil rights, community, and activist groups, including the Coalition of Labor Union Women, opened a campaign on May 23 to get their members nationwide to call their senators and lobby in the next few weeks for an equal pay for equal work law, the Paycheck Fairness Act.
The drive kicked off when Senate Democrats, led by Barbara Mikulski, D-Md. – a feisty former social worker who's also the longest-serving woman ever in Congress – announced that Senate leaders promised them a vote on the legislation the week of June 4, after lawmakers return from their Memorial Day recess.
The catch: The Paycheck Fairness Act needs the usual 60 Senate votes to overcome a prospective GOP filibuster. When it last came up, in the Dec. 2010 lame-duck session of a Senate with more Democrats than this one, it fell five senators short.
Mikulski explained the first equal pay law passed 49 years ago this month, when women earned 59 cents for every dollar a man earned. Now it's 77 cents. "Forty-nine years is enough," she declared.
Hence, the call by Mikulski and her colleagues, to have constituents contact their senators – especially the Republicans. The Senate has 51 Democrats, two Democratic-leaning independents, and 47 Republicans, one of whom is recovering from a stroke and can't vote. No Republican senators of either sex were at the press conference.
Sens. Ben Cardin, D-Md., and Al Franken, D-Minn., joined their female colleagues.
The bill is also a political problem for the GOP. "We're saying that this vote will show you're either for equal pay or you're not," Mikulski declared. She said voting for Paycheck Fairness would give Republicans a chance to "walk back" from what another senator, Washington's Patty Murray, called a long list of schemes in a "war on women."
The Paycheck Fairness Act has been marooned in the House for more than a decade, too. Its key provisions include outlawing employer bans on workers asking about pay, heavy fines, and triple damages for pay discrimination, and curbs on the excuses employers now legally use to justify unequal pay for equal work by equally qualified male and female workers.
The American Association of University Women, the American Civil Liberties Union, the National Partnership for Women and Families and the National Women's Law Center organized the community-labor-civil rights-womens rights alliance for the bill. It includes CLUW, said Executive Director Carol Rosenblatt, who attended.
Photo via CLUW website.