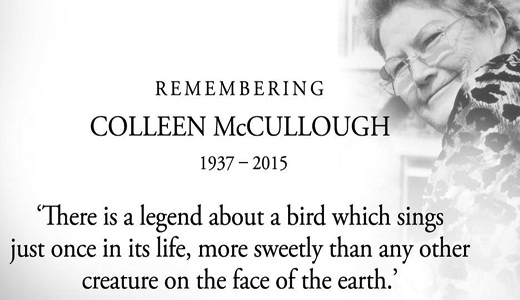 Australian novelist and neuroscientist Colleen McCullough, noted for her works of historical fiction – especially for her seven-book Masters of Rome series, died on Jan. 29 at the age of 77. The shockingly sexist obituary that followed drew a collective groan of disgust, and readers, fans, and activists alike took to Twitter to defend the memory of the celebrated author.
The obit, which was printed in The Australian, a newspaper owned by Rupert Murdoch's News Corp Australia, opened with a low-brow description of McCullough's physique. It read, "Plain of feature, and certainly overweight, she was, nevertheless, a woman of wit and warmth." It did go on to commend her for her life achievements, but only after the head-scratchingly churlish introduction.
Responding to the objectifying implications, people, including other writers, rushed to condemn the piece on Twitter. Fantasy author Neil Gaiman tweeted, "An author. A neurophysiologist too. And they start like that. It may be possible for this obituary to have a more offensive opening and tone. I can't imagine how."
Journalist Ruth Callaghan used the opportunity to poke fun at the obit writer (who was not credited in the piece), tweeting, "Despite being a small-minded, insular twerp, he found employment as a small-minded insular obituary writing twerp."
Others tried to drive home the point with humor. One user tweeted, "The breadth and caliber of her business acumen were only rivaled by that of her business abdomen, which was like, giant." Another tweeted, "In between bites of food that she was constantly shoving into her unsightly mouth, she was somehow able to win a Nobel prize." (McCullough never actually won a Nobel, though she was awarded the prestigious Scanno prize for literature in Italy in 2000.)
The hashtag #FatLadyObit was affixed to all these tweets, and was started by Seattle-based freelance writer Iljeoma Oluo, who said that when she first read the obit, "I thought it was a joke because it was so appallingly offensive." The point of the hashtag, she added, was to show "what it looks like when we write about women this way. And it took off. People said it was really cathartic."
McCullough was much more than the obit seemed to convey. Prior to becoming an author, she worked as a teacher, librarian, journalist, and then as a neuroscientist working at Royal North Shore Hospital in Sydney, Australia. She also spent ten years in the U.S., teaching in the Department of Neurology at the Yale Medical School in New Haven, Connecticut. It was during this time that she decided to write a book, The Thorn Birds, a dramatic story about a family in the Australian outback, which became an international bestseller and inspired her to give up her science career to become a full-time author.
In my opinion, the Masters of Rome series, written and published between 1990 and 2007, was by far her best work. Though I have so far only read the first novel (The First Man of Rome), I hope to get to the rest of the books soon. The First Man of Rome is among the best stories set in Ancient Rome that I have ever read, as though McCullough transplanted the Roman Republic itself into the reader's mind. It chronicles the lives of general/statesman Gaius Marius (and his rivalry with Lucius Cornelius Sulla) and Gaius Julius Caesar (grandfather of the Julius Caesar), while the book's sequels focus on later Roman individuals and their lives, going down the historical line all the way to the final novel, Antony and Cleopatra. These are fantastic books and a credit to her legacy.
McCullough died on Norfolk Island from apparent kidney failure resulting from a series of strokes, and after having endured failing eyesight and confinement to a wheelchair. Apart from The Australian's petty synopsis, others, at least, remembered the author for what she contributed to the worlds of science and literature.
Shona Martyn, publishing director of HarperCollins Australia, cited McCullough as "one of the first Australian writers to succeed on the world stage. Ever quick-witted and direct, we looked forward to her visits from Norfolk Island and the arrival of each new manuscript, delivered in hard copy, in custom-made maroon manuscript boxes inscribed with her name. The world is a less colorful place without her."
Photo: Random House Australia, via Twitter