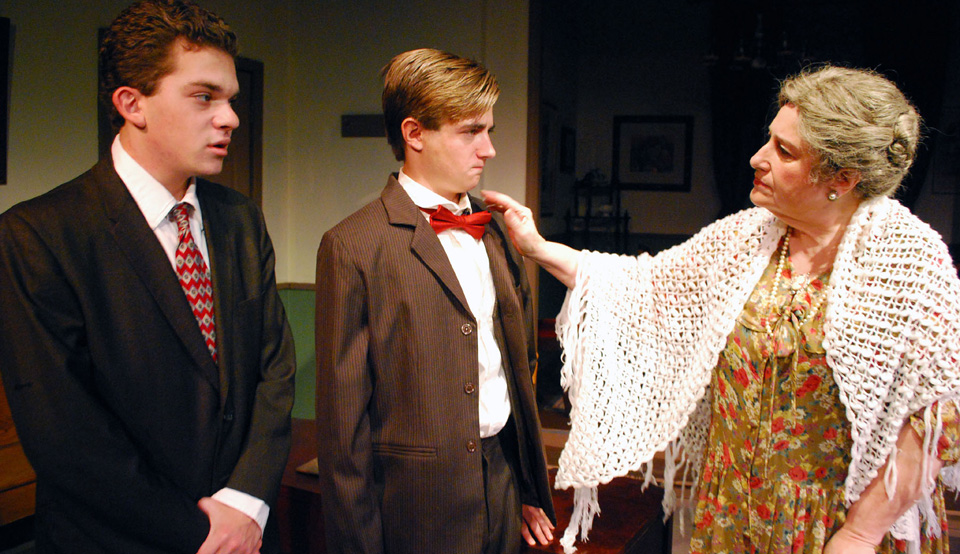 LOS ANGELES—Pronounce the name "Neil Simon" and veteran theatergoers will tick off the names of some of his popular fast-paced comedic romps: Come Blow Your Horn, Little Me, Barefoot in the Park, The Odd Couple, Sweet Charity, Promises, Promises, Last of the Red Hot Lovers, The Sunshine Boys, and more. Each one an enjoyable visit to the commercial theatre, memorable more for the sparkling actors you see milking these farcical roles for all they're worth than for their penetrating social insights.
If you ask a New York neophyte about Neil Simon, they might never have seen one of his plays but might instead direct you to the Neil Simon Theatre. He is the only living playwright for whom a Broadway theatre is named. It's the former Alvin Theatre on West 52nd Street.
Born in the Bronx on the Fourth of July, 1927, Simon just turned 90 and is reportedly still going strong.
For my money, Simon's trilogy of autobiographical plays, Brighton Beach Memoirs (1983), Biloxi Blues (1985) and Broadway Bound (1986) stand as the triptych before which playwrights interested in self-examination must bow. With those works, tracing his coming of age from New York City boyhood to his wartime military career to his emergence into the world of comedy writing, the critics had to acknowledge a master. The brilliant casting of Matthew Broderick in the young Simon roles sealed their canonic importance.
Simon has been quoted saying, "My view is, 'how sad and funny life is.' I can't think of a humorous situation that does not involve some pain. I used to ask, 'What is a funny situation?' Now I ask, 'What is a sad situation and how can I tell it humorously?'"
That is the outlook that informs the semi-autobiographical play Lost in Yonkers, another coming of age story but with a four-generational psychological through-line. It won Simon the 1991 Pulitzer Prize as well as a Tony Award. Whether it stands up as a true masterpiece over time remains to be seen. I suspect its strength depends, again, more on superb performance than on the script itself, at least judging from The Group Rep production now playing in Los Angeles, my first exposure to the work.
The play is set in Yonkers, N.Y., located along the Hudson River, New York State's fourth largest city and the largest in Westchester County just north of New York City. The time is a ten-month span between August 1942 and the Fourth of July 1943.
Lost in Yonkers centers around two brothers, Arty (13, Brent Anthony) and Jay (15, Bennett Saltzman), who after their mother has died of cancer, are forced to live with their autocratic Grandma Kurnitz (Loraine Shields) and their mentally challenged Aunt Bella (Anna Gion) while their father Eddie (Patrick Burke) travels all across the South, desperately trying to earn enough money as a scrap metal salesman to pay off his debts (from his wife's medical treatment) to a loan shark. The two remaining characters are the two other surviving siblings to Eddie and Bella, a gangland bagman Louie (Van Boudreaux) and Gert (Julie Davis), an underdeveloped character primarily identified by her severe speech handicap.
Over the course of the play, we learn all about Grandma's crushing Germanic authoritarianism that has in one way or another thwarted the lives of each of her children. There were two more children who died young, and we are led to believe they may not have been able to survive her regime of tough love. The name "Kurnitz" may subtly suggest "no cure." We also learn something of Grandma's own childhood, and a traumatic event involving the Kaiser's violent police—a political demonstration, as it turns out—in her native Germany sometime in the 1870s or '80s that similarly impacted her life.
By the end we appreciate the particular fates of these distorted characters all bound up in an unwholesome family tangle of repression, lies, crime and secrets. If young Jay and Arty finally are able to go home with their Dad, hopefully they've learned some lessons about their peculiar family that will carry them into adulthood.
There's a glimmer of introspective insight in Grandma, perhaps too late to be of much use to anyone. As for the others, there's not a lot of expectation that life will turn out much better from a psychological point of view unless they keep a fleet of psychoanalysts at their call, although the upbeat post-war economy might allow them to get some self-respecting work and a measure of middle-class comfort.
Exceptionally fine ownership of these roles under crisp direction might bring out the strengths of this play (that the Pulitzer committee saw on Broadway), but I found instead that while I was watching actors act, I kept wondering about all that was missing—should I say "Lost?"—in the script.
For example, we don't learn when or why Grandma settled in Yonkers to open a candy story, downstairs from the comfortable middle-class apartment she occupies. And what was Yonkers like? Obviously it was many years ago, likely even before World War I, but when and why did she emigrate to America? And with whom? With her family? Was she married already? Who was Grandpa?—we know nothing of him.
Americans during World War II were riveted to the military progress on land, sea and air. Yet for ten months we hear no news, no specific setting of the play in a historical moment. Instead we hear of the latest films that Bella likes to see at the local movie house.
We do get periodic letters from Eddie on his travels, updating his sons on the funny expressions people use in the South, the strange foods, his modest success in the scrap business as war-time industry starts to pick up after the Depression, his ongoing health problems that have neither identifiable cause nor clear resolution (of course we think "Grandma"), but most notably, no reference whatsoever to race issues as he moves around from one Jim Crow state to the next.
The boys' and their father's departure from Grandma's home takes place, as noted in the program, on the Fourth of July, signaling the autobiographical importance of this play to the writer, but also the achievement of independence—get it?—from Grandma's thrall. Yet nothing happens in the script to indicate that it needs to be July 4, 1943.
Finally, although this is a Jewish family—there are several references to German anti-Semitism—there's never any exploration of what Grandma's Jewish life was like in Germany, nor for that matter, what the family's Jewish life is like here in the United States either. In fact, if Grandma is supposed to be Jewish, the way she is presented as a store owner and employer is as unflattering a picture of a Jew as what she left behind in Germany.
These problems are not the director's to fix, but if we could be distracted from them by Larry Eisenberg's direction, I would say we weren't distracted. Out of this hothouse of odd personalities from which the boys are supposed to make some sense, the two standout performances were Anna Gion's fragile, agitated, pathetic but not stupid Bella, and Van Boudreaux's lovable Damon Runyon-type tough guy. Each struck the right valence of humor and pathos required in this work with old-fashioned plotting that teeters on the edge of melodrama.
Lost in Yonkers plays through October 22 on Fri. and Sat. at 8:00 pm and Sun. at 2:00 pm at the Lonny Chapman Theatre, 10900 Burbank Blvd., N. Hollywood 91601. There is a talk-back after the performance on Sun., Oct. 8.  Appropriate for ages 6 and up. For tickets call  (818) 763-5990 or go to The Group Rep website here.