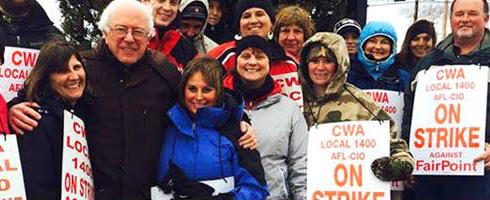 WASHINGTON (PAI) – Citing his absolute pro-worker stands and the views of a majority of its polled members, the Communications Workers of America (CWA) board voted on Dec. 16 to endorse Sen. Bernie Sanders, Ind.-Vt., for the Democratic presidential nomination.
The decision, announced by new union President Chris Shelton at a press conference with Sanders, makes CWA the third, and largest, AFL-CIO union to back the outspokenly progressive Vermonter. CWA claims 700,000 members, and is known for its political activism.
A dozen other AFL-CIO unions back the current leader in public opinion polls, former Secretary of State Hillary Clinton. Three non-AFL-CIO unions also back her.
CWA's backing of Sanders was not unanimous: The constitution for one CWA sector, The News Guild, mandates abstention from political endorsements ["We do so on behalf of our many members who cover politics and government. The NewsGuild-CWA takes seriously their need to function with full objectivity. We respect and protect that principle."]. It was the only non-Sanders vote and News Guild President Bernie Lunzer reminded his members to, individually, stay active, aware and involved. And AFA-CWA noted Sanders strongly supports its embattled United Air Lines flight attendants.
The Sanders endorsement rests strongly on the member poll. And Shelton's predecessor, Larry Cohen, who stepped down earlier this year, promptly signed on as an enthusiastic Sanders campaign volunteer and labor advisor. Shelton himself cited Sanders' out-spoken pro-workers stands, including the senator's championship of strengthening labor law.
And Shelton, a New Yorker, also cites that state's Working Families Party as a model for a third national pro-worker political party not beholden to corporate interests. Earlier in December, the WFP, which has most of its strength in New York, endorsed Sanders.
Shelton said a majority of CWA members backed Sanders, in three months of electronic polling and after consulting candidate websites and their answers to the union's questionnaire.
"I am proud of our democratic process, proud of CWA members, and proud to support the candidate whose vision for America puts working families first," he stated.
"Politics as usual has gotten working people nowhere," Shelton declared. "Our politics and economy have favored Wall Street, the wealthy and powerful for too long. CWA members, like voters across America, are saying we can no longer afford business as usual. Bernie has called for a political revolution. That is just what Americans need today."
Shelton said top issues that led to CWA's decision were those Sanders tackles, notably
rebuilding the labor movement,
controlling the financiers,
getting corporate cash out of politics,
crafting affordable health care,
stopping so-called "free trade" pacts that export U.S. jobs.
Sanders is an outspoken proponent of government-run single-payer national health care.
"Sanders stands with working families against corporate greed, Wall Street and the big banks, against politics as usual," Shelton said. "He knows we have to take on the rich and powerful special interests to turn around this economy and end the 40 years of stagnant wages working families endured. He's the candidate who can do it, and we are going to help him."
Photo: Senator Sanders spent part of Martin Luther King Day 2015 with striking FairPoint communications workers. CWA website