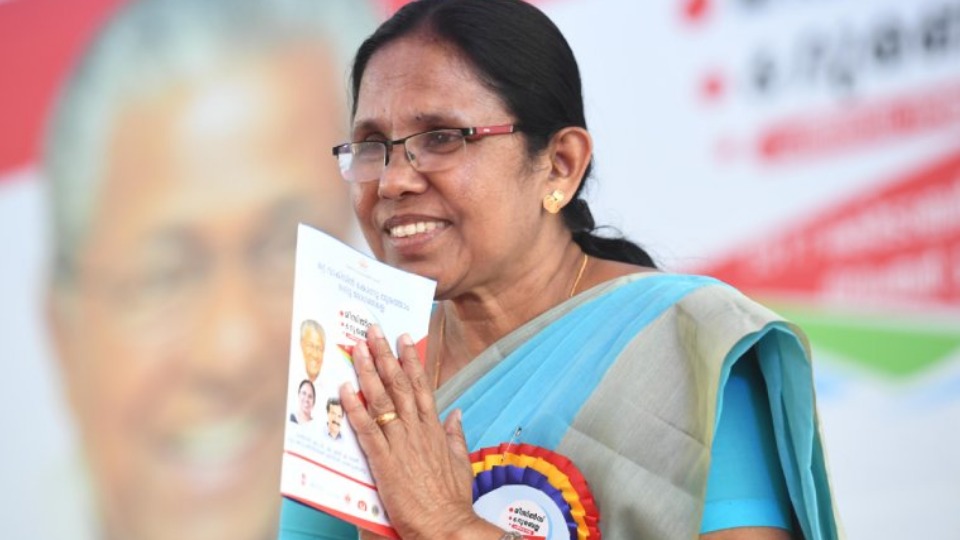 "How Communist Physics Teacher Flattens COVID-19 Curve in Southern India," a headline in the online Science News, caught my eye. That was a contrast to the tragic number of pandemic deaths in the rest of India, or for that matter, in the United States. But I wasn't surprised. I had attended a math teachers conference in that part of India 20 years ago, in the state of Kerala.
The state of Kerala, with a population of 34 million, has more people than many countries. It is noted for high literacy rates, advanced social services, good education, and other favorable conditions that are simply not found in much of the rest of developing India. It also invests more in health care than any other state in the country. I knew that a coalition of two Communist parties and other left groups led the state government of Kerala. They have governed for much of the time stretching back to the 1960s. But more on that later.
On Jan. 18, the World Health Organization warned about the spread of a novel coronavirus in Wuhan, China. K. K. Shailaja, a former teacher now heading Kerala's Ministry of Health and Social Welfare, knew that Kerala was in for trouble. Her response was immediate. By Jan. 24, Shailaja held a meeting of a rapid response team, set up a control room, and mobilized surveillance teams. She wasted no time in getting ready.
Kerala was especially vulnerable to the spread of the virus. There was a large, dense, urban population. Many Kerala residents worked out of state, going back and forth, and large numbers of migrant workers came in from other states. Also, Shailaja knew that many students from Kerala were studying at Wuhan University and would soon return home. Wuhan is where the COVID-19 virus was first known to have infected humans.
Fortunately, Shailaja already had experience with deadly viral diseases. In 2018, she had helped Kerala quickly control an outbreak of the Nipah virus, a deadly pathogen that jumped from animals to people.
On Jan. 27, 2020, the first group of Kerala students returned from Wuhan. One tested positive for COVID-19, India's first confirmed case. Sadly, the number of confirmed cases in India is now 10 million. Yet with targeted testing, contact tracing, and quarantine measures, the Communist-led Kerala government brought the number of new cases down to almost zero in a few months, flattening the curve far better than elsewhere in India.
A heartening statistic is the low mortality rate among the confirmed cases, 0.36%, far less than 1%. That's among the lowest in the world. It's a success that was achieved with early action.
In March, Kerala was the first place in India to implement stay-at-home measures. The government there acted faster than national authorities, closing schools and non-essential workplaces and curbing public gatherings. The state ensured that mid-day meals that children usually receive at school were delivered to their homes. Mental health hotlines were established for people struggling to cope with isolation.
Citizens' widespread participation in and cooperation with the public health measures was also explained, in part, by the Communist government's long history of devolving power down to village councils. This democratic approach enabled community outreach programs to get aid to families and workers and speed up the spread of valuable health information to the grassroots.
By April, when much of the rest of the globe was just acknowledging the seriousness of the COVID threat, Kerala was already gaining international recognition and beginning to consider easing some lockdown measures.
From high school teacher to public health minister
Science credits Kerala's competent health minister for much of the success in controlling the first wave of the pandemic. They report that she's often called "Shailaja Teacher" because of her previous job as a high school teacher. Science also comments on her democratic approach. They quote K. Srinath Reddy, director of the Public Health Foundation of India: "She comes across as a person who is blessed both in ability and humility…. She listens to people, she visits hospitals privately, she talks to doctors."
Shailaja's passion for science led her to become a physics and biology teacher. But the class struggle in India drew members of her family to the growing communist movement and the struggle against caste oppression. Her grandmother took part in local movements against untouchability, sometimes taking young Shailaja along. The example her grandmother provided included aiding families stricken with smallpox. In time, Shailaja joined one of the state's Communist parties.
After working her way up to leadership positions in her party, in 2016 Shailaja was appointed minister of health and social welfare. In 2018, she was facing the state's outbreak of the Nipah virus with a fatality rate of 50-75%. No doubt she remembered her grandmother's fearless visits to aid smallpox victims. Shailaja visited the worst-hit village to calm residents and explain that the risk of person-to-person transmission of Nipah was low in everyday life. Her visit prevented an unnecessary mass flight from the area.
That Nipah virus outbreak was contained by tracing and quarantining more than 2,000 contacts. Of the 19 confirmed cases, 17 died. Later, WHO concluded that Kerala's response to Nipah virus, while early, was unplanned and health personnel were insufficiently trained. So Shailaja and her co-workers knew they needed to be better prepared next time. The new plan included improved surveillance and contact-tracing systems, and better hospital protocols. They took advantage of the lull between epidemics to build capacity and be better prepared for "the next time."
Implementing unity of diverse peoples in public health
Shailaja also relied on another basic principle of Communist parties, unity among diverse peoples for the common good of all. The population of Kerala includes Hindu, Muslim, and Christian communities who live together peacefully. In the Nipah virus infection, the first fatalities were cremated. But cremation was not acceptable to Muslim families. When a relative called her in tears, Shailaja asked the doctors to find a different solution than cremation. They changed to deep burial, three meters underground, plus wrapping the body in airtight plastic.
Kerala's strong social services have helped; they provided 150,000 migrant workers shelter and food to keep them from traveling back and forth to their home states and bringing COVID-19 back to Kerala. Science reported Shailaja saying last August that she was preparing for a possible second wave by expanding the number of hospital beds and recommending renewed lockdown measures. The goal was to keep the death toll low and to protect the elderly.
Clusters of cases in Kerala grew into a surge after the harvest festival in late August. By October, the state was seeing some of the country's largest daily increases in cases. Some point to migrant workers coming from countries where the virus had surged. Recently, reports Science, Shailaja recommended stricter restrictions on travel. She also acknowledged that festival gatherings and political protests had contributed to the recent surge. "Until we get a vaccine, all of us will have to sacrifice some pleasures in our lives," she added.
Shailaja's leadership is an example of the democratic nature of the Kerala state government. Based on competence and dedication, without family fortune or corporate backers, Shailaja, a woman and high school teacher, rose to a state cabinet position.
Years ago, I had read that Kerala led India in literacy rates, excellent health care for all, social services, women's rights, low infant mortality, and life expectancy. So when I was invited to attend the conference of mathematics teachers in Kerala, I jumped at the chance. The occasion was the anniversary of Aryabhata, the great mathematician-astronomer whose work influenced the world around the year 500 ACE.
To reach Kerala, I overnighted in Mumbai to change planes. In Mumbai, I saw many families living on the sidewalk, with at most a lean-to over their heads. It was a school day, but school-age children were on the sidewalk, with their families. I tried but could not imagine how families survived. In my two weeks in Kerala, I walked and rode all around the streets of the Kerala capital city of Thiruvananthapuram and never saw anyone living on the streets. In answer to my question my hosts said, "You don't see any homeless because we had a land reform in Kerala. Everybody owns a piece of land, no matter how small." Later I asked, "What happened to the landowners?" I was told that most of their children became professionals, living a more productive life than spending their days collecting rents.
Just yesterday, on Dec. 1, Kerala was in the world news again, with India's farmers blocking roads to the capital. On Nov. 26, Kerala along with Bengal, led India in a one-day national strike. The strike was called by India's trade unions against Prime Minister Narendra Modi's sweeping anti-labor laws and in sympathy with farmers' demands to maintain minimum prices for their produce in the middle of the pandemic-sparked economic crisis.
I returned home from India two decades ago thinking that Kerala had a lot to teach us. Judging by the success of Shailaja and fightback of workers there, it still does.
More on Kerala's fight against coronavirus:

> India's Communist-governed Kerala state is beating COVID-19

> India's Communist youth raise $1.4 million for COVID relief with recycling drive
---
Like free stuff? So do we. Here at People's World, we believe strongly in the mission of keeping the labor and democratic movements informed so they are prepared for the struggle. But we need your help. While our content is free for readers (something we are proud of) it takes money — a lot of it — to produce and cover the stories you see in our pages. Only you, our readers and supporters, can keep us going. Only you can make sure we keep the news that matters free of paywalls and advertisements. If you enjoy reading People's World and the stories we bring you, support our work by becoming a $5 monthly sustainer today.