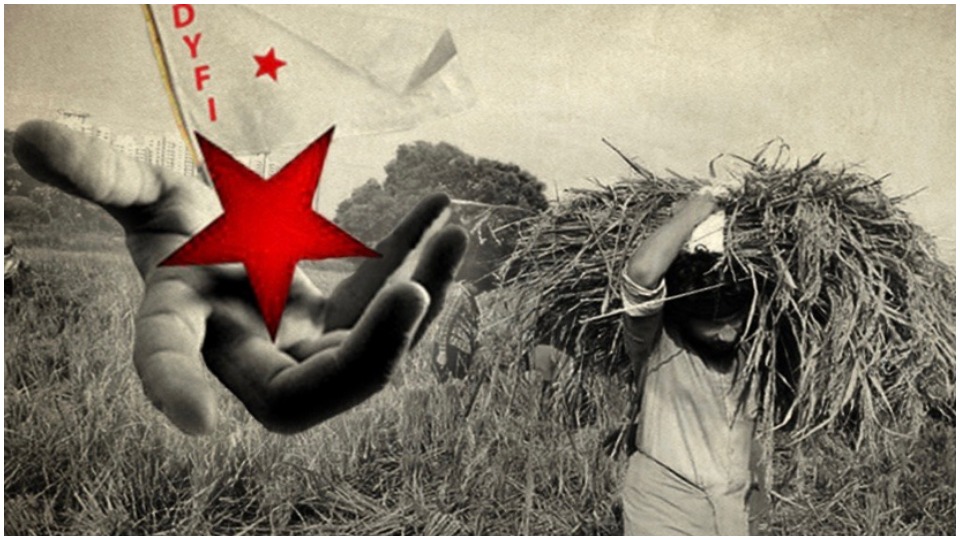 KERALA STATE, India—Ever since the beginning of the COVID-19 pandemic, leftist youth organizations around the world have been in the forefront of both providing relief and resisting attempts to attack the rights of people. An instance of this has been the "Recycle Kerala" initiative launched by the communist Democratic Youth Federation of India (DYFI), which raised over $1.4 million USD to help the state of Kerala's fightback against the COVID-19 pandemic. On Aug. 6, the DYFI state leadership contributed the entire amount to the Chief Minister's Distress Relief Fund (CMDRF).
Kerala's left-wing government has stood out globally for its people-centric approach to combating the pandemic and won renown for successfully combating two waves of the pandemic. The youth organization's initiative comes as the state deals with the third wave of the pandemic.
Unlike many other fundraising campaigns, Recycle Kerala involved the collection of used, secondary materials from households for recycling. The collected items were sold by DYFI to scrap dealers and recyclers. The proceeds were then aggregated and handed over to the state leadership.
From May, cadre of all 27,240 base units of DYFI visited households in their localities, collecting books, old newspapers, damaged electronic devices, and other such items. Some households also donated valuables such as paintings, sculptures, and other artworks, thereby adding substantially to the collected funds.
Contributions also came in the form of farm and poultry products such as fruits, vegetables, poultry, and dairy. Some small-scale farmers donated their entire produce of the season, including rice, tubers, and plantains. In remote villages in Kerala, where farmers have found it difficult to sell their agricultural products due to the lockdown, DYFI committees purchased the produce and resold it. Other items donated were poultry, cattle, seeds of vegetables, saplings of flowers, and high-yield fruit plants, which were resold.
Related stories:
The cadre sold fish which they caught from inland water bodies. Locally stitched and embroidered clothes, along with state-run lottery tickets, were also sold in some places.
One major initiative was the cleaning of the rivers across Kerala by removing reportedly 6.5 tons of plastic waste, including plastic bottles and other plastic waste, which was then sold for recycling. DYFI cadre also engaged in cleaning private wells, factories, offices, and houses and contributing the income towards the initiative.
Several popular football players from Kerala who are part of the national, state, and local teams donated their jerseys. The jerseys were then auctioned off by respective block committees.
In a number of places, DYFI ran small eateries, selling local delicacies at affordable prices. They also provided cheap local transport in places with limited connectivity during the lockdown. Various artists who are members of DYFI conducted spot caricature drives and street concerts while adhering to COVID-19 safety protocols.
Along with all these efforts, DYFI cadre also joined the workforce at construction sites, farms, and markets and contributed their earnings.
Even though this initiative did not receive any coverage in the mainstream corporate media, the effort and contribution of DYFI was well received on social media. On Aug. 7, in his official press meet, Kerala Chief Minister Pinarayi Vijayan acknowledged and appreciated the initiative of DYFI as a model for the world to follow. "This initiative will be remembered as a hallmark of the valor of the youth in our state who are ready to fight for the common good, braving all adversities," he said.
The Youth Brigade volunteers from DYFI have been active in relief and rescue efforts for the people affected by heavy rains and floods that occurred in the last few weeks across Kerala. Earlier in June, more than 11,804 gadgets, including TVs, mobile phones, iPads, tablets, and laptops, were delivered freely by DYFI to poor students across Kerala. This was done to enable these students to participate in temporary online classes.
Apart from these efforts, the ongoing cleaning and facilitating drive by DYFI for COVID-19 treatment infrastructures (including the COVID First-Line Treatment Centres (CFLTC)) across Kerala, started in March, and a chain of coordinated relief activities during the lockdown also received much traction and appreciation from the civil society.