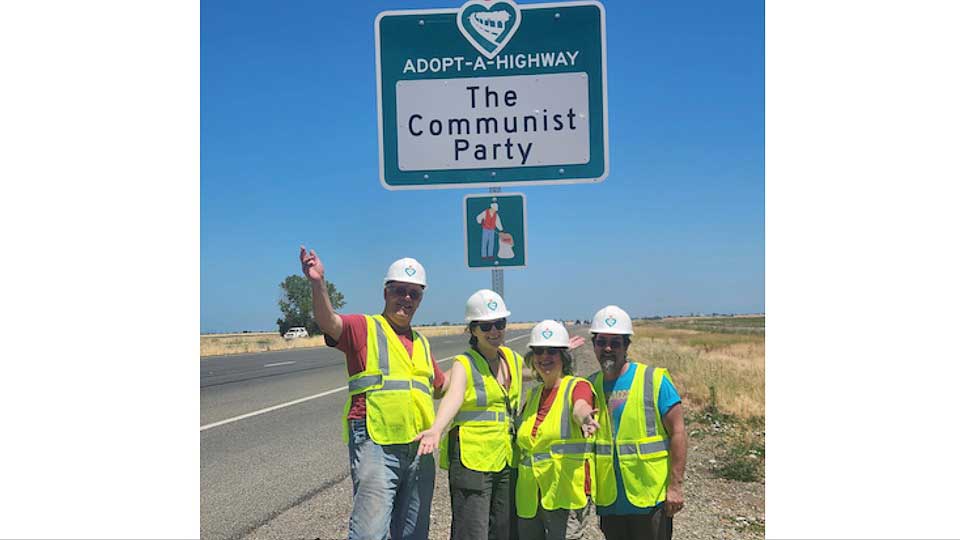 SACRAMENTO, Calif.—With climate change bringing soaring heat waves and catastrophic floods on a mass scale around the world, the Sacramento Valley formational club of the Communist Party USA decided to take their efforts to clean up their community local—by adopting a highway.
"We give a damn in practical ways, service to beautify our slice of the world," said Patrick Hamilton, who also independently adopted another section of Highway 99 near Sacramento. "I'd like to think our example inspires similar efforts within the Communist movement. This counters capitalist lies about us."
The California Adopt-A-Highway program offers the option of paying to sponsor the cleaning of sections of the highway, or the option to provide a "rebate" to organizations willing to put in the labor of cleaning the highway themselves. So, while the lure of the program's offer to provide "Affordable 24/7 Outdoor Brand Exposure" may be luring a number of corporate entities to pay to sponsor clean up, the CPUSA instead chose the option of putting in the labor in order to improve the community.
"I think cleaning the highway is good for local ecology. It gives space for flowers to grow, which is good for pollinators, and it reduces pollutants that run off the road into the storm drains which discharge into irrigation ponds," added Katy, another member of the new collective. "Given that we're in rice and orchard country, that means clean roadways are good for our food supply."
In contrast, local "organizers" on the right in Sacramento have been spending their time showing up at city council meetings to spew their anti-Semitic and homophobic commentary.
Ironically, while the efforts of the right-wing groups at Sacramento city council meetings mostly bring out protesters and heckling, the work of the Sacramento Valley CPUSA Club has been drawing the opposite reaction. "I am surprised at the show of public appreciation we experienced," Hamilton said. "Honking horns, waving, I even heard a THANK YOU!"
Community support for the positive efforts of clean-up work became even more apparent when a Reddit post was made a few days later, apparently by someone expecting to generate some internet outrage over the Communist Party adopting a highway.
"Adopt-a-Highway sign on 99 North that says Communist Party?" the post was titled.
The first response, however, was "As long as they keep it clean, it could even be the Catholic Diocese, and I wouldn't care." A second commenter wrote, "I assume it's funded by the local Communist Party chapter?"
The troll who posted on Reddit seemed to quickly lose heart when they didn't spark the anti-communist anger they'd hoped for; the post was promptly deleted.
It would seem the public has spoken.