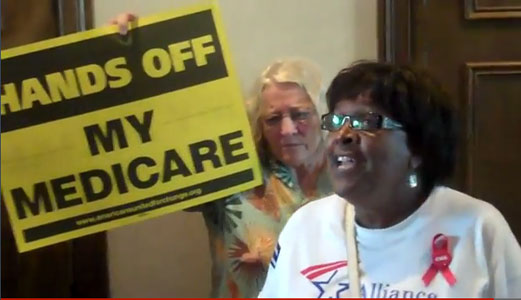 ST. LOUIS – Nearly 100 community, labor and retiree activists rallied outside of Congressman Todd Akin's office here July 29. Akin, is a right-wing Republican who along with other conservative political leaders, wants to balance the budget deficit by gutting Medicaid, Medicare and Social Security, instead of raising taxes on the rich and corporations.
Story continues after the video.
Barbra Woodruff, St. Charles Democratic Alliance president, told activists, "I depend on Social Security to pay my rent." She added, "extremists, like Todd Akin … have put a target on senior citizens want us to carry the burden of sacrifice."
"Seniors are scared," she continued.
Missouri Jobs with Justice health care organizer, Amy Smoucha, told participants, "We have been trying to talk with Congressman Akin for weeks … and he has done nothing but vote again and again to end Medicare, to cut Medicaid and to cut Social Security."
Congressman Akin has repeatedly refused to meet with his constituents. His office was closed when a delegation tried to speak with him about their concerns.
Earlene Jones, Vice president of the Communication Workers' Union of America (CWA) Local 6300, said, "It is simply wrong to try to balance the budget off the backs of current and future retirees."
As budget deficit debate rages, rally participants were urged to call the Capitol Switchboard:202-224-3121.
This week marks the 46th Anniversary of Medicare and Medicaid. President Lyndon B. Johnson signed the programs into law in Independence, Missouri July 31, 1965. Former president Harry S. Truman signed up as the first Medicare beneficiary.
Photo: Tony Pecinovsky/PW