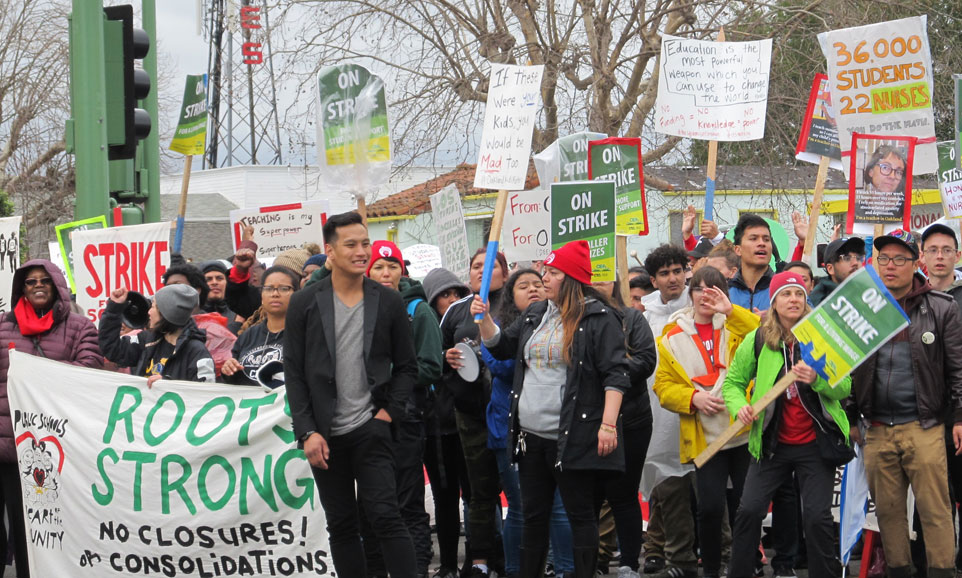 This article will be updated. Oakland teachers have voted to ratify the tentative deal reached Friday afternoon between the Oakland Education Association and the Oakland Unified School District. With 70 percent of its members voting, according to the union, 64 percent voted YES to the 2017-18 contract term, while 58 percent voted YES on the 2020-21 contract term. Even with the majority voting yes controversy continues regarding some of the provisions and regarding matters not settled yet regarding state funding. The OUSD also has to ratify the pact.
OAKLAND, Calif. – As it entered its seventh day March 1, the Oakland teachers' strike was continuing to bring large, spirited actions by teachers, students, parents and community supporters to areas throughout the city, including those threatened by the Oakland Unified School District's plan to close 24 of its 86 public schools, mostly in economically challenged, largely African American and Latinx neighborhoods.
Besides calling for smaller class sizes, more school nurses and counselors, and pay more in line with the area's high cost of living, the teachers' union, the Oakland Education Association, is also concerned that closing and consolidating schools will lead to more students being enrolled in publicly funded but privately managed charter schools. These already drain more than $57 million annually from the district's budget.
On Feb. 26, hundreds of teachers and supporters marched two and a half miles through East Oakland to one of the schools facing closure, Roots International Academy.
There, Boots Riley – Oakland rapper, community organizer and now the award-winning director of the film, Sorry to Bother You – told the strikers they're not just teaching their students "the facts of what happened, you're teaching them to make something happen. And that's very important because otherwise … they won't know when they get out in the real world, how to do anything but wish that things were different. I'm glad you're staying in it," he said, "because what happens here is going to have a lot to do with what people do all around the country and all around the world."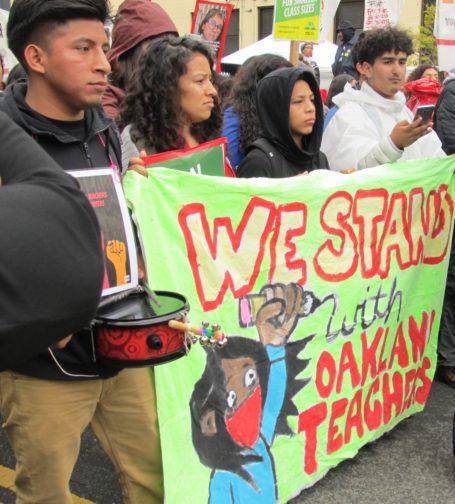 As he spoke of the union's demands, OEA President Keith Brown put public education first. "We could get our better pay, we could get our smaller classes, we could get more counselors, more nurses – we could get all the supports we need for our kids," he said. "But if our schools are not open, and they're not public schools in our communities, what have we gained?"
At the rally, parents, students, and teachers spoke out about their concerns.
Addy Rios, mother of a Roots 7th grader, said the school board is "taking our flatland schools and giving them to charter schools." She told the crowd, "The kids of Roots are our future voters. In five years, they will remember the faces that closed our schools and they will vote to get those people out of their chairs."
One Roots student chided the school district for putting out "so many excuses just to cover up their unreasonable actions toward teachers and schools they do not consider 'of quality.'" Low pay and large class sizes make teaching extremely difficult, she said, and that is "unreasonable and unfair to those teachers who are guiding the kids who will one day join society in this nation."
Another student described a School Board meeting he attended, where he said board members tried to make it appear the closings were focused on poor quality schools. "If our school wasn't 'of quality,'" he said, "why didn't they try to fix it? A school closing should have been last on the list."
Jessica Villanova, who teaches English to Roots 7th and 8th graders, said she is a product of East Oakland schools. The school district's plans to close the two dozen schools, mostly in East Oakland, will disproportionately affect low-income black and brown students and their families, she said. "Many of them have lost their freedom and right to public education at a neighborhood school. We cannot allow this to happen anymore."
The next day, striking OEA teachers and their supporters massed at the site of a School Board meeting where millions of dollars in budget cuts were on the agenda, forcing the meeting's cancellation. The union, contending that holding a meeting with that agenda during contract negotiations would interfere with the bargaining process, had demanded that it be postponed. The meeting was rescheduled to March 1, and the union again plans a massive picket to prevent it from happening.
As the week began, California's new Superintendent of Public Instruction, Tony Thurmond, joined the negotiations in a mediating role. Bargaining sessions have extended into the early morning hours in recent days.
Teachers, the lowest paid in Alameda County and among the lowest paid in the San Francisco Bay Area, have been without a contract for more than a year and a half. They are calling for a 12 percent raise covering the three years 2017-2020, along with smaller classes, more full-time counselors and nurses, and the district dropping its plans for school closings.
The school district, which originally offered a 5 percent raise and later upped it to 7 percent over four years plus a one-time 1.5 percent bonus, earlier this week proposed an 8 percent raise over three years plus a 2 percent bonus for the 2017-18 school year.
Meanwhile, the strike is drawing support from a growing list of celebrities. Earlier in the week, former U.S. Labor Secretary Robert Reich addressed a strike rally, while basketball great Stephen Curry, actor Mahershala Ali, hip-hop artist MC Hammer and singer-songwriter Fantastic Negrito joined in a video tribute to the strike that is now circulating on the internet.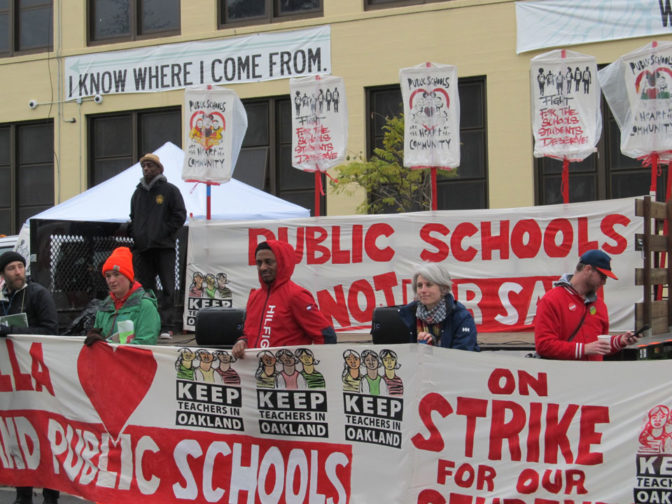 In a message to the strikers, novelist and poet Alice Walker told them, "To me, teachers are the most important people, next to parents, on Earth. It is you who are given responsibility to instruct our children, which means in effect, it is you who are given the responsibility to shape our society, our country, and our world…Those of us who have benefitted from the devotion and care of great teachers will always stand with and beside you."
The union reports that 96 percent of teachers are on strike, while only about 3 percent of the students are crossing their picket lines. Many others are going instead to "solidarity schools" staffed by volunteers at park recreation centers, religious institutions, and other locations.
Not only are the district's classified workers, represented by SEIU Local 1021, striking in sympathy, but some charter school teachers have also joined the picket lines. Some teachers from neighboring districts including San Francisco, Berkeley, Albany, and San Leandro have reportedly called in sick and come to join Oakland pickets as well.
The strike also has strong support of the Alameda Labor Council and members of other area labor unions are a constant presence on the teachers' picket lines.