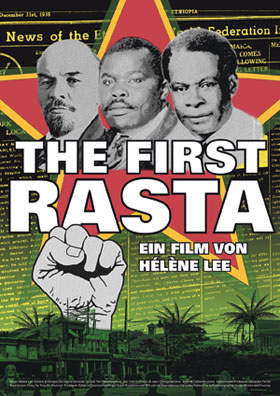 Two films recently released to DVD provide a sweeping opportunity to learn more about Rastafari identity and culture.
Those who have become casually aware of this Jamaican social movement through popular culture might be surprised at the controversy and conflict that the movement encouraged when it surfaced in the first half of the last century. The First Rasta, directed by Helene Lee, and adapted from her book, reveals the origins and purpose of Rastafari by examining the life and work of founder Leonard Howell.
A Jamaican born to a successful family, Howell travelled the world. Upon returning to Jamaica he was gripped by many ideas he had absorbed from places such as Lenin's Russia and the streets of New York, as well as from figures such as Marcus Garvey and American Communist George Padmore. In establishing an experimental utopian community, Howell set forth to challenge the notion of colonial authority while also developing potent ideas of self-determination and a sort of practical theology.
Many of the familiar Rastafari trappings, such as the distinctive dreadlocks, were a determined effort to both embrace the status of outsider and connect with African heritage. The Rastafarians outlined a campaign of definition and defiance, countering an existence within a colonial setting with an uprising of identity.
It's easy to imagine how convenient it would be for the powers in control to vilify the Rasta community. For their part the Rastafaris seem completely at cross purposes with the notion of authority. By the time independence arrived in 1962, Jamaica had suffered so long that the inevitable collapse into enduring political violence seems a given. The rise of Rastafarian identity then seems like an elusive salvation, and it's both touching and frustrating to see it weave through the island nation's troubles. The fact that it seems to have been co-opted by Jamaica as a convenient shorthand for laid-back hedonism for promotional and tourism purposes seems all the more a pity. It has yet to be recognized in Jamaica as a valid religion, though other faiths, from elsewhere, have been legitimized, such as the Mormon faith, which interestingly had until recently promoted the belief that people of color would not be allowed into Heaven.
The elderly witnesses showcased in the film trace the outlines of what Howell's communal project must have offered. There's a devotion and serenity that allows you to see how for many the Rastafarian path offered a way to transcend ideology and theology and grasp something enduring.
Also closely identified with Jamaican culture and Rasta is the now-legendary Bob Marley. Even those with the most superficial brush with Bob Marley's work undoubtedly recognize that it was coming from someone devoted to unity. The remarkable new film Marley, directed by Kevin MacDonald (The Last King of Scotland), provides great insight into an individual who had to unify many aspects of himself. Born of mixed race and traveling from the country to the city, Marley was perhaps always required to work hard at identity. Lesser folks would have found this a recipe for crisis and trouble. Marley was able to ignite a career that not only propelled him to worldwide fame, but lifted both the musical genre he championed – reggae – and the Rasta spiritual path he followed to widespread exposure. The real feat of the film is in capturing the scope of this achievement while staying focused on the man at its center.
Watching Marley one sees a man adhering to the sort of stoic drive of someone who has had to fashion an enduring mission for himself. There's always the sense of a man conscious of where he is and what can be accomplished in that time and place. The pride and purpose are impressive, and there's plenty of aural and visual evidence of the high and mighty place Marley took his audiences to. It's a story of aspiration, of somebody restless and powerfully ambitious. Unwilling to remain defined by the commercial interests wanting him to endlessly repeat his early ska hits with the Wailers, Marley demonstrated the sort of resolve other contemporary musical figures such as Marvin Gaye, Stevie Wonder and John Lennon also possessed, the ability to grasp independence and make the sort of large-minded music that gets the world's attention.
Much like in MacDonald's excellent One Day In September, the interviews are candid and enthralling. The greatest virtue of the film is the surrender of the narrative to the form of oral history it takes, with little fuss and a steady grasp of perspective. There's adequate footage of both Jamaica's scenic beauty and its impoverished communities, but this is mostly a film filled with people sharing stories. The scope of those who speak is wide and impressive. Marley is done great justice by those he lived and worked among. Even when they aren't flattering there's a sense of respect. There's in the end a sense of deserved stature derived from talent, resolve and humility.
Taken together these films offer a compelling introduction to a movement and an intelligent celebration of its visionary musical ambassador.