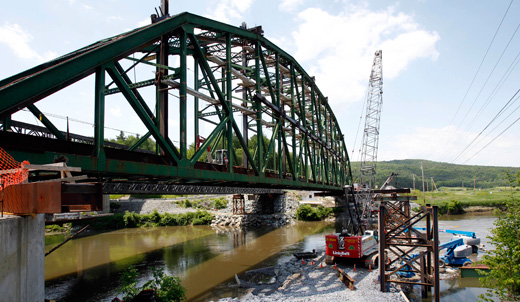 WASHINGTON (PAI) — Construction unions facing high rates of unemployment hailed the apparent congressional agreement on June 28 on a 2-year $109 billion measure to fund reconstruction of the nation's roads and bridges. But Amalgamated Transit Union (ATU) President Larry Hanley warned that it makes a bad situation worse for bus, subway and commuter rail systems and their riders.
Lawmakers reached the deal with just two days to spare before the authority to collect money for such projects, through the federal gas tax, ran out. That would have brought construction to a dead halt, right in the midst of the best season for building — and at a time when more than one of every seven construction workers is jobless.
Key GOP hang-ups, which were apparently dropped from the final version of the legislation, included Republican insistence on construction of the controversial Keystone XL oil pipeline from the U.S.-Canada border to refineries of the Texas Gulf Coast.
Construction unions strongly support Keystone, both because of the jobs it would create and because its Canadian owner, years ago, signed a Project Labor Agreement to have union labor construct the pipeline. But the Transport Workers, several other unions and environmentalists oppose Keystone. They argue it would increase pollution by bringing in extremely "dirty" oil from Alberta's tar sands.
Operating Engineers President James Callahan called the deal on the highway-mass transit bill "welcome news to Operating Engineers and thousands of other construction workers." It's "the nation's most important jobs bill," he said. Independent analysts say it also may be the only jobs bill this Congress approves this year.
Callahan said Senate Environment and Public Works Committee Chair Barbara Boxer, D-Calif., had a "laser-like focus on putting thousands of Americans back to work. Her tenacity and leadership led to this deal." He urged lawmakers to back the bill.
"Unemployment in the construction industry, which reached over 27 percent in Feb. 2010, is still over 14 percent," Callahan noted. "One in every five jobs in the 'highway, street and bridge' subsector of construction associated with transportation has vanished since the start of the recession. We are entering the heart of construction season throughout this country. It's time to put party politics aside and put people back to work."
But ATU's Hanley called the measure "a death blow" to mass transit riders. The legislation "not only does nothing to address the mass transit crisis, but will make it much worse…It will impose hidden taxes on commuters and transit riders by raising fares while forcing cash-strapped transit systems to cut more service."
Hanley explained that congressional negotiators dumped Senate provisions to let all mass transit systems use their federal funding for operations, as well as buying new equipment. Using federal money for operations "keeps service on the street and creates jobs," he said. ATU lobbied hard and mobilized riders for that cause.
Bargainers also did not reinstate a prior federal tax credit for people who use mass transit, available through their employers. Drivers get a tax credit through employers for parking expenses. That's retained.
"Our government is spending $2 billion a week to fight wars and rebuild cities halfway across the world, while Congress lets our own cities and their transit systems get worse by the day," Hanley said. "From Pittsburgh to Boston to Detroit to Charleston, more and more transit-dependent Americans are stranded at bus stops and rail stations as cities implement some of the most severe service cuts and fare increases in history."
While congressional bargainers agreed on the bill, whether the tea party-run Republicans who rule the House will heed even their own leaders – including conservatives such as GOP House Speaker John Boehner and Oklahoma Sen. James Inhofe, top Republican on Boxer's panel – is open to question. Many tea partiers want to kill all highway and mass transit funding, on ideological grounds.
Photo: Bridge being widened in Richmond, Vt., May 30. Toby Talbot/AP