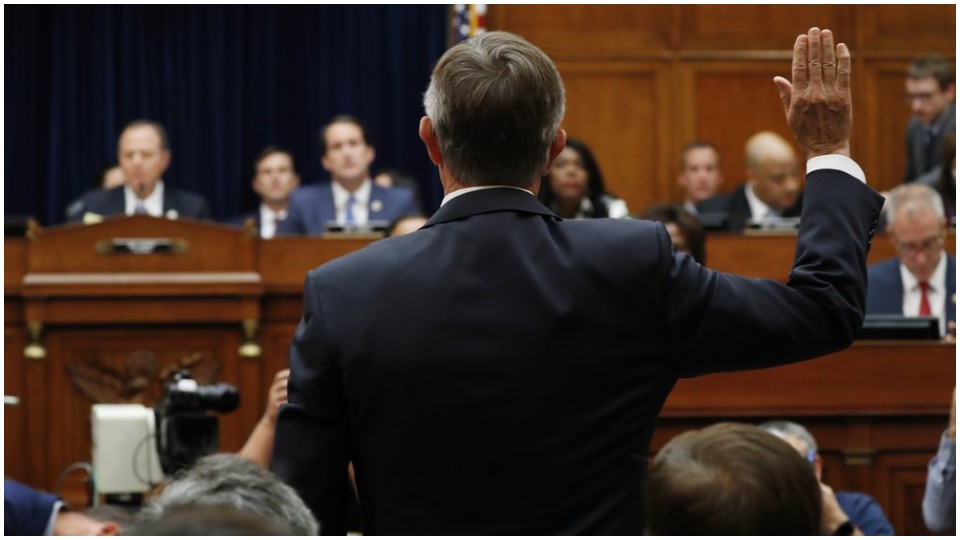 The impeachment process now underway in the country continued with dramatic testimony today in the House Intelligence Committee that underlined what the pro-democracy forces in America are up against.
Today's hearing confirms that saving democracy in this country will require taking on a Trump-built network that uses government across all of its branches to advance its own interests and to protect itself from being held accountable for crimes.
Testimony by Acting Director of National Intelligence Joseph Maguire that when he received a whistleblower complaint from an intelligence official he took the complaint first to the White House is profoundly disturbing. The law, of course, says such complaints must go to Congress within seven days. Taking it to the White House first, as he did, and then to the Justice Department, was particularly outrageous since President Trump himself and Attorney General William Barr are subjects of the complaint which alleges Trump withheld aid to a foreign company until that country would dig up dirt on a political opponent.
There has been evidence for years of Trump's manipulation of the executive branch, the legislative branch, and the courts for his purposes, but today's testimony adds the nation's intelligence apparatus to the list of institutions he thinks exist to serve his personal needs over those of the country.
By going first to Trump and then to the Justice Department rather than to Congress, the DNI had a lot to answer for at the hearing today, which focused on both an extortionist phone call Trump made to the Ukrainian president and a now-public whistleblower complaint from an intelligence official about that call and more.
Democratic members of the committee, one after another, hammered the acting director for how he handled the complaint when he first received it from Michael Atkinson, the Inspector General.
U.S. law states unambiguously that whistleblower complaints must be forwarded to Congress within seven days. The whistleblower was left "twisting in the wind for a month," House Intelligence Committee Chairman Adam Schiff, D, Calif., said today.
TRUMP IMPEACHMENT:

Impeaching Trump: Finally convinced, Pelosi opens formal inquiry

Teachers, Service Employees become first unions to back Trump impeachment probe
It was back on Aug. 26 that the Inspector General forwarded a complaint by a whistleblower to Maguire that he said was "credible" and "urgent."
"Is it prudent that you would give veto power over the release of a report on presidential wrongdoing to the president himself?" Democratic Rep. Sean Patrick Maloney asked Maguire at the hearing.
Underlying further concerns by members of the intelligence committee that Maguire himself could be part of the coverup was his refusal today to answer whether he had actually talked with Trump himself about this matter. Maguire asserted "privilege" in not answering whether he spoke to Trump about the complaint.
"Why would you do this?" Democratic Rep. Jackie Speier asked Maguire. His answer was that he was concerned that matters of executive privilege might have been involved. Democrats on the committee said essentially that they refuse to accept that opinions by lawyers in the White House and the Justice Department can override actual laws, even if the subjects of complaints are the president and the attorney general himself.
Under pressure from Democratic members, Maguire told the House Intelligence Committee today that he thought the whistleblower followed the law "every step of the way." He claimed he was working to see that the whistleblower will be allowed to testify freely before the committee.
Maguire admitted that the phone call notes released this week are consistent with the complaint filed by the whistleblower and that it was not proper for any president to use his office to garner help in a re-election effort, but he would not say that it was his judgment that this is what has happened in this case.
According to the New York Times, Trump told a gathering of U.S. diplomatic staff this morning that the whistleblower must be exposed and that he or she is "close to a spy," adding that, "We used to have a way of dealing with spies." Earlier he had called the whistleblower a "partisan hack," raising concerns for the protection of that individual. "No one should be calling the whistleblower a hack or anything else," Schiff said during the hearing.
Numerous Democrats commended both the whistleblower and the Inspector General, Atkinson, as "heroes."
In the now public summary of a phone call by President Trump to Ukrainian President Zelensky, Trump clearly pressures Zelensky to investigate political rival, Joe Biden. The whistleblower report, also now public, outlines initial attempts by numerous White House and other officials to suppress Trump's extortionist phone call.
Try as he might to make himself look clean in this affair, Maguire could not fend off Democratic assertions that none of this scandal would have come out were it not for the whistleblower and the IG coming forward. Lending credibility to IG Atkinson, of course, is the fact that it took bravery for him to come forward against Trump since he himself is a Trump appointee.
"Without his (Atkinson's) decision to act on the whistleblower complaint none of this would have come out," Schiff said.
He compared the phone call between Trump and Ukrainian President Zelensky to a mafia shakedown, with the president essentially telling Zelensky that "We've been good to you" and how, in return, he wanted the Bidens investigated.
The Democrats, meanwhile, have more than 220 votes for impeachment in the House already, two more than the magic number of 218 needed to impeach the president.
There is much talk by party leaders that they intend to focus on this latest scandal in the impeachment battle. Many want other issues, however, including prior violations by Trump of the emoluments clauses of the Constitution and obstruction of justice to be included, even if only to provide Republicans in the Senate the ability to vote with the president on some articles of impeachment but against him on this latest scandal. Only that one vote would be necessary to remove Trump from office.
Trump may finally have crossed the line in his self-serving use of foreign policy to serve his own interests. Significant sections of big business, Wall Street, the intelligence agencies, and the military have grown increasingly nervous about his policies, adding to the possibility that chunks of the Republican Party itself will eventually break loose from him if only out of fear for what might happen to them politically.
Vermont Gov. Phil Scott became the highest-level Republican elected official to back the impeachment inquiry this morning, saying Congress has a "solemn responsibility" to look into the allegations made public by the whistleblower.
Snap polls show that almost a third of Republicans, if satisfied with the evidence, could support impeachment. NBC correspondent Andrea Mitchell says she was told by a Republican senator that 30 of them would back impeachment if the vote were secret.
It looked to many today that the phone call transcript may end up being the smoking gun that un-does a president who thinks whistleblowers should be executed.