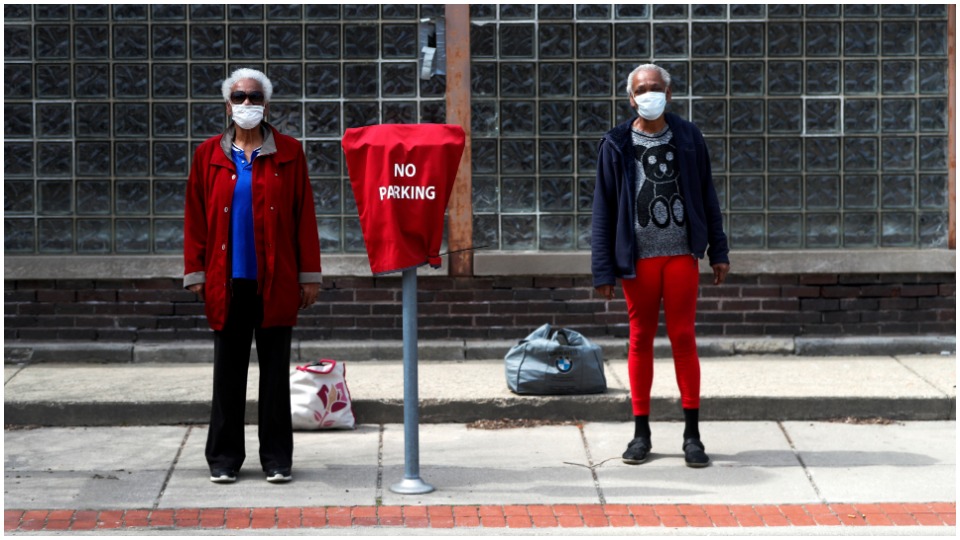 CHICAGO—One of every seven Illinoisans is an African-American. One of every three Chicagoans is an African-American. And 72% of the deaths in the Windy City from the coronavirus pandemic are of African-Americans.
It's horrifying contrasts like that, duplicated—though not to such an extreme—in cities from New York to Milwaukee to Detroit to D.C., that have motivated the Congressional Black Caucus to start campaigning hard for targeted economic aid to hard-hit communities of color nationwide.
After all, it's their constituents who are, in outsize numbers, dying.
"We are the lifeline of the nation, and we are disproportionately impacted," says Rep. Sheila Jackson-Lee, D-Texas, who represents center-city Houston. "We are trying to save lives, and the federal government has to get in line" to help.
Overall, the U.S. had nearly 15,000 deaths as of the morning of April 9, with more than 430,000 people nationwide taken ill in the coronavirus pandemic. But nobody knows the exact share by race, though scattered data from cities nationwide reveal Chicago-like statistics. In short, the share of African Americans dying from the coronavirus plague is higher than their share of the U.S. population.
That dire aspect brought the CBC into a telephone discussion/news conference on April 7 with African-American and other media from around the U.S. to talk about what to do about it.
The CBC is already talking with House Speaker Nancy Pelosi, D-Calif., about ensuring that aid gets directly to the African-American communities "and doesn't just trickle down," said Rep. Karen Bass, D-Calif., the caucus chair from Los Angeles.
Potential solutions included targeted aid, targeted coronavirus testing, and making sure that businesses owned and staffed by people of color aren't stiffed by banks and other lenders—including federal agencies—because of prior loan history, or lack of it.
Bass added canceling student loan debt to the mix, since African-American students are both deeper in the red, and, because of job opportunities, or lack of them, more likely to default on it in later years. Lee said there should be a moratorium on rent.
The background to the session is not just the rising number of deaths from the pandemic. It's also the factors that have led to the higher casualty figures, the lawmakers said.
They include communities underserved by the health care system, discrimination against African Americans when they do show up for care, and underlying health conditions—such as obesity, high blood pressure, and diabetes—that make people of color more vulnerable to the virus.
And, last but not least, economic conditions, notably lack of access to cash and credit, that prevent aid from getting to people of color, as opposed to whites.
After all, as one lawmaker said, the U.S. Treasury is working through banks to distribute loans to businesses to keep themselves going—but only if those businesses already had loans from the banks. And many black-owned businesses don't.
Though the lawmakers discussed past denial of health care, none mentioned one obvious solution, Medicare for All, which would eliminate the profit-driven, greedy, and rapacious health insurers—insurers who often deny care to African Americans because they'd cost the firms more money.
Yet 32 of the CBC's current 52 U.S. House members, plus the late Rep. Elijah Cummings, D-Md., are co-sponsors of HR1384, the Medicare for All legislation. And that doesn't include several co-sponsors who represent majority-minority districts—mixed black and brown—but who are not African-American, such as Reps. Jesus "Chuy" Garcia, D-Ill., and Nydia Velasquez and Alexandria Ocasio-Cortez, both D-N.Y.
Rep. Ayanna Pressley, D-Mass., who represents Boston, raised another problem with the banks: The complexity and difficulty of applying for aid. Small businesses are supposed to be helped by the $350 billion in federal aid in the recent economic stimulus law. But African-American owners of beauty salons and barbershops have neither the time nor the expertise to go through all that paperwork, she said.
"Blacks are nickeled and dimed" in Houston for both health services and access to other aid, added Jackson-Lee.
The first problem, the lawmakers said, is to get a handle on the devastating impact of the coronavirus pandemic on communities of color. There are scattered data from various cities, but no overall federal figure. Pressley asked the Centers for Disease Control to pull them together and start counting by race.
That way, she explained, people will know where, within cities and states, real coronavirus hotspots are. Sometimes they do. "In Michigan, we (African Americans) are 18% of the population, but 38% of the infected and 40% of the deaths," said Rep. Brenda Lawrence (D), whose district includes much of Detroit. The Motor City, like New York, is a hotspot.
But Lawrence also pointed out that when her constituents show up at overburdened emergency rooms, complaining of coronavirus symptoms, they're first tested for pre-existing conditions, and then often sent home—only to return days later sicker than ever. And Detroit, like other communities nationwide, of all races, lacks both coronavirus test sites and needed equipment, such as N95 masks for workers and respirators for victims.
African Americans also need access to money to dig themselves out of the unemployment hole caused when businesses shut down due to "shelter in place" orders in states and cities.
"One suggestion is to get money into the communities through black churches and houses of worship," said Rep. Robin Kelly, D-Ill., who represents much of Chicago's South Side. She said she would take that up at a subsequent meeting with city and state officials.
One point did not come up in the discussion, though: The political impact. African-American voters are the most loyally Democratic group, and their votes often mean the difference between victory and defeat for the party's candidates in each election.
The CBC has already started a massive voter registration campaign, as well as a voter protection campaign to prevent or counteract Republican voter suppression. The catch, though no one said so, is that death is the ultimate voter suppression.
Bass ended with one optimistic note. "We took all this to the leadership, and they're having us craft the legislation, so we can get some of these things in it," she said.
Like free stuff? So do we. Here at People's World, we believe strongly in the mission of keeping the labor and democratic movements informed so they are prepared for the struggle. But we need your help. While our content is free for readers (something we are proud of) it takes money — a lot of it — to produce and cover the stories you see in our pages. Only you, our readers and supporters, can keep us going. Only you can make sure we keep the news that matters free of paywalls and advertisements. If you enjoy reading People's World and the stories we bring you, support our work by becoming a $5 monthly sustainer today.