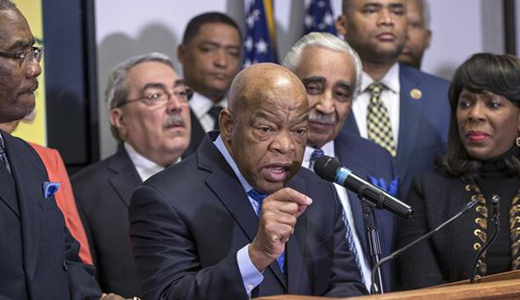 WASHINGTON – Shortly after Donald Trump's public admission Friday that President Obama was born in the United States, members of the Congressional Black Caucus (CBC) held a press conference here saying that Trump's statement was cynical and meaningless.
They called on Trump to apologize for his role in encouraging and growing the "birther" movement. For the past five years, and up until just hours before his statement, Trump repeatedly explicitly and implicitly stated that the nation's first black president wasn't legitimate because he wasn't born in the U.S.
The birther movement has become a magnet for racists.
Even while admitting that President Obama was born in the U.S., Trump refused to apologize.
At the CBC press conference, each member spoke in turn.
CBC Chair Representative G.K. Butterfield, D.-N.C., said "This is a disgusting day. Donald Trump is a disgusting fraud."
Rep. Sheila Jackson Lee, D.-Texas, said that Trump "could not bring himself to [apologize] because he has lived a life of bigotry."
Rep. Gregory Meeks, D.-N.Y., said, "This is not an African American issue. This is an American issue. We must all come to the forefront to fight racism."
Meeks continued, "One candidate says 'let's make our country great again.' When he is talking about? What is he talking about? Or is this just a coded message?"
"One of the things we all are used to in this business is dog whistles," said Rep. Jim Clyburn, D.-S.C., "but the thing that we're not used to, and I'm finding it very difficult to get used to, are the howls of wolves. These are howls. These are not whistles."
Rep. Bonnie Watson Coleman, D., N.J., said she does not believe Trump's reversal is sincere. "He doesn't believe the things he's forced to say now in order to curry favor with people who are never, never going to support him," she said.
She is undoubtedly correct. Polls show that Trump's support among African Americans is no more than three percent.
Representative Meeks concluded the press conference by saying "[Hillary Clinton] says 'we are stronger together.'
"This is what makes the U.S. the greatest country. We accept and bring together everyone. You can be of different ethnic backgrounds, different religious backgrounds, come from all parts of the world … we bring people together
"So let's do that. Let's bring people together."
Photo: Congressman John Lewis and members of the Congressional Black Caucus. | AP