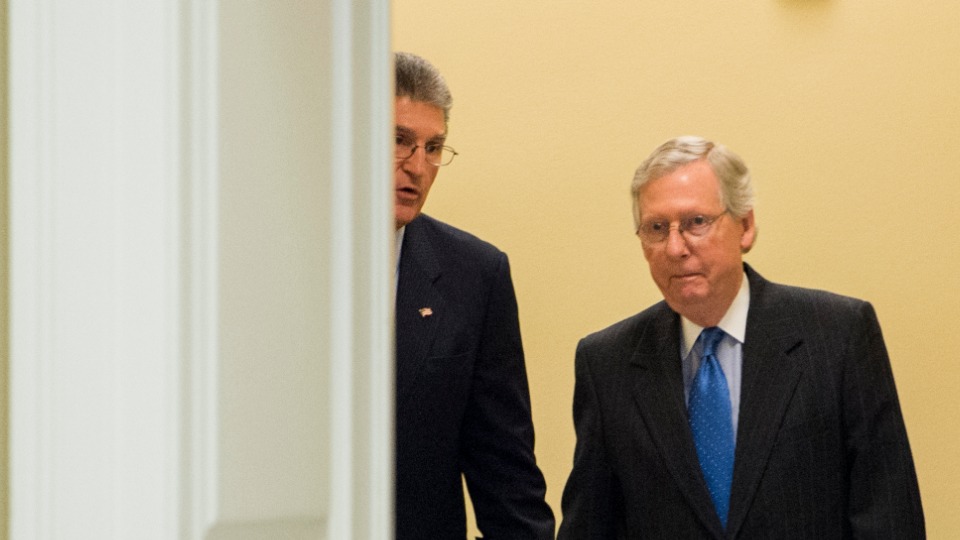 WASHINGTON—It's crunch time on Capitol Hill, as lawmakers face a Sept. 30 deadline for key legislation that could affect everyone in the United States. And all the items are controversial.
Topping the list is legislation both to keep the government going through the end of this calendar year, and, more important, to waive the limit/ceiling on federal debt—bills owed for past spending, including spending to combat the coronavirus pandemic and for the 2017 Trump-GOP tax cut—and covering spending through the end of 2022.
That includes Social Security checks and other necessities.
The evenly split Senate will tackle the debt limit, which is linked to the money bill to keep the government going. The Democratic-run House passed it on Sept. 21 on a party-line 220-211 vote.
That vote and Senate GOP leader Mitch McConnell of Kentucky both say Republicans want to defeat the debt limit and shut the government down.
The result would be a fiscal and financial catastrophe, House Speaker Nancy Pelosi, D-Calif., warned on ABC's This Week. "The full faith and credit of the United States should not be questioned. That's in the Constitution of the United States," she told moderator George Stephanopoulos.
Congressional Democrats "cooperated on three occasions" during the GOP Trump government "to lift the debt ceiling. Even to have the discussion that it could possibly be in default lowers our credit rating," she said. It did during Democratic President Barack Obama's administration, as a result of a similar McConnell threat. Allowing a default is "irresponsible beyond words," Pelosi declared.
Meanwhile, the House will handle both the $978 billion "hard" infrastructure bill—funding for bridges, railroads, broadband, subways, airports, ports, roads, and infrastructure—and detailed legislation implementing the $3.5 trillion "reconciliation" resolution lawmakers approved in August. That's Democratic President Joe Biden's Build Back Better package.
"Let's not talk about numbers, let's talk about values," Pelosi says. Still, she admitted the Build Back Better bill will shrink. "I mean, that seems self-evident" owing to Democratic divisions, Pelosi said.
The hard infrastructure bill has a Sept. 30 deadline, too. That's when the authority to spend money on such projects and to collect the federal gas tax, which partially pays for them, runs out. Pelosi says it'll come up that day—when she expects Dems to have the votes.
The bigger measure expands the social safety net, funding expansion of Medicare to cover vision, dental, and hearing benefits, making paid family and medical leave permanent, extending the child care tax credit, paying for measures to combat climate change, and funding universal pre-K education and two free years of community-college level tuition, among other items.
"Build Back Better Act is a jobs bill for the future," Pelosi wrote her colleagues on Sept. 25. It's "addressing the empowerment of women in the workplace and creating good-paying green jobs by tackling the climate crisis. The jobs initiatives relating to child care, home health care, paid family and medical leave, universal pre-K, and more are transformative.
"The legislation also helps middle-class families by making health care costs and prescription drug prices more affordable…. Build Back Better will cut taxes for the middle class, create more jobs, lower costs for working families and make sure the wealthiest and corporations pay their fair share," she said.
And it would be paid for by rolling back the Trump-GOP tax cut's giveaways to corporations and the 1%, imposing higher taxes on oil and gas producers, and imposing much larger fines on labor law-breakers, among other measures.
"Obviously with negotiations, there will have to be some changes in that, the sooner the better, so we can build our consensus to go forward," Pelosi admitted to Stephanopoulos. "And we will do that. The American people need that to happen." But she also conceded she won't bring a measure to the House floor "that doesn't have the votes." Which, reading between the lines, means deadlines could slip.
Progressive forces are marshaling support for the detailed $3.5 trillion measure. Our Revolution held two rallies for it on Sept. 27, and the Working Families Party held a nationwide assembly on it, via Zoom, the night before.
A typical reminder came from the Poor People's Campaign in a Sept. 26 letter to Pelosi. They're also asking supporters nationwide to call or e-mail their lawmakers about it. That action site is here.
"When we met with you recently, you listened to testimony from Black, white, and Latino Americans who know it is not enough for Congress to only invest in the physical infrastructure of our roads, bridges, pipes, and rails," wrote campaign co-chairs the Revs. William Barber II and Liz Theoharis.
"On behalf of poor and low-income people across this nation, they implored you to 'Hold the Line' and make clear to the Senate the House cannot fund the physical infrastructure bill until the Senate commits to also funding the infrastructure of our daily lives by investing in healthcare, family leave, elder care, affordable housing, the environment and more.
"The vote…invites representatives of conscience to take a stand and use their power to insist so-called 'moderates' in the Senate do more to support the president's Build Back Better agenda and, more importantly, to invest in the poor and low-income people who are too often ignored in our public life. This is what the delegation you met with asked for, and we thank you for keeping your word. Both of these bills are necessary and essential steps to lift from the bottom up and middle out."
The Service Employees also launched a petition, as a follow-up to last week's lobbying, urging lawmakers to back the Build Back Better agenda, saying it would particularly help low-paid home care workers by, among other measures, raising their pay to $15 an hour. The average home care worker now makes $11-$12. The SEIU petition is here.
"Our work is essential. We provide skilled, compassionate care. We give families the peace of mind they need to show up to work outside their homes. Now it's time to put home care workers at the center of our nation's economic recovery. We deserve higher pay, better benefits, and the choice to form and join a union." (Their emphasis).
"Almost 1 in 5 care workers live in poverty. As home care workers, we helped keep America running through this pandemic, now it's time to respect us, protect us, pay us. #CareIsEssential" the union tweeted. Its other tweet linked taxing the rich to raising home care workers' wages. "Tax breaks for billionaires don't help our communities. A $15/hr. federal minimum wage will. #TaxTheRich," it read.
Meanwhile, the legislation drew flak from other directions:
The corporate class opposes the $3.5 trillion Build Back Better bill. Both the Chamber of Commerce and the Business Roundtable are silent on the social programs, but vehemently oppose the measure's rollback of the $1.7 trillion Trump-GOP tax cut giveaway corporations and the rich received.
Repealing that $1.7 trillion tax cut would "stunt wage growth, suppress business investment and innovation and once again make American companies more susceptible to foreign takeovers," alleged Business Roundtable CEO Josh Bolten, former chief of staff to GOP President George W. Bush. The Chamber of Commerce says votes on the $3.5 trillion Build Back Better bill "will be part of its congressional scorecard going into the 2022 elections," implying that "yes" votes will cost lawmakers corporate campaign contributions.
Right-wing Democrats led by Sens. Joe Manchin, D-W. Va., and Krysten Sinema, D-Ariz., and including nine renegade House Democrats, threaten to sink the $3.5 trillion bill unless the House approves the "hard" infrastructure bill—which itself was a bipartisan Senate "compromise" and far below what Biden originally sought.
Manchin and Sinema want to cut the Build Back Better's dollar figure in half, while not specifying what they would cut. Nine renegade "moderate" Democrats who want to put hard infrastructure first could sink the bigger bill in the House since Pelosi has only a 220-212 margin. So could seven Texas Democrats, upset over the tax increases on oil and gas companies.
Congressional Progressive Caucus Chair Rep. Pramila Jayapal, D-Wash., told the Washington Post that up to 60 lawmakers—progressives and others—could walk away from the infrastructure bill unless the Senate commits to the Build Back Better bill.
"We're ready to vote for both, and we will vote for both," Jayapal told the Post. But "we need to get" the $3.5 trillion bill passed, she added.
Sign onto the Poor People's Campaign's Open Letter to Speaker Nancy Pelosi: "Hold the line!"

Then…

Sign SEIU's petition: "Care workers must be part of economic recovery!"