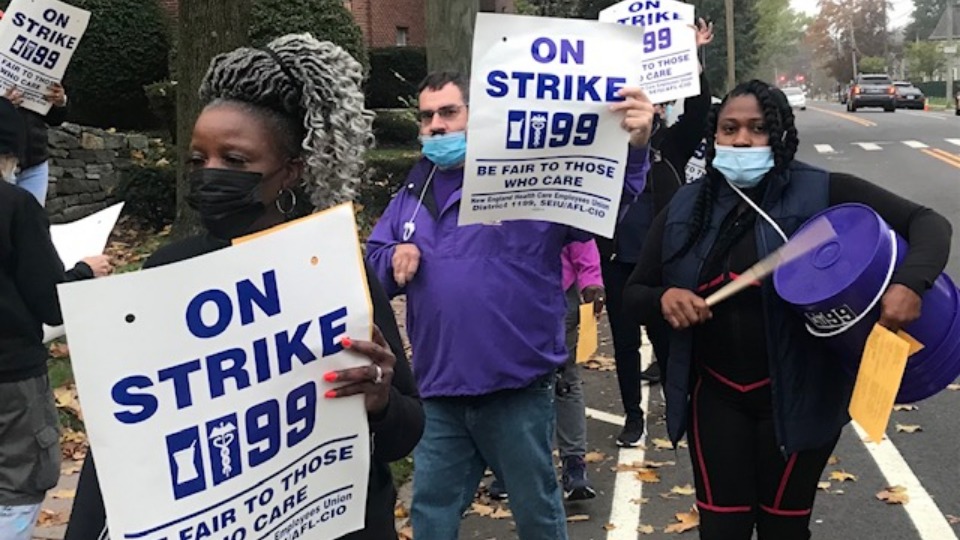 HARTFORD, Conn.—From the moment over 100 courageous caregivers walked onto the picket line against group home company Sunrise Inc., they had the support of the community and the labor movement behind them. Part of the national post-pandemic strike wave and racial justice uprisings, these working-class Black, Latino, and white women are standing up for living wages, pensions, and dignity on the job at locations across Connecticut.
"I'm tired. I'm drained. I've been at Sunrise for 24 years. It's time that they do the right thing," said direct support professional Jennifer Brown, who is featured in a union billboard campaign launched during the strike. "No one at our agency takes insurance because it is not affordable. We haven't had a pay raise in 15 years."
Brown said Sunrise knows "we are dependable, we are reliable," but the company itself is not dependable or reliable when it comes to wages and pensions.
Since Oct. 12, Sunrise workers who are members of the New England Health Care Employees Union, District 1199, SEIU, have been out on strike with picket lines in Hartford and several other locations in smaller towns across the state, including Columbia, Danielson, Brooklyn, and New London.
Despite winning over $184 million in additional state funding for private sector group home agencies, Sunrise management has refused to agree to a contract that would provide livable wages, affordable healthcare, and a pension for its workers.
1199 members at Sunrise are predominantly Black, Latina, and working-class white women who provide care for persons who are intellectually and developmentally disabled. They work in settings ranging from residential care to day programs to home care. They are fighting for an agreement in line with other unionized group home agencies who have already settled contracts. Those deals saw wage increases up to 20% for those with the lowest rates of pay as well as 90% reductions in health insurance premiums in some instances.
Sunrise continues to hold its workers back by paying many of them less than $17-per-hour, providing no retirement benefits, and saddling them with $6,000 monthly premiums for family health insurance plans.
Sunrise operates 28 group home and day programs serving over 160 individuals in multiple locations across the state. It employs 149 District 1199 New England union workers in Brooklyn, Columbia, Danielson, East Hartford, Glastonbury, Hartford, Hebron, Lebanon, Manchester, Mansfield, New London, New Milford, Old Lyme, Pomfret, Vernon, Waterford, and Enfield.
Attempts to come to an agreement have so far been futile. Sunrise has only agreed to meet for contract negotiations once since the start of the strike. While the bargaining session showed some movement in important areas of health insurance and wages, the employer remains steadfast in their refusal to agree to a pension.
The union-proposed pension plan would cost the company no money out of pocket, as it would be paid for by increased funding provided by the state. That was a result of thousands of workers statewide taking strike votes earlier this year and preparing to walk out if the state didn't provide additional monies. A federal mediator has now become involved in an attempt to help settle the contract.
All of this happens while the CEO of Sunrise continues to make $325,000 a year. In an attempt to lower health care costs, the company proposed switching plans to a different insurance agency where the CEO happens to have a stake in its management. The proposed plan would still not bring the workers to par with other unionized agencies in the state.
With 20 days out on strike already, the spirits of the workers have been hard to shake despite the best efforts of the boss. Two weeks into the strike, Sunrise management sent a video to its workers featuring a woman reading from a script and masquerading as a Connecticut staff member.
There has been some chaos on the lines, with union organizers reporting attempts by a house manager to run over members on the picket line in northeastern Connecticut. According to witnesses, instead of arresting the house manager police attempted to arrest some of the strikers.
There have been victories on the picket line as well, with several reported instances of striking workers convincing their co-workers who were scabbing to walk out and join the work stoppage. Community support for the strikers has also been strong. On the main picket line in Hartford, it is an almost daily occurrence for community members to come out and show their support by bringing copious amounts of food or even letting them use the bathrooms in their homes.
Rob Baril, president of District 1199NE, placed the situation before the biennial convention of the Connecticut AFL-CIO this week. The union, part of SEIU, has just re-joined the state AFL-CIO and had a major impact on the deliberations. The convention urged member unions to join the picket lines and support the strike fund.
As well, the convention adopted strong resolutions on behalf of essential workers and for implementing measures to achieve economic and racial justice for working-class people in this state.
Baril summed up the situation by saying, "Most of these workers are making less than $17-an-hour. They have to pay $6,000 in monthly premiums for family health insurance coverage at Sunrise, and no retirement pension to look forward to in their elder years."
He added that "even after workers were able to leverage more than $184 million in additional state funding from Gov. Ned Lamont's administration, Sunrise continues to deny a fair contract for its workers."