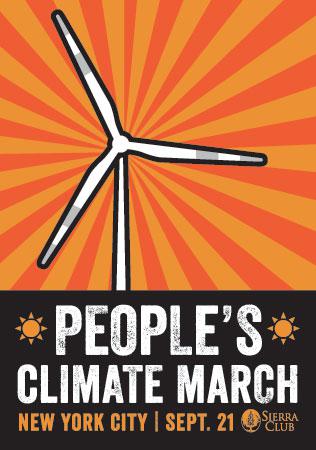 Along with environmental, peace and faith based organizations, groups of bicyclists, and the Raging Grannies, Connecticut unions are an important part of the state coalition preparing for the People's Climate March on Sunday, September 21 in New York City. Sierra Club and 350.org initiated the statewide organizing effort this summer.
The march, endorsed by over 600 national and local organizations, coincides with a September 23 global summit on climate change called by United Nations Secretary-General Ban Ki-moon, frustrated at the slow pace of progress on this crucial issue. Ban Ki-moon will propose an aggressive global pact to dramatically reduce greenhouse gas emissions by the end of 2015.
Delegates to the Connecticut State Council of Machinists (CSCM) led the way in the labor movement at their semi-annual conference in June when they voted unanimously to endorse and participate in the march. The Connecticut AFL-CIO, CT State Council SEIU, AFSCME Council 4, UAW Region 9A, AFT Connecticut, Connecticut Education Association and SEIU 32BJ Connecticut are also on board so far.
The CSCM delegates represent more than 10,000 active and retired Machinists Union members in Connecticut from industrial sites including Pratt & Whitney, Hamilton Sundstrand, Electric Boat, Stanley Works and other IAM-represented workplaces around the state.
"We recognize that working people will suffer disproportionately from the current patterns of investment and neglect that do not prioritize good jobs, clean air, and healthy communities," says the resolution that supports "the demand for an ambitious, binding, and fair agreement for emission reductions to foster a sustainable adaptation to the effects of climate change."
The diverse constituencies coming together around the Climate March bring a wide range of concerns to the table. Peace organizations are especially concerned with the environmental and climate impacts of wars and militarism. Educating the public about climate change is in the forefront for environmental organizations and religious groups like New Haven Friends Meeting. the Communist Party, which has endorsed nationally, is rallying around their slogan "People and Nature before Profits." The inter-relationship of all these issues offers possibilities for future collaboration.
Sierra Club and 350.org initiated the coalition that is chartering buses around the state. New Haven organizations are digging deep into the community to bring hundreds of people to New York by train.
The Greater New Haven Peace Council is participating in a national effort that has organized a Global Climate Convergence People, Planet and Peace over Profits, to be held on Friday and Saturday, September 19-20 in New York City leading up to the march.
"Let's be clear," said John Harrity, CT State Council president. "Climate change is the most important issue facing all of us for the rest of our lives. When our kids, and grandkids, ask 'What did you do to help stop this disaster?' which they will surely ask if we do not take drastic steps immediately – Machinists Union activists can say, 'We helped save the world. We were there on September 21."
Image: Climate March logo from Sierra Club.