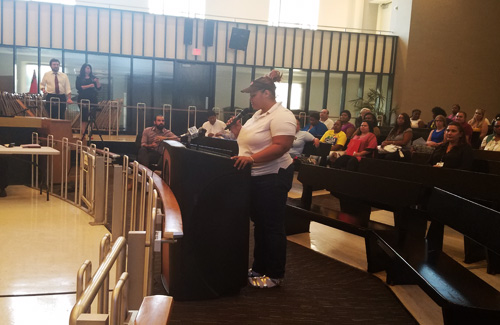 BRIDGEPORT, Conn — Dozens of low-wage workers demanding Connecticut's minimum wage be increased to $15 an hour testified this week at a hearing in Bridgeport called by the Low-Wage Employer Advisory Board. The 12-member task force was created by the state legislature to study the impact of low wages on families, their communities and the state economy.
A lopsided economy hurts working families, and the problem of income inequality is particularly acute in Connecticut. According to a recent report from the Economic Policy Institute, the wealthiest 1 % in Connecticut captured 100% of the state's income growth between 2009 and 2013.
Connecticut had the second-highest income inequality among the 50 states, while the Bridgeport metropolitan area was the second-highest in income inequality among metropolitan areas across the country.
"Working one job, making $9.60 an hour is nowhere near enough to survive in Connecticut, which is why I recently had to take on a second job," said Richard Grimes, a homeless Hartford-area Burger King worker and member of the Fight for $15. "It's really disgraceful to know that I'm working for a multi-billion dollar company yet I make so little that I cannot afford a place to live. Each day I have to decide between buying a meal and paying for the bus to get to work, so some days I walk and other days I skip meals. A $15 minimum wage would change my life drastically and that's why I had to testify before this group today."
Raising the state's minimum wage to $15 an hour would lift families out of poverty and boost the economy, bringing billions of dollars to Connecticut.
"Among Americans who work in jobs paying the minimum wage, two out of three are women, including single moms," said Queen Freelove, a childcare provider. "As a childcare provider in New Haven, I make it possible for many of those parents to get and keep their jobs because I'll take children outside of regular center hours. But many childcare providers struggle because parents can't afford to pay more than they already do. Everyone should be paid a living wage, whether that's $15 or higher. No company should be allowed to pay their workers poverty wages."
Wages have stagnated for America's workers across the board, and those in lower-paying jobs have been hit the hardest. Among the 10-largest occupations in the bottom fifth, declines were most pronounced for occupations in the restaurant sector: food preparation workers and cooks saw wage declines of 7.7 percent and 8.9 percent. Janitors and cleaners, personal care aides, home health aides, and maids and housekeeping cleaners also experienced steep declines in real wages.
"My constituents in Bridgeport struggle very hard to make ends meet," said State Sen. Marilyn Moore, chair of the Human Service committee. "I saw their struggles myself, when I took a job last summer at Target to experience what so many others in my district experience. The work is physically and psychologically demanding, and workers – the vast majority of whom are adults, many raising children – not only need but deserve a base of $15 an hour. It would dignify their labor, and ultimately benefit their employers and customers as well."
"I have seen firsthand over the decades the erosion of the middle class in my hometown of Bridgeport, as the income gap has widened more deeply here than almost anywhere else in the nation," said State Senator Ed Gomes. "We need to staunch that gap by providing a sensible minimum wage that can actually sustain adult workers and help them raise their families toward a brighter future. If low-wage workers have more money to spend in a town like Bridgeport, through a gradual increase of the minimum wage to $15, the ripple effect would benefit the entire economy."
Workers are hoping that the Advisory Board will issue recommendations that will lead to elected officials raising the state's minimum wage to $15 an hour, as in New York, California, the District of Columbia, and cities across the country. The Board is expected to release a report in December with its recommendations.
Photo: Dunkin Donuts' worker Ivelissa Lugo testified before the Low Wage Employer Advisory Board in Bridgeport on July 21 in Bridgeport. | Fight for $15.