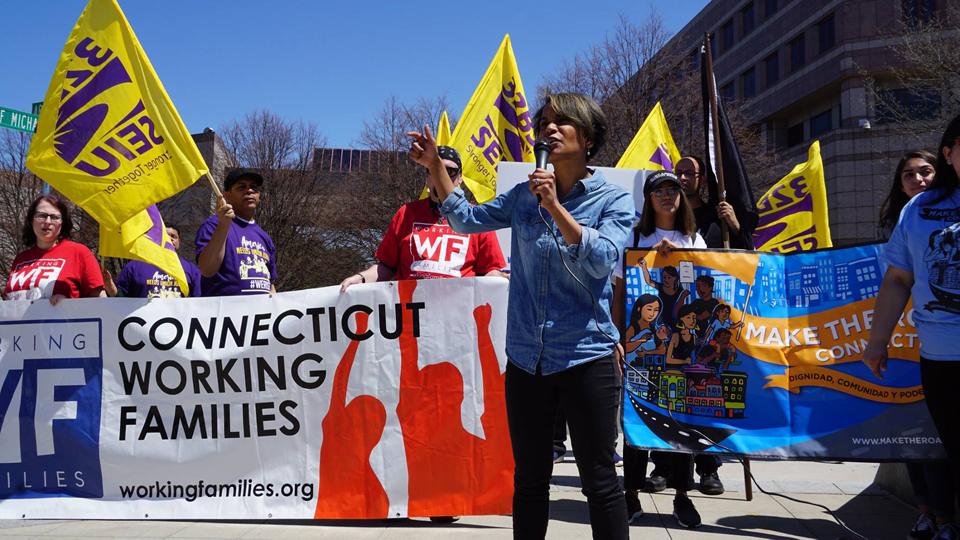 HARTFORD, Conn.—A spirit of resolve and determination filled the King-Davis Labor Center on Sunday, May 6, as everyone joined in with vocalist Jill Marks to sing, "Ain't gonna let nobody turn us around." Marks, an organizer with UNITE HERE's community outreach group New Haven Rising, signed up one hundred people from New Haven to make the 27-hour bus trip to Memphis for the national march on April 4, fifty years after Dr. Martin Luther King was assassinated while supporting striking sanitation workers. Another hundred people from the unions at Yale and other organizations filled two more buses.
A report back from the historic trip was a highlight of the "May Day 2018: Fighting Together for Justice, Equality, and Peace" rally hosted here by the Connecticut People's World Committee.
"I lived near Memphis for several years," said Marks, "and the same issues that Martin Luther King fought for fifty years ago are still being fought today." Alder for Ward 28 in New Haven, Marks brought the house down at a union rally in Memphis with the UNIITE HERE Choir.
Others who shared their experience said, "This is the coalition of unions and community that can move us forward today;" "We made history;" and "Thank you UNITE HERE." Members of Ice the Beef youth group who went to Memphis shared by performing a quartet and a solo to standing ovation.
The rally also celebrated several important victories. The day before, SEIU 1199 group home workers won passage of a bill at the state legislature to fund wage increases, averting a strike scheduled for the following week. Group home worker and 1199 rank and file union leader Clark Peters explained the challenges he and his co-workers have faced working with no increase for years. Their inability to care for their own families led to the strike vote, intensive lobbying at the capitol, and the big victory.
Also on the solidarity panel was Karen Navaratte, representing Connecticut Students for a Dream.  Despite the severe attacks on immigrants and Dreamers by the Trump administration, these students just won their five-year campaign for institutional aid at the legislature. Students will now be eligible to receive scholarships at state colleges and universities regardless of immigration status. After telling her own story, Navaratte thanked everyone for their support.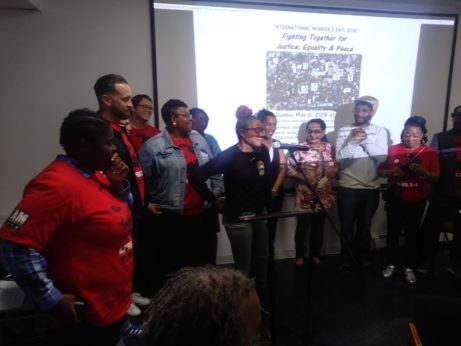 Luis Luna, worker organizer for Make the Road CT, based in Bridgeport and Hartford, emphasized the importance of celebrating May Day as an international day of workers' struggle and solidarity. Make the Road was one of many groups that took part in rallies and marches on May 1 in Bridgeport, New Haven, and at the state capitol in Hartford.
These rallies along with teachers strikes and May Day rallies in major U.S. cities were included in a May Day Around the World slide show presentation at the beginning of the program.
Huge marches by workers on every continent were depicted, along with their demands for jobs with living wages, education, an end to austerity, immigrant rights, and calls for an end to U.S. corporate economic and political interference, including in Puerto Rico, Venezuela, and the Philippines. Many marked the 200th anniversary of the birth of Karl Marx and upheld the cry for workers of the world to unite.
A delicious homemade buffet, YCL bake sale, People's World collection, and pledge cards to "vote and volunteer for working class champions in 2018" rounded out the afternoon. Participants said they were "all charged up" for the battles in the last days of the state legislature and the busy campaign summer ahead, "fighting together for justice, equality, and peace."