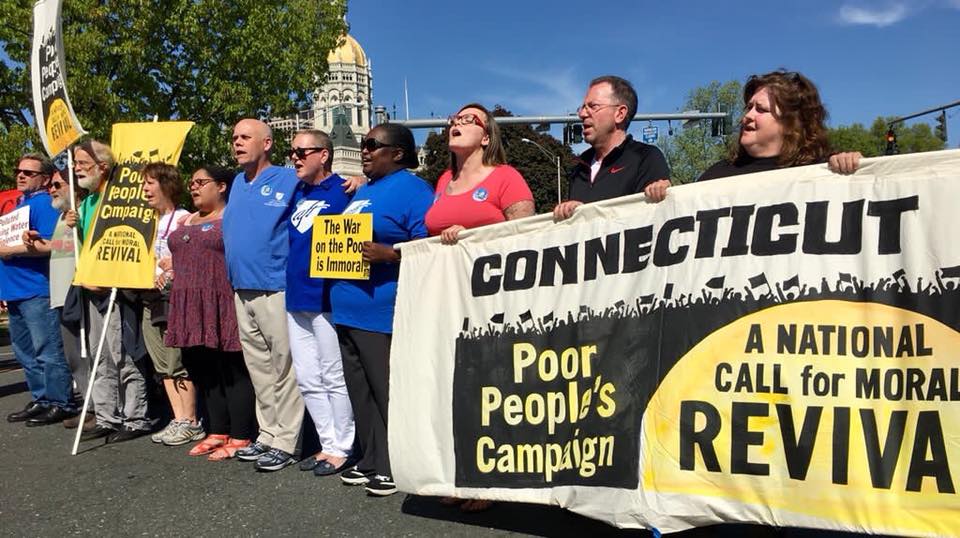 HARTFORD, Conn.—"If you don't have health, you don't have anything," exclaimed Stephanie Johnson, president of AFT CT local 5051 at Lawrence + Memorial Hospital in New London. She is also chair of her union's Social Justice Committee.
Speaking outside the state capitol at the weekly rally and direct action of the Poor People's Campaign in Connecticut, Johnson recalled how she and her union sisters and brothers were "the watch dogs for the community" in 2013 when they refused to accept a plan to replace their jobs and lower the quality of health care offered. "We were locked out for 21 days at Christmas time," she said. "It was hard but we prevailed," she added while also chanting her union's slogan, "U & I in Union."
"I got arrested here a couple of weeks ago for the best cause," said Johnson. "The changes coming are not good, but if we stand together we will be the change."
DeShawn Brownell, a member of SEIU 32 BJ union of building cleaners and security guards, pointed to the Legislative Office Building saying, "There is a lot of inequality here." The General Assembly adjourned last month without voting on a bill to raise the minimum wage to $15 an hour.
"Single mothers have it worst," he said. "They have to find child care and then work three jobs to pay for it." Calling out to the 100 union, community, and faith leaders gathered, Brownell emphasized, "Everyone deserves a slice of the American Dream, not just the 1%. That's what the unions give us."
This week's action highlighted the right for all workers to be able to form unions and collectively bargain, and have living wages and healthcare. Connecticut's racial disparities and income inequality are second highest in the country. According to the Poor People's Campaign audit, 42 percent of residents are poor or low income and 524,000 workers make less than $15 an hour.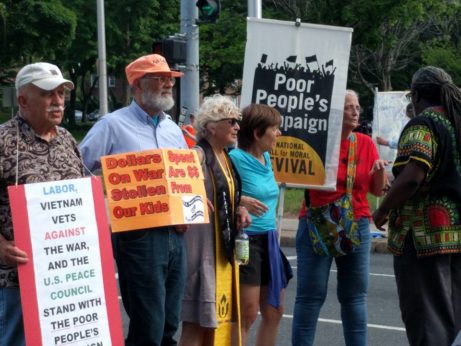 "The policies made in these buildings affect our lives," said organizer Bishop John Selders. "It's time for all of us to get together and unite."
Singing "Everybody's got a right to live," the diverse crowd marched around the corner to Capitol Avenue and stood in the street blocking traffic, joining with the direct actions taking place in 39 state capitols across the country. Five people stayed in the street after the police warning and were arrested, adding their number to the two dozen detained here in earlier weeks.
The weekly direct actions launched in the hot sun on May 14 with calls for policies to end poverty, racism, and war.
The themes carry on from the Poor Peoples Campaign that Dr. Martin Luther King, Jr. was organizing fifty years ago at the time of his assassination. King warned of the triple evils of racism, economic exploitation, and militarism that were destroying U.S. society. Today's Poor People's Campaign also incorporates climate change and the nation's moral compass to comprise the campaign's five pillars.
"This campaign may have been inspired by historic events fifty years ago," said AFT Connecticut president Jan Hochadel, who previously taught in the state's technical high schools. "Yet, in 2018, we're witnessing the lessons of non-violent, civil disobedience across the country, from West Virginia to Arizona and Oklahoma to Puerto Rico. Union members are putting themselves on the line—and winning."
"They're winning not just for themselves — they're winning justice for their students, their patients, the residents they serve, and their communities," Hochadel concluded in a speech prior to being arrested along with several of her union colleagues during the first action.
Week three focused on ending the military economy and gun violence, and reallocating resources from war to jobs, education, healthcare, and voting rights. Among those to participate in the civil disobedience at the state capitol were Henry Lowendorf and Jim Pandaru, leaders of the Greater New Haven Peace Council; Ann Pratt, coordinator of DUE Justice Coalition; and clergy.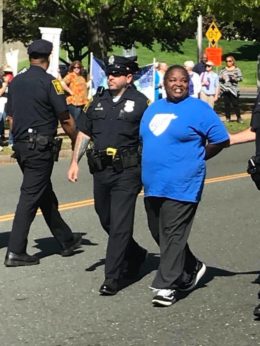 "Connecticut's contribution to the country's endless wars in Iraq, Afghanistan, and beyond totals $119 billion since 2001 and could instead have created 94,500 new jobs in clean energy, or placed every Connecticut child in Head Start early childhood education programs, or covered the cost of Medicaid for 1.3 million adults for the past 17 years," according to the Poor People's Campaign audit.
Among the demands of the Campaign's moral agenda is "end military aggression, ban the proliferation of guns, and demilitarize our communities on the border and the interior."
As has been done each week, those participating in the civil disobedience joined arms and stood in the middle of the street until they were arrested by Hartford police and taken to the station for booking and later release. They have been sentenced to three days of community service.
The weekly Monday actions across the country, the first of their kind in history, will culminate on Saturday, June 23 with a mass rally in Washington, D.C.  The rally, which will launch a massive voter registration drive, will be live streamed in Connecticut at the New Haven People's Center, 37 Howe Street for those who do not travel to the nation's capital.
"Our commitment is to keep our issues front and center in the public discourse. No more will we allow statewide elections to happen without real dialogue regarding the poor, the disenfranchised, and marginalized." says Bishop Selders.
Like free stuff? So do we. Here at People's World, we believe strongly in the mission of keeping the labor and democratic movements informed so they are prepared for the struggle. But we need your help. While our content is free for readers (something we are proud of) it takes money — a lot of it — to produce and cover the stories you see in our pages. Only you, our readers and supporters, can keep us going. Only you can make sure we keep the news that matters free of paywalls and advertisements. If you enjoy reading People's World and the stories we bring you, support our work by becoming a $5 monthly sustainer today.