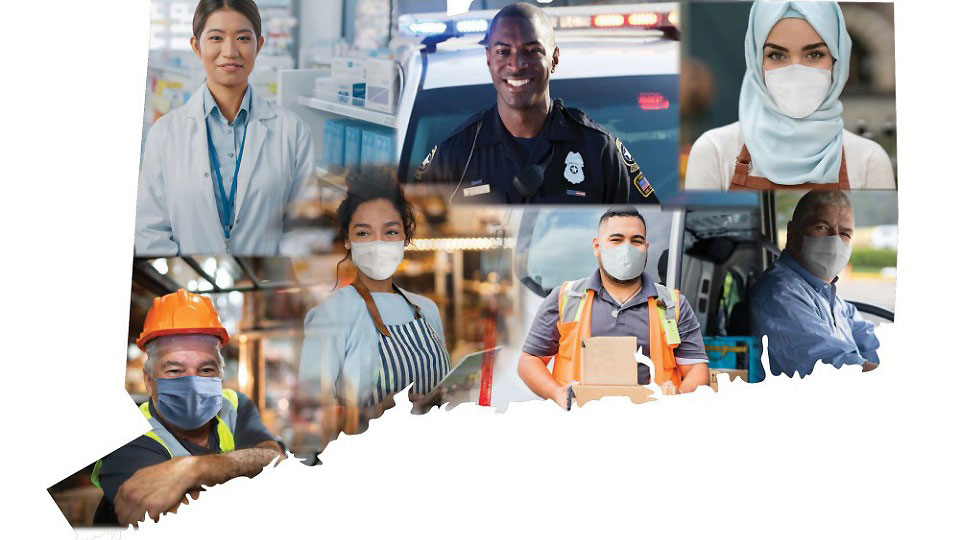 Connecticut is leading the way in building back better. The COVID-19 pandemic has devastated the lives of many working-class families, but some relief is in sight.
Recently, the Connecticut General Assembly, with a strong push from organized labor, passed the Connecticut Essential Worker COVID-19 Relief Fund. It' a $34 million program which will allow essential workers, as defined by the CDC, to recover lost wages, out-of-pocket medical costs, and burial expenses that they have incurred due to contracting coronavirus between March 10, 2020, and July 20, 2021.
Family members of deceased essential workers due to coronavirus are also eligible for these benefits. Those eligible can receive up to $1,446 in lost wages and up to $3,000 in burial benefits.
The creation of the relief fund was spearheaded by organized labor in the state, with Sal Luciano past president of the Connecticut AFL-CIO, saying "This fund will help potentially thousands of essential worker—healthcare workers, first responders, grocery store workers, bus drivers, corrections employees, and many others—who contracted the novel coronavirus on the job through no fault of their own. Many ended up with out-of-pocket medical expenses and lost wages."
Labor found two stalwart allies in Rep. Robyn Porter and Sen. Julie Kushner, co-chairs of the Connecticut General Assembly's Labor Committee. These two tireless champions of working-class rights in the state assembly admit that, while $34 million is certainly a lot of money, it is unlikely that there will be enough to cover all the expenses for all essential workers who lost income or loved ones to COVID-19.
"Is it enough?" asked Porter. "Absolutely not. But a little bit goes a long way."
"Although we're disappointed that a workers' compensation COVID presumption did not pass the full legislature," said Rochelle Palache Vice President of 32BJ SEIU, "the funding provided for essential workers struck by COVID will be a tremendous benefit for some who have suffered the worst in this pandemic."
The lost wage cap of $1,446 is the average weekly income for Connecticut workers. Yet for many, recouping just 1 or 2 weeks of lost wages will not be enough, considering many of those on the frontlines are low wage workers, such as CNAs in a nursing home or janitorial and kitchen staff in Connecticut's many hospitals who are predominantly women of color. Many of these workers live their lives paycheck to paycheck while working two and sometimes three jobs just to get by.
There are no income restrictions on who is eligible for this relief, and it is being given out on a first-come, first-served basis, causing concern that those who are most in need will yet again be left behind.
While the relief fund isn't perfect, it is definitely a model that other states and even the federal government should take a close look at. As the world continues to live with tCOVID-19, this relief fund shows a clear model of one way that states can address the financial crisis that this pandemic has put many frontline workers in.
In a country where talk is cheap (think "Heroes work here" signs), this relief fund is a concrete step in the right direction that will help put more money in the pockets of those that do the work that makes our country run.