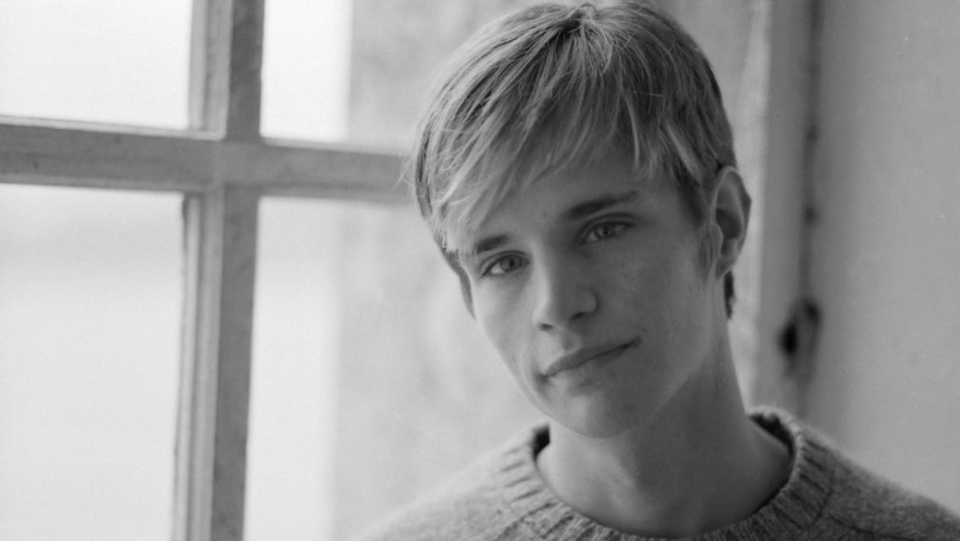 LOS ANGELES—It was a Tuesday. That evening of October 6, twenty years ago in 1998, a slight, small-framed 22-year-old University of Wyoming student attended a meeting of the school's LGBT Association to plan for the forthcoming Gay Awareness Week where author Lesléa Newman was scheduled to be the keynote speaker. Later that evening he dropped by the Fireside Bar, where he was kidnapped by two young men also in their early twenties. They drove him to a remote rural area, robbed him, pistol-whipped and tortured him, and left him tied to a splitrail fence.
He had a name. His name was Matthew Shepard.
The next day, a cyclist biking along that road saw him there, thinking at first it was a scarecrow. Shepard was still alive, having somehow survived the chill, clear autumn night, but in a coma. He was brought to a hospital but never regained consciousness. Matthew Shepard died on October 12th.
One of the most shocking acts of anti-gay violence ever recorded in American history (and there have been many), its sheer hateful malevolence moved the nation to action. It was one thing to oppose LGBTQ rights, or disapprove of same-gender marriage out of conscience, but this was simply an unfathomable demonstration of willful evil, a depraved disregard for life, nothing short of a lynching. After another incident where a young Black gay man was dragged to his death, Congress passed  the Matthew Shepard and James Byrd, Jr. Hate Crimes Prevention Act. President Barack Obama signed it into law in 2009.
Artists have tried to interpret this incident through prose, drama, film and visual art. The documentary play The Laramie Project by Moisés Kaufman explored the reaction of the Wyoming community that was the site of the murder. Lesléa Newman, who would likely have met Shepard in Wyoming a few days later, wrote October Mourning: A Song for Matthew Shepard. Musicians, too, have composed works dedicated to Shepard's life and legacy.
The musical composition that more than anything else has captured the many sides of Shepard's life and death is a 110-minute oratorio by Craig Hella Johnson for chorus, soloists and a small ensemble of instrumentalists, called Considering Matthew Shepard. In three broad sections, Prologue, Passion and Epilogue, it consciously chooses to see this tale of a young man fixed to a wooden rack as a modern Christian martyrdom. It is possible to hear it as an example of the precept that "he died for all of us," assuming that we are capable of incorporating its terror as a lesson for a purer kind of living.
Johnson learned about the Matthew Shepard incident at the time, and thought of writing something—a Passion perhaps—but did not concentrate on the task until 2012. In a talk-back after a recent single performance at the University of Southern California's Bovard Auditorium (April 8), Johnson admitted that for years was asking himself a hard question: "In the face of such darkness, is love anywhere to be found in this story?" He was further troubled by the fact that he was better known as a conductor, pianist, and director of the 2014 Grammy Award-winning choral ensemble Conspirare, and wondered if he had sufficient freshness and originality as a composer—or the courage he didn't believe he had—to rise to this purpose.
He decided to erect the "biggest tent possible" for this work, with a wide variety of musical styles running from Gregorian chant to classical chorales of the great "Passions" of J.S. Bach all the way to contemporary country western. The resulting work, which premiered in 2016 and has been recorded with Conspirare on the Harmonia Mundi label, uses the entire mixed chorus, male chorus, and various solos and combinations of voices to weave a comprehensive tapestry of a community in anguished self-examination.
The chorus slowly approached the stage from the back of the house, dressed in street clothes of muted colors. All of their music was memorized, allowing the lighting director (whose name I could not find in the program) to contribute as much color and atmosphere as the piece called for without fear that the singers wouldn't be able to read their scores. The orchestra in front of them, with the composer conducting from the piano, had lights on their music stands.
The singers stood or sat or ambled about not in grouped ranks according to vocal type, which would be standard for the typical chorus, but seemingly totally interspersed as members of a grieving community, which they can do if they know their music well enough and are sufficiently professional to be able to hold their own no matter what other vocal part is standing near them. The chorus for this performance was the USC Thornton Chamber Singers, whose director, Jo-Michael Scheibe, had clearly prepared well for maestro Johnson. The chorus was joined by soloists Matt Alber and Kathleen Ritch. The orchestra featured percussionist Thomas Burritt and guitarist Mitch Watkins, both based, like Johnson, in Austin, Texas, as well as violin, viola, cello, double bass and clarinet. The four named performers were part of the premiere of this composition.
In the Prologue, in such separate numbers as "Cattle, Horses, Sky and Grass," a bucolic portrait of Wyoming, Shepard's aspirations as an "Ordinary Boy," and "We Tell Each Other Stories"—"so that we will remember"—Johnson sets the stage for the Passion section that forms the wounded heart of the piece. Two male choristers came from backstage with three wooden posts which they erected in a standing triangle summoning the image of a rural fence. Later the singer who will render Matthew's music draped his plaid flannel shirt over the fence.
Throughout, the production used discreet projections, providing a suggestion of place without visual overload that might have distracted from the music and the texts. A program booklet with the complete texts was offered to everyone in the audience, but the house was too dark to read it. It will no doubt be kept by many as a treasured keepsake of a memorable afternoon.
Shepard Agonistes
In the Passion section, the fence itself becomes a character; the funeral takes place on October 16th, picketed by members of the gay-baiting, gay-hating Westboro Baptist Church; communities rally in Shepard's memory across the country; the trial of the two killers takes place, and in one number, "I Am Like You," the chorus wonders if, like the killers, I too sometimes share the confusion and fear that led them to such reckless crime; and a speech by Matthew's father to the court during the trial:
"By the end of the beating, his body was just trying to survive. You left him out there by himself, but he wasn't alone. There were his lifelong friends with him—friends that he had grown up with. You're probably wondering who these friends were. First, he had the beautiful night sky with the same stars and moon that we used to look at through a telescope. Then, he had the daylight and the sun to shine on him one more time—one more cool, wonderful autumn day in Wyoming. His last day alive in Wyoming. His last day alive in the state that he always proudly called home. And through it all he was breathing in for the last time the smell of Wyoming sagebrush and the scent of pine trees from the Snowy Range. He heard the wind—the ever-present Wyoming wind—for the last time. He had one more friend with him. One he grew to know through his time in Sunday school and as an acolyte at St. Mark's in Casper as well as through his visits to St. Matthew's in Laramie.
"I feel better knowing he wasn't alone." A man from the chorus steps down to the fence and puts on Matthew's shirt.
Reggie Fluty, a sheriff's deputy who was the first to report to the scene, told Matthew's mom Judy that as she ran to the fence she saw a large doe lying near Matt, as if the deer had been keeping him company all through the night. In Christian iconography, the deer is a symbol of piety, devotion and of God taking care of his children.
Matthew's song "In Need of Breath" follows: "My heart / Is an unset jewel / Upon the tender night / Yearning for its dear old friend / The Moon. / Then the Nameless One debuts again / Ten thousand facets of my being unfurl wings / And reveal such a radiance inside / I enter a realm divine— / I too begin to sweetly cast light, / Like a lamp, / I cast light / Through the streets of this / World."
The two killers, arrested shortly after the attack and charged with murder, kidnaping and aggravated robbery, were tried and convicted, each given two consecutive life sentences.
The long, hard climb back
The fence, since torn down and reconstructed some fifty yards away, has become a pilgrimage site where visitors recite prayers and imbibe the surrounding beauty of the land. Some will say, "The Lord is my shepherd," the spirit of Shepard Agonistes having guided them there.
"Meet Me Here," begins the Epilogue. "Meet me here / Won't you meet me here / Where the old fence ends and the horizon begins? / There's a balm in the silence / Like an understanding air / Where the old fence ends and the horizon begins. / We've been walking through the darkness / On this long, hard climb / Carried ancestral sorrow / For too long a time. / Will you lay down your burden / Lay it down, come with me. / It will never be forgotten / Held in love, so tenderly." The two men from from the chorus dismantle the fence on stage.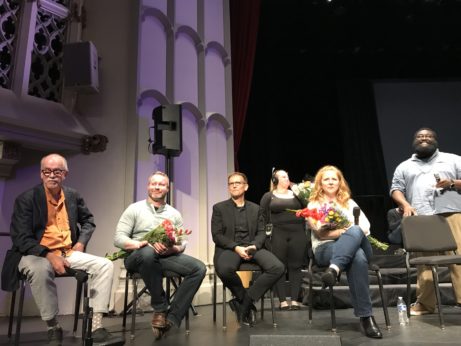 The community gives "Thanks" for human solidarity even in the face of muggings, beatings, wars, the police at the door, the animals dying, the forests falling. "In the banks we are saying thank you / in the faces of the officials and rich / and of all who will never change / we go on saying thank you thank you." We will never surrender our humanity, our lovingkindness, our appreciation for nature's gifts to despair.
In "All of Us," a Bach-like chorale that after tragedy brings the community together in restorative comfort, the chorus sings: "This evergreen, this heart, this soul, / Now moves us to remake our world, / Reminds us how we are to be / Your people born to dream; / How old this joy, how strong this call, / To sing your radiant care / With every voice, in cloudless hope / Of our belonging here."
Johnson drew his texts from numerous sources cited in the program and wrote some himself.
The full house at Bovard Auditorium kept its prayerful and tearful silence for a full minute after the music died out, then erupted in a long ovation demanding bow after bow after bow from the performers. Over the past two hours we had just experienced a modern masterwork that broke away from its choral bounds. The applause was as much for the piece itself as for the sense of belonging communion in the America of this moment, where the KKK marches to a very White House drumbeat, hate radiates from every office of federal government, and homophobia has sprung back to life. No one could mistake this afternoon as anything less than a solemn collective oath of resistance to organized inhumanity.
"We don't do the healing," said the composer afterward in the talk-back, "unless it's really about all of us."