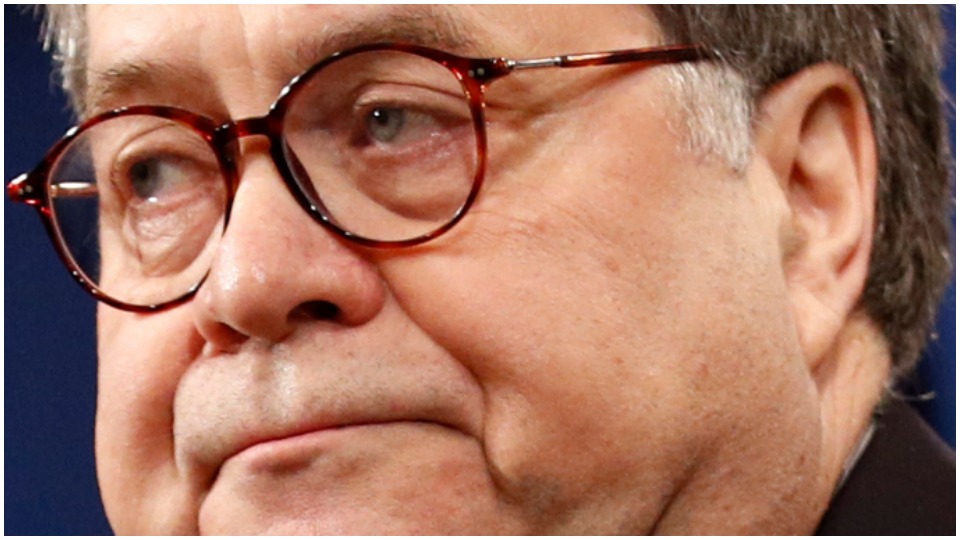 WASHINGTON—The Justice Department has joined President Donald Trump in stonewalling the legitimate attempts by Congress to exercise its responsibility to conduct oversight of the executive branch. Trump's attorney general, William Barr, the highest law enforcement officer in the land, has informed the House Judiciary Committee that he may not show up Thursday for questioning on his rollout of special counsel Robert Mueller's report.
The threat follows orders from the president to all of his current and past aides to ignore lawful subpoenas to testify before that and any other congressional committee and refusal by the Secretary of the Treasury, in violation of the law, to turn over to Congress presidential tax returns and other financial documents.
The stonewalling, legal experts say, can plunge the country into a constitutional crisis and amounts to obstruction that may be worse than the numerous examples of obstruction documented in the Mueller report itself.
"This is constitutional crisis time, it truly is," Morton Rosenberg told the Associated Press. Rosenberg is a former Congressional Research Service expert on congressional oversight matters and a fellow with the Federalist Society, a conservative legal organization.
"I think Trump may actually be pushing people towards support for impeachment because this across-the-board stonewalling is pissing people off," said Josh Chavetz, a Cornell University law professor.
The snubbing of Congress adds new fuel to Sen. Elizabeth Warren's call last week for the House to immediately begin impeachment proceedings against Trump. Warren, a Massachusetts Democrat, was the first of the Democratic presidential candidates to call for impeachment.
People's World coverage of the Mueller Report:

Mueller presented case against Trump, now Congress must act

Barr's claims vs. Mueller's facts: The Trump-Russia saga isn't over yet

Mueller report: "Miners for Trump" rally in Pittsburgh was a fake
The House Judiciary Committee said it will have its members and lawyers, both Democratic and Republican, question Barr. The attorney general says he may not appear because of these, as he called them, "new conditions," and that only lawmakers, not lawyers should question him.
Justice Department officials also told the House Judiciary Committee that they oppose the committee's plan to switch from open to closed session so they can discuss redacted parts of the Mueller report. The latter objection by the Justice Department was leaked to the press by a Democratic member of the committee who did not want to be identified.
"Lawmakers should be the ones doing the questioning," said a Justice Department spokesperson. "He (Barr) remains happy to engage with members on their questions regarding the Mueller report."
Barr is scheduled to testify before the friendlier Senate Judiciary Committee on Wednesday. South Carolina GOP Sen. Lindsey Graham, now a loyal water carrier for President Trump, chairs that committee. Graham has said publicly that all the investigations of the president should end and that the president has already been "cleared."
Democrats who are hesitant to begin impeachment proceedings for fear of voter backlash would probably do well to keep Graham and his committee in mind. Trump has been calling for investigations of the people who have investigated and are investigating him. He also continues his obsession with investigating Hillary Clinton.
Barr has said he believes, as the president has charged, that Trump was spied upon by high-level government officials, including former President Barack Obama when he (Trump) was running for president. No one should be surprised if Graham uses his role as chair of the Senate Judiciary Committee to launch hearings aimed at undermining the investigations of Trump and making Democrats look bad as the 2020 election approaches. The Republicans probably won't have the kind of second thoughts about launching those hearings that some Democrats now have about impeachment hearings.
Opposition by Barr and Republicans to questioning by lawyers is hypocritical at best. In the confirmation hearings for Supreme Court Justice Brett Kavanaugh last year, the Republican-controlled Senate Judiciary Committee hired a prosecutor-lawyer to question a witness who had accused Kavanaugh of sexual assault.
Congressional reps want to question Barr because his answers would inform some of the directions in which they take their own investigation of President Trump.
The Justice Department is also resisting congressional demands for the unredacted version of the Mueller report and its underlying material. The department is refusing to release any grand jury material. The lawmakers are considering their options, including taking the Justice Department to court.
To most objective readers of the Mueller report, it is incredible that Barr could have concluded that Trump did not obstruct justice. In his report, Mueller documented more than a dozen examples of obstruction and wrote specifically that the president could not be exonerated. It is obvious, Democrats say, that Mueller had intended for Congress, not Barr, to make the final decision.
House Speaker Nancy Pelosi, who has resisted calls for immediate impeachment, accused Barr, however, of mounting a "staggering public effort" to put a positive glow on Mueller's report.
House Judiciary Committee Chairman Jerrold Nadler, D-N.Y., has also called upon Mueller to testify and subpoenaed former White House counsel Don McGahn. The White House, in a move most lawyers consider illegal, has ordered McGahn to also not testify and says it will fight the subpoena.
Associated Press contributed to this article.