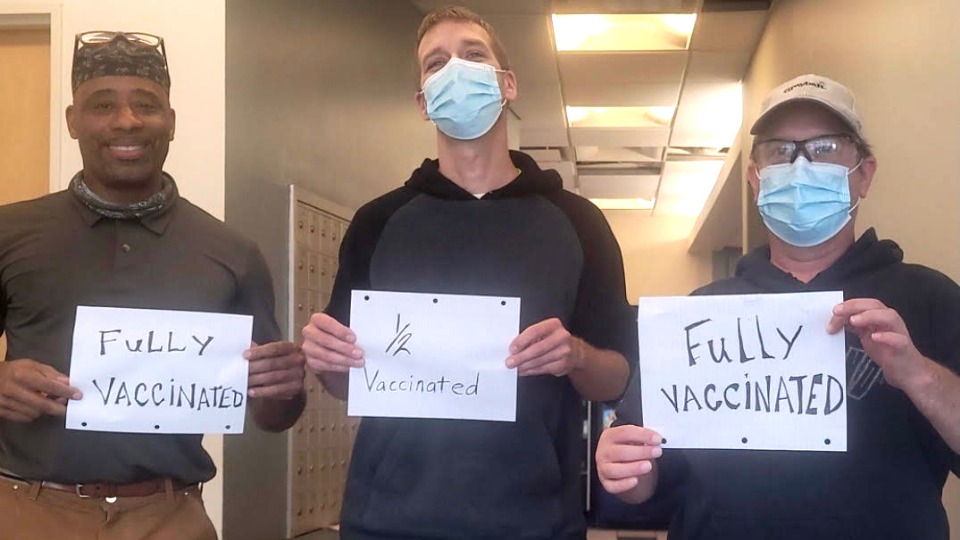 CLEVELAND (PAI)—Almost half, 46.4%, of U.S. construction/extraction workers—union and non-union combined—said they probably or definitely would not get vaccinated against the still-potent coronavirus, a new study shows. That's the highest refusal rate among all occupations, researchers at Carnegie Mellon University and the University of Pittsburgh report.
It's also consistent with previous studies, the researchers found. The reasons the workers cited include lack of trust in the vaccines' effectiveness, general distrust in government, concern about side effects, and a general belief that vaccination is unnecessary.
The study, which has ranged over months since the start of the year, covered more than 732,000 workers in all occupations, ranging up to the age of 65. People over 65 were not included because the study covered active workers and because the oldest were in the highest-risk group and thus got the vaccines first, anyway.
The least-hesitant workers—with under 10% resistance to vaccination—were educators and people working in life, physical or social sciences, the researchers said.
Almost half (47.9%) of workers who resisted were concerned about side effects. A third, combined, didn't believe they needed the shots, didn't trust the government, didn't trust the vaccine, or were waiting for more information.
The lack of trust points scored highest with the groups of workers who were most vaccine-resistant, led by construction, but including a few other groups, the researchers added.
Construction union leaders have urged members repeatedly to be vaccinated since working conditions on construction sites are often not fit for other anti-viral measures, notably physical distancing.
At the same time, with the economy picking up and construction booming—at least in certain areas—discussions have begun about whether employers should, or if they could, mandate employees receive the anti-COVID-19 vaccine in order to report to work.
With a large percentage of construction workers unvaccinated, job sites could be ripe for future outbreaks, which would cripple the ability of contractors to finish projects on schedule.
An outbreak on any job site has the potential to shut down the project for up to two weeks, leaving the remaining healthy workers without a paycheck as the worksite is disinfected and workers who are sick or were exposed are forced to quarantine.
Combine this with ongoing worker shortages in many parts of the country, and contractors face hard choices.
The flip side of the university study is that nationally, Johns Hopkins University's comprehensive coronavirus vaccine tracker reports 47% of all U.S. adults were fully vaccinated as of June 30. Vermont led the country, with 59.4% fully vaccinated, followed by Massachusetts (57.61%) and Connecticut (55.55%). Mississippi was last (27.78%), with Alabama (30.35%) and Wyoming (31.54%) just above it.
The Carnegie Mellon/University of Pittsburgh study showed results similar to a Morning Consult survey taken between October 2020 and January 2021 that found about 47% of construction workers indicated they would not get the vaccine.
The survey results come as Ohio and most other states appear to be approaching a vaccination plateau. As of May 10, 35.8% (4.1 million) of Ohio's adults were fully vaccinated, and another 41.6% (4.8 million) had gotten their first shot. As of June 30, 41.2% of Ohio adults were fully vaccinated, Johns Hopkins reported.
Since the Ohio Health Department's earlier figures, the Democratic Biden administration has calculated that more than half of all U.S. adults have had at least one shot, though the president admitted the country missed his target of a 70% vaccination rate by July 4.
Throughout the country, 43 states, including Ohio, are seeing Covid-19 cases decline and many are looking into fully reopening, or have done so, without any restrictions.
As states prepare to reopen, employers in certain sectors of the economy are considering employee incentives and possible vaccination mandates.
For the union construction industry, this is a complicated matter, fueled by a building boom in many regions of the country and established collective bargaining agreements.
According to multiple regional building trades council leaders, a vaccine mandate could only be enforced through either collective bargaining or at the request of the project owner. Only one leader whom the Labor Citizen contacted thought contractors could mandate the vaccine without amending an existing CBA.
However, many of the leaders are urging their members to get the vaccine, as they walk a fine line between pushing vaccination, respecting a worker's personal medical decision, and placing signatory contractors in a potentially perilous situation if an outbreak would occur.
In Western Ohio, Dayton Building and Construction Trades Council Executive Secretary Grady Mullins said vaccination efforts are well underway. Mullins, who took that top job in December, said many local tradesmen and tradeswomen took it upon themselves to get the vaccine and he encourages others to do the same.
Unfortunately, at one local training center within his jurisdiction, COVID-19 turned deadly. An asymptomatic person unknowingly brought the virus into the building. A handful of apprentices and the Training Director became ill with the virus, as did the director's wife. Both were hospitalized—and, sadly, Mullins said, the wife died.
"Everyone thought everyone was doing everything right," Mullins said. "After that happened, the affiliated building trades unions and their members got serious about getting vaccinated." Across the state, Marty Loney, Western Reserve Building and Construction Trades Council President, indicated many affiliated members are getting the vaccine.
"I personally got it; I thought it was a good thing," he said. But beyond urging union members to get vaccinated, Loney does not believe a contractor could mandate such action unless there was language added into existing CBAs. "There is little that can be done to mandate it," Loney said. "A mandate would require an amendment to a collective bargaining agreement, which is logistically impossible.
"The vaccine is a personal decision based on health and family," Loney said. "But I have not heard people say they are dead set against the vaccine." A summary of the study is on the Carnegie-Mellon University website.
Labor Citizen Writers and Press Associates