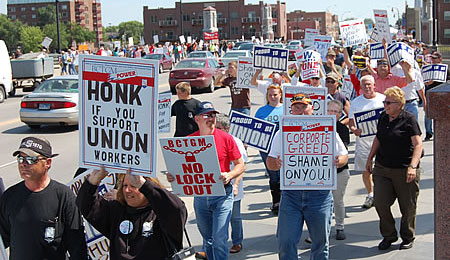 WASHINGTON – A top pro-labor consumer group, the National Consumers League, asked American Crystal Sugar to resume bargaining with the Bakery, Confectionery, Tobacco, and Grain Millers' 1,300 workers the firm locked out in Minnesota, North Dakota, and Iowa 10 months ago. And NCL wants the firm to end its lockout.
NCL's request comes as the first bargaining session in months between BCTGM and company management was scheduled for June 8, with a federal mediator's aid.
In her letter to firm CEO Dave Berg, Consumers League Executive Director Sally Greenberg also called it hypocritical for the firm to use its need to pay good wages to U.S. workers to justify lobbying for taxpayer subsidies for sugar manufacturers, and then turn around and demand huge pay cuts and other givebacks from its workers.
The federal sugar price supports use $3.5 billion of taxpayer money annually for all sugar producers, Greenberg wrote Berg on June 5. "We don't think you can have it both ways – arguing on the one hand that sugar price supports benefit U.S. workers while locking out 1,300 of your own employees," she added.
The firm, a co-op, locked out the workers after they rejected its last offer, which called for steep wage cuts and large health care increases. Since then, the workers, many of whom have toiled for American Crystal for decades, have walked picket lines, protested at the firm's annual meeting, and taken their cause to the rest of the labor movement. The firm brought in "replacement workers," or scabs, to its sugar factories.
In past years, sugar workers joined with growers and co-ops to lobby for the federal sugar subsidies. Without such supports, and without tariff protection, the sugar production industry – both sugar cane in the South and sugar beets in the Upper Midwest – would fall victim to cheap imports, mostly from Latin America.
Key farm-state lawmakers have warned Berg that failure to bargain and settle with his workers threatens the entire industry's subsidies and tariffs. The farm bill, which includes those sugar provisions, is pending in the Senate this month.
"We are perplexed at the continued actions of American Crystal," Greenberg said. "They profess their commitment to creating jobs while at the same time locking out workers, all the while enjoying the largesse of consumer-funded sugar subsidies."
"Sugar growers have long justified the continued existence of the U.S. sugar program by pointing to their role as job creators. We find this argument specious in light of American Crystal's prolonged lockout" of the union workers. Berg, in December, compared the unionists to "a cancer" in the sugar firm.
"American Crystal should illustrate its commitment to creating and maintaining American jobs by engaging in good faith negotiations. It is also time for the American government to stop subsidizing a profitable industry that treats American workers so poorly," Greenberg concluded.
Workday Minnesota reported that a week-long "Caravan for Cooperation and Negotiation," by workers and their allies through the Red River Valley culminated in a 200-person rally on June 6 at the sugar co-op's headquarters in Moorhead, Minn. The workers got to Moorhead by foot, car, motorcycle, bicycle, and haywagon.
"We've got a package that I believe is going to be difficult for them to turn down if they want to be the number one sugar producer again," said BCTGM Local 167G President John Riskey, the union's lead negotiator.
The workers have been locked out of seven Crystal Sugar production plants, and other facilities in Minnesota, North Dakota, and Iowa since August. Minnesota workers have been eligible for unemployment benefits, payable because the company locked them out, but North Dakota workers are not eligible under that state's laws.
Many are struggling to make ends meet, despite donations from across the country to the union's lockout hardship fund.
"My June rent is not paid yet," said Rochelle Harley, a single mother to three- and five-year-old girls employed at the firm's Hillsboro, N.D., plant. "My car payment was 23 days late and my electricity was shut off yesterday.
"I would like to see the company's representatives come to the meetings with an open mind instead of their take-it-or-leave-it attitude," Harley added. But local media have quoted company CEO Berg as saying Crystal Sugar has already made its final offer, which was rejected by workers last year. He then locked them out.
Minnesota State Senator Keith Langseth, whose district encompasses much of the Red River Valley, said a settlement is way past due at Crystal Sugar, the nation's largest producer of sugar from beets.
"They could have a huge crop this fall," Langseth told the rally. "I can't see any way that a crop like that can be put through by these substitute workers…What we've got to do is get this settled."
Photo: Locked-out sugar workers and supporters march across the bridge between Moorhead, Minn., and Fargo, N.D., via BCTGM.